Despite the whole world experiencing the COVID-19 pandemic at once, it's hard not to feel alone. In these uncertain months of home quarantine—depending on where you're spending your lockdown—some are allowed out to work, to engage in simple exercise, or—as is the case in some European countries—solely for essential trips to supermarkets and pharmacies. One thing is commonplace: things are not as they once were.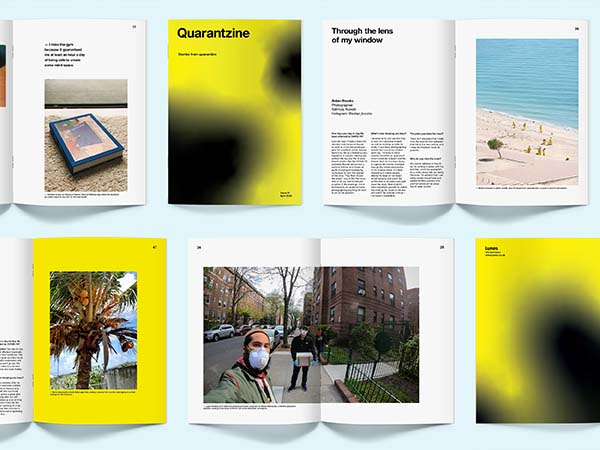 With no right or wrong way to handle how we face the crisis, people pass their hours working remotely; joining Instagram Live chats and workshops; converting their living spaces into makeshift gyms; cooking and baking; and generally allowing their creative juices to flow more freely than they may have in normal times.
One such collection of creatives is Lunes, a London-based studio who've created an excellent publication, Quarantzine; a timely zine that shares stories about how people are tackling their days in light of the COVID-19 crisis, serving to inspire its readers and imbibe them with a sense of solidarity in testing times.
With interviews taking place by means of email, video calls and social media (and photos submitted by contributors who were given an open brief to share snapshots of their quarantine experience), issue one introduces us to a teacher in New York City delivering PPE to frontline workers in her community; a photographer in Kuwait shooting from his window; a business coach and teacher living in complete lockdown together in Italy; and a couple on the road in Argentina, disparate stories and personalities with one thing in common: quarter one of 2020 has completely changed their lives.
As visually appealing as it is an inspiring insight into global lives, the Quarantzine cover design has an interesting story of its own, too. Inspired by the international maritime signal flag, Lima, which can be seen flying from ships at sea placed under quarantine, it is symbolic of the ubiquitous nature of this situation we all face.
Grappling with extraordinary times and the daily rollercoaster of emotions that come with living under lockdown, Quarantzine is a reminder that we're all in this together, and our plans for a brighter future will see us through to the end. Another example of creatives looking this crisis deep in the eye, the zine—available to read online now—opens a 'slow media' window on the lockdown lives of others, bypassing the hysteria and memeification of social media, and delivering a series of insightful interviews. Lovely.