With a truly unforgettable façade that rolls elegantly into its interiors, and boasting a public space that features a digital art wall and sculptural water fountain, The Webster's new Los Angeles flagship store is almighty impressive.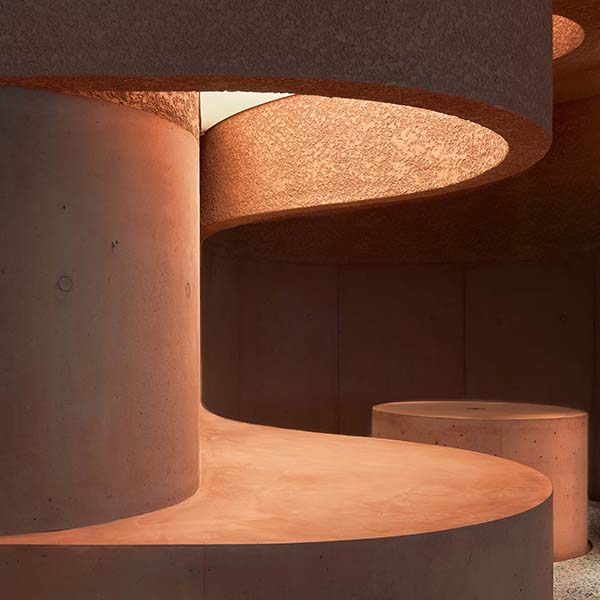 Located at the vast Beverly Center luxury shopping mall, The Webster is an 11,000 square feet ground-up retail development, that candy-coloured cantilevered concrete façade referencing and reimagining the brutalist shell of the monolithic eight-storey building it calls home. Injected with pink dye, the bold exterior confirms the store as a new icon for the city, its hue a nod to the natural light of California and the Pacific.
Situated at the intersection of San Vincente and Beverly Boulevards, the public space is an urban oasis in an otherwise hectic city, the digital art wall evident only from the underside of the cantilever. Banquette seating allows shoppers to enjoy art pieces commissioned by The Webster, the sculptural canvas—at 1472 pixels wide and 20 pixels tall—intentionally low resolution, a two-fingers up to Hollywood's amplified digital culture.
A panoramic window at the main entry creates the boundary between public space and retail, a curved window creating an angular visual portal and preview of what can be found inside. Designers Adjaye Associates opted for a variety of textures and types of concrete, the interior akin to a sculptural field. Whilst the concrete floor is dotted with black cherry marble fragments, the upper walls of the changing rooms are covered in vintage 1950s wallpaper; juxtaposing the industrial edge with a softer aesthetic. Merchandise is displayed on a series of vignettes, and the memorable pink dye from outside is carried through to the interior.
"In the past five years I've started to work with a lot of saturated red and pink hues," explains David Adjaye, "which extends back to the early colour experiments I did at the beginning of my career. Pink felt like fashion, but I wanted to make something that was tough and gentle at the same time."