From bus seats to viaducts, fruits to fields, carpets to coastlines, photographer Joseph Ford and prolific knitter Nina Dodd racked up an impressive 1,000 hours creating nan jumpers for humans, animals—even a banana—for their ode to the odd, Invisible Jumpers.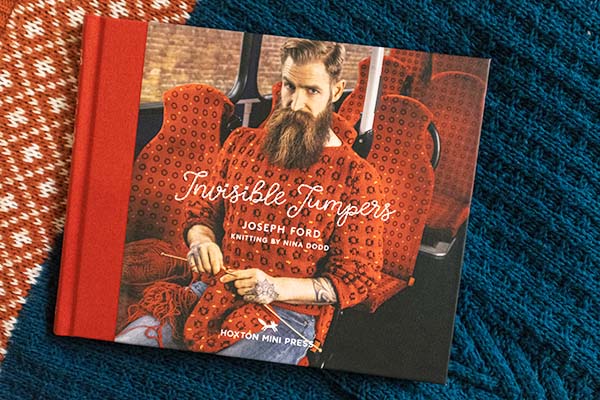 Initially conceived as a photography and knitting project called Knitted Camouflage, before embarking on what would eventually be a publication from the indomitable Hoxton Mini Press, Invisible Jumpers offers a frivolous view of its subjects blending seamlessly into their frequently bizarre backgrounds.
Subjects and scenarios arrive as diverse as Jimmy on a Brighton & Hove bus; Chris in a field full of cows; a mouse carefully camouflaged from its age-old predator; and Lo, standing on a clifftop near Beachy Head, draped in a blanket that seamlessly reflects the surroundings, a huge reflector needing to be held to protect all involved against being swept by the wind onto the English Channel below. It's a seemingly never-ending sequence of silliness that is frankly irresistible.
The 88-page hardback features 25 knitted items; behind the scenes photos and stories, including the hours spent on each knit and a snippet about the scene of the shoot; and an introduction by gallery director Laura Noble. As one subject, a certain Fatboy Slim comments: " I love this kind of attention to the absurd. Right up my street." And, for that Mr. Cook, we Praise You.
Invisible Jumpers is published by Hoxton Mini Press.