The Photographers' Gallery has recently opened a major exhibition exploring the rich history of food photography through 140 works; from noted luminaries including Martin Parr, Cindy Sherman, Ed Ruscha, Andy Warhol and Stephen Shore.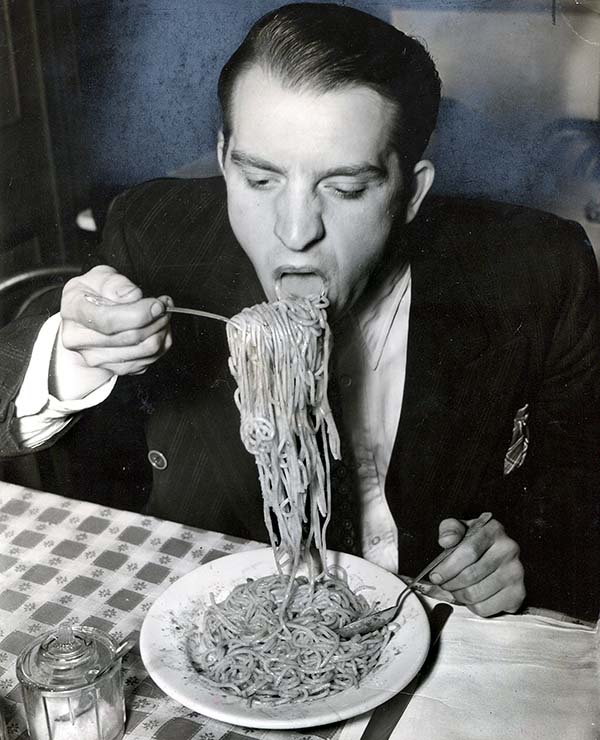 Set over two floors at the Soho gallery, the exhibition—composed around three themes—features everything from black and white silver gelatin prints and early experiments with colour processes to contemporary works; encompassing fine art and vernacular photography, commercial and scientific images, photojournalism and fashion.
Looking at a subject that will forever occupy the lives of the general public, and long been a photographed subject, co-curator Susan Bright comments: "food—and how it is photographed—defines how we live and how we value ourselves, and, at its very best, connects us to our dreams and desires."
Specifically dissecting how food is represented and used in photographic practices—especially so in an age where the human races seems irreversibly obsessed with taking and sharing images of our own meals across social media—the pictures exhibited in Feast for the Eyes, The Story of Food in Photography evoke deep-seated questions and anxieties about issues such as wealth; poverty; consumption; appetite; tradition; gender; race; desire; pleasure; revulsion; and domesticity.
The first theme, entitled Still Life, traces food photography's relationship to one of the most popular genres in painting; Around the Table is a nod to the rituals of what and with who we eat; whilst Playing with Food features photography infused with fun and irony.
Organised by the Aperture Foundation, New York, and curated by Susan Bright and Denise Wolff, Feast for the Eyes, The Story of Food in Photography is on display at The Photographers' Gallery, London, until 9 February 2020.