With seven independent kitchens; a coffee and bakery counter; three bars; an outdoor terrace; and programming that features DJ sets and art commissions, Arcade—located on the ground floor of London's Centre Point building—is a theatrical affair where flavour and flair make for a unique all-day destination.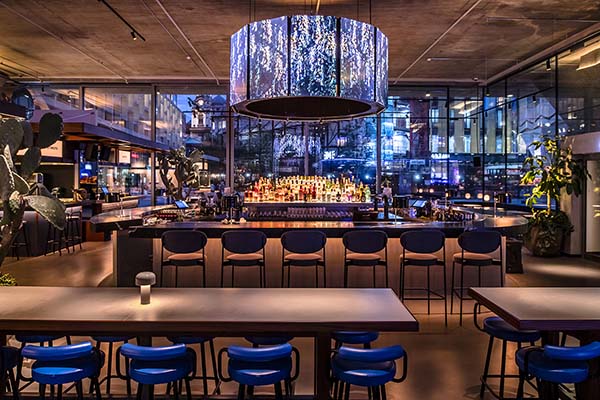 Set over an impressive 12,500 square feet, the food offering at central London's Arcade Food Theatre is a collaborative effort that sees some of the city's top culinary talent coming together in an informal setting. 75-year old London-born Italian institution, Lina Stores is here, as is piri piri chicken outlet Casita do Frango, whose Portuguese cuisine has wowed the frequently unwowable Jay Rayner.
Also on hand are Chotto, serving Japanese-Peruvian fare; Flat Iron Workshop, experimenting with specialist cuts of meat; Oklava, who serve up modern Turkish-Cypriot dishes; tacos and more from Pastorcito and Tōu, a katsu sando-driven concept taking residence up in the loft; whilst Pophams complete the lineup, satisfying the sweet tooths with artisanal pastries, creative plates and comforting coffee.
More than a 'food market', diners at Arcade have the opportunity to engage with the chefs, making this as much about theatre as it is feeding the masses; the same with the mixologists who create craft cocktails with aplomb and showmanship. Design studio Macaulay Sinclair added a contemporary touch to the otherwise mid-century modern Centre Point, complementing the building's listed features and heritage whilst working with its geographical and historical standing.
Turning out food from some of London's most heralded culinary names in a down to earth setting in the heart of the city … Arcade looks set to drop the jackpot.
@arcadelondon
@macaulaysinclair