With 71 guestrooms and suites, Le Barn is a rural hideaway set amidt oaks, elms and silver birches in Rambouillet Forest; which is located west of Paris, covering some 200 km² upon which the public can ramble, hike, swim and spot myriad wildlife in.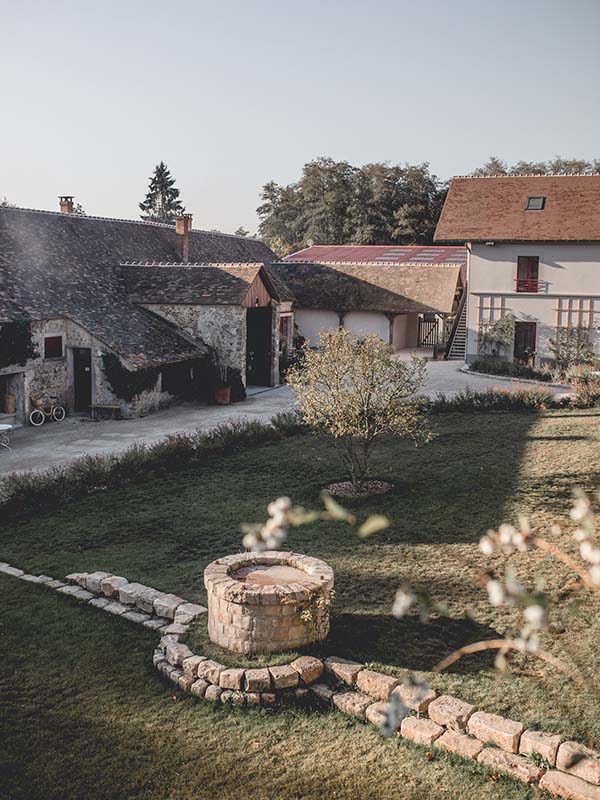 A countryside hotel where reconnecting with your roots and spending quality time in quality surroundings is paramount, Le Barn offers a total escape experience—with guests who stay over on a Saturday night, enjoying a 'no imposed check-out time' on Sundays; bringing a whole new meaning to the long weekend.
In harmony with nature, the two buildings that comprise Le Barn Bonnelles were renovated and designed by Studio be-poles, who made the most of natural materials, neutral tones and integrated original features—including beautiful exposed beams—that add a welcome touch of character, especially in the Le Moulin Suite which is a charming, functional and voluminous space set in a former watermill.
Overlooking the paddocks and surrounding woodland, accommodation at Le Barn's is contemporary whilst preserving the DNA of the farm and the 200 hectare estate in which it lies. A home-from-home, guest rooms are intimate and unpretentious, whilst the suites make an ideal space to enjoy time away with the family or friends; making use of facilities such as the private dining rooms and terraces that lead onto the paddocks.
Those not looking to prepare their own meals can enjoy fresh, seasonal produce around large wooden tables at Le Barn, with gourmet bistro cuisine at La Serre, and simple cold meat platters, tapas and cheese at Le Clark; all before enjoying a tipple at Le Barn's Bar, adorned with comfortable sofas and a central wood-burner.
Set within a magical forest, nature is literally on your doorstep, and guests can indulge in activities such as horse riding, hiking, cycling, as well as pétanque, badminton, football, and frisbee. Those looking to pass their downtime a little less strenuously will most certainly enjoy the Wellness Centre. Located within a former mill at the heart of the forest, the spa boasts a sauna, hammam, outdoor hot tubs and a range of treatments.
Honest and authentic, with experience at its core, Le Barn is a hospitality project that compels much-needed disconnection. A magical and romantic proposition, this is exactly the kind of weekend break you've been dreaming of.