Arriving at Audi's Concept Design Studio on a snowy morning at an ungodly hour was rather surreal. Hidden amongst residential multi-storey apartments, one would never know that their previously secret location in Munich would be so mundane. This is the point I guess, among real people and real life – here the brains and ideas behind many of the German brand's new designs are born.
Invited to tour their Concept Design Studio, the key focus was to show that "good design must always express a vision". At the forefront of this new vision is Wolfgang Egger, who has entirely reorganised the Audi design team, with renewed focus on differentiating between the model series – the sameness of each model having become somewhat stagnant – and to demonstrate the technical aspect in the design of future models.
With emphasis on the creative process and inspiration, his new – and very young – team are encouraged to work outside the automotive box. With diverse side-projects such as the SarvaJal water purifier concept hoping to launch in India, the Audi e-bike, and new luggage ranges… the future of Audi design is changing.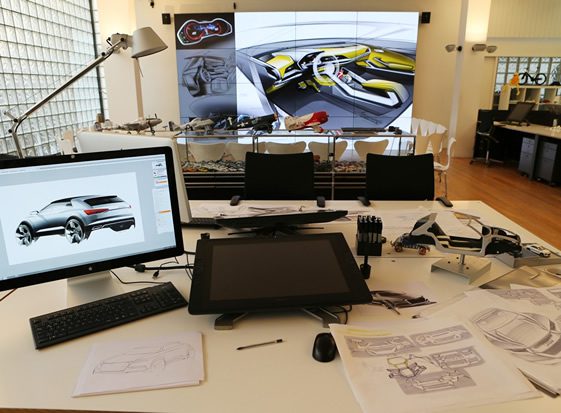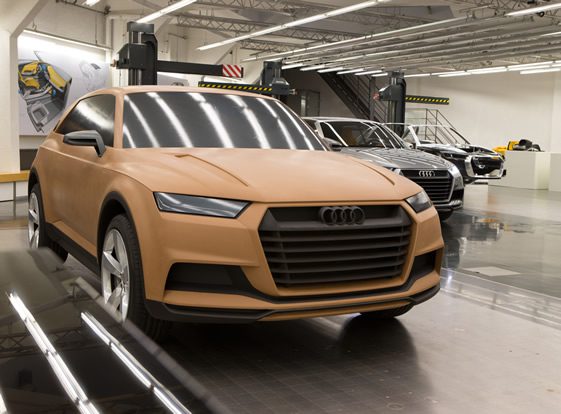 "Only when design and technology mesh perfectly does the automobile make a statement for the Audi brand" explains Egger. Insisting that each designer begin his or her idea process with a pencil and paper (and they draw a lot) only then does the chosen design meet a Wacom monitor. A life size CAD drawing is then created on a digital wall in the studio, and the 'art' of using black sticky tape to re-define and shape the drawing begins. Amazingly simple, yet hugely effective, an almost handmade design process is not exactly how I pictured a high-end global car manufacturer would create their latest designs.
Audi's new concept car – the Crosslane (recently debuted at the Paris Motor Show) – is at the forefront of this new thinking. Not only in the preliminary design process but in the shape of Audi's future. Technology will no longer be hidden behind the exterior design, it will become part of the aesthetic and part of its engineering. Form and function in the Crosslane come hand in hand, exposing the chassis, and in particular embracing a "Multimaterial Space Frame" – the focus is on a light yet durable structure. The reduction of materials should result in the perfect integration – Atelier Thinking is Audi's new philosophy.
The days of branding a car as a bull or cougar are thankfully over, it would seem. Simplifying a vehicle to its basic function, yet marrying that philosophy with the latest technology is key for Audi. Essentially a car is a machine that aids life – its function is rather simple. Who knows if the Crosslane will go into production, but I very much like the way the new design team are thinking. It's clear and paired down but focuses on innovation and some of the most advanced materials.