Comprising 12 bedrooms that span 1,680 square metres of opulence—marble bathrooms, private chef and chauffeur, the world's largest television (Bang & Olufsen's BeoVision 4-103), a Steinway grand piano, Brunswick billiard table and bulletproof windows as part of an amenity list that could fill an encyclopaedia—The Royal Penthouse Suite at Geneva's Hotel President Wilson is Europe's largest, most decadently extravagant, although—now—formerly the world's most expensive.
At more than £60,000 for a night, one might think the lofty accolade of the planet's costliest hotel room would be hard to top, but in the land of 'big is best', its capital of shameless indulgence has blown that nightly bill out of the water to the tune of almost 20 grand. The Empathy Suite 'Sky Villa' at the Palms Hotel, Las Vegas—although reportedly free to guests with over a million dollars of credit at the resort—will set you back almost £80,000. The minimum stay is two nights. It is extravagant, expansive (some 836 square metres), boasts its own gym and looms large over The Strip. It is also a living, breathing work of art by the world's richest living artist.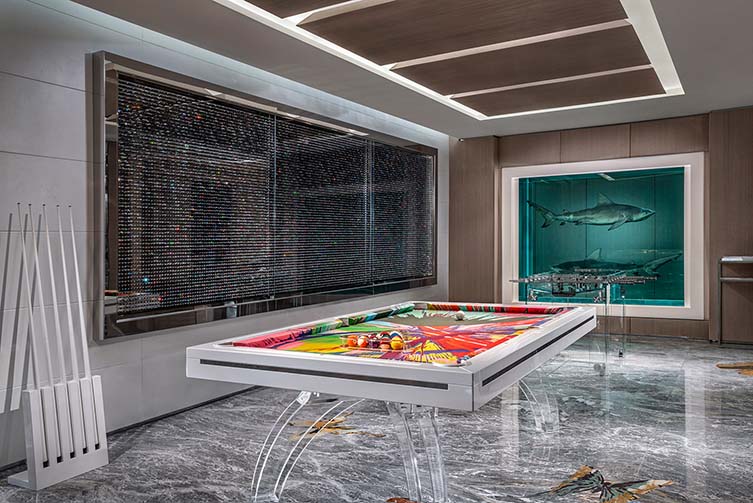 Created in collaboration with New York firm Bentel & Bentel Architects, and local firm Klai Juba Wald Architects, Damien Hirst's Empathy Suite features furniture and design details emblazoned with his signature motifs, incorporates large-scale artworks—including Winner/Loser, a pair of bull sharks suspended in formaldehyde and his infamous pill cabinets—occupies two stories of the hotel and enjoys its own bar, pool table (with its own iconic spin painting) and salt spa, where a Hirst skull is carved into the wall. It is louche and ridiculous, everything the former YBA has become known for.
"It presents," as online art platform Artsy say, "contemporary art in a uniquely Vegas way: not by putting it on a pedestal, but by turning it into a pricey hotel room for wealthy tourists who are reckless with their money—the city's ideal clientele. Call it horrific, call it gaudy, call it selling out, but it is quintessentially Hirst, and quintessentially Vegas." And that's it, Hirst's career has been defined by his smash-and-grab approach to making money, and an £80,000 per-night hotel suite epitomises just that. It is the definitive hotel room for the more-money-than-sense set.
But where does one go to blow it all when they're not sheltering from the tax-man in Geneva or high-rolling with Hirst in Las Vegas? Here are the world's ten most expensive hotel rooms…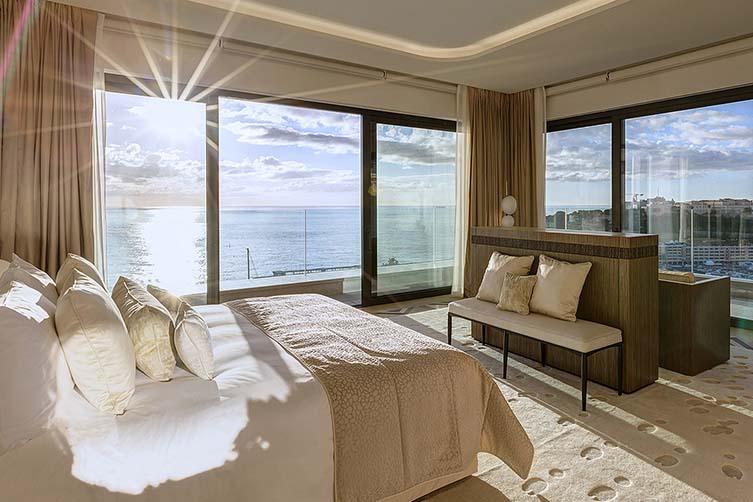 Princess Grace Suite, Hotel De Paris, Monaco
Transfer in and out of this Monaco icon via helicopter, cause a Rolls-Royce is for paupers. Spanning two floors and measuring 983 square metres—with a 180° view of the sea—this 'diamond suite' might be bottom of this list, but is nothing short of top class. The three Michelin-starred Le Louis XV – Alain Ducasse is here, and the world's most famous casino is just outside, your suite has its own heated infinity pool and jacuzzi, can accommodate six, and is finished to the very highest standards. It is Monaco, it is jet set, it is the place of super-yachts and super-models, it is luxury defined.
£29,000 per-night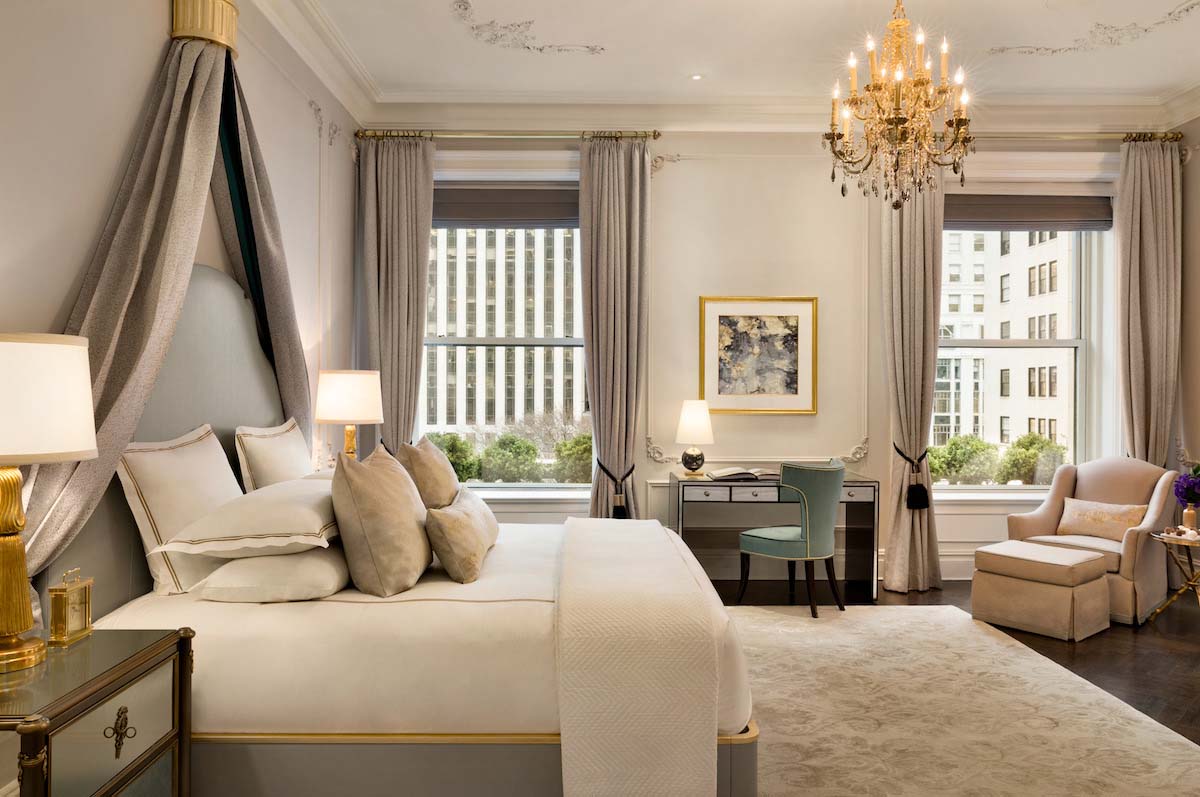 Royal Suite, The Plaza, New York
From starring in scenes of F. Scott Fitzgerald's 1925 novel The Great Gatsby to being the main location of Home Alone 2; playing cameos in Brewster's Millions, Crocodile Dundee and Sleepless in Seattle … when a writer or filmmaker needs to portray New York money, they call on the iconic Plaza hotel. It's star attraction—a 418 square metre three-bedroom suite overlooking Fifth Avenue and the legendary Pulitzer Fountain—is predictably showy, and the cost follows suit.
£31,000 per-night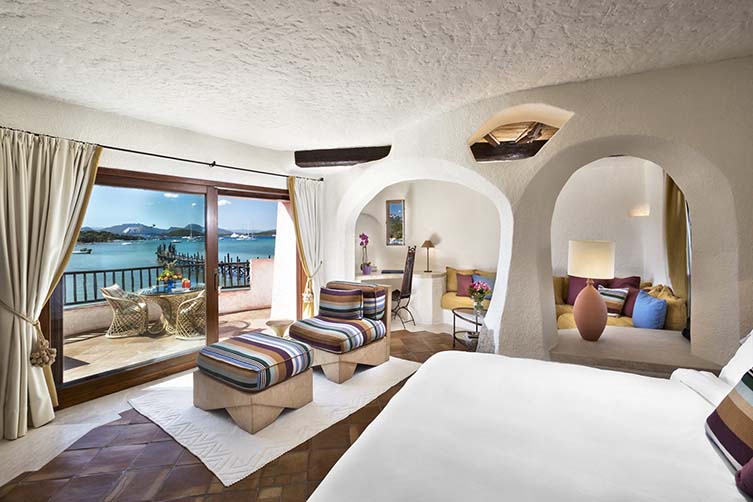 Presidential Suite, Hotel Cala Di Volpe, Sardinia
Sardinia's Porto Cervo is one of Europe's most glamorous destinations, its most luxurious hotel (with double rooms starting from £1,000) one of the continent's finest, and its top-class suite is equally laudable. At 500 square metres, with a 250 square metre terrace complete with its own pool, the Presidential Suite screams style—with local artwork and the charm of Sardinian style plentiful throughout.
£32,000 per-night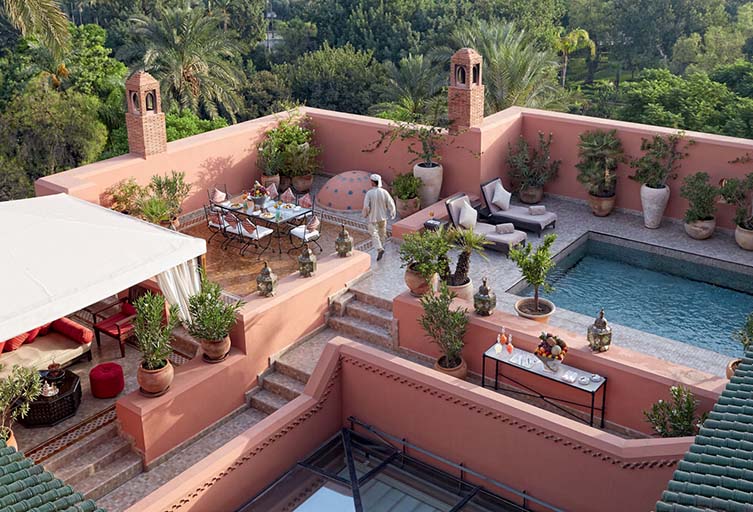 Grand Riad, Hotel Mansour, Marrakech
It might not be the world's most expensive, but it is surely the most desirable. The Grand Riad at Marrakech's ultra-luxe Hotel Mansour is unfathomably lavish—a 1,800 square metre private home, Royal in look and feel with its own landscaped garden, pool, and ornately-appointed rooms. It has every amenity one might imagine, but it's effortless style, sumptuous materials, meticulous service (your own butler is permanently on-hand) and unique way of life make this 'room' one without peers.
£34,000 per-night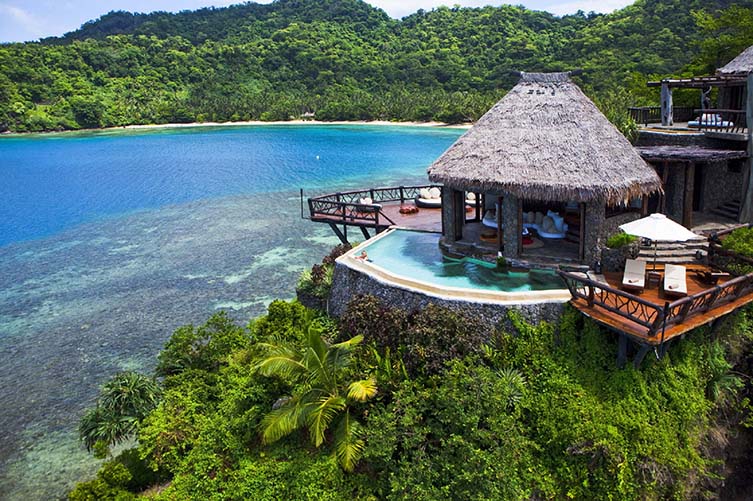 Hilltop Villa, Laucala Island, Fiji
Stretching the definition of a 'hotel room', the Hilltop Villa at Fiji's Laucala Island is its own estate; three villas comprising 11,000 square metres, its own vast panoramic pool and unique services such as a private chef. If you're capable of spending big, Laucala Island is where the value for money is. There are waterfalls, hot-tubs, a solid wood soaking tub, verdant gardens and all from casual waterside barbecues to fine dining extravagance. Paradise is no longer lost.
£35,000 per-night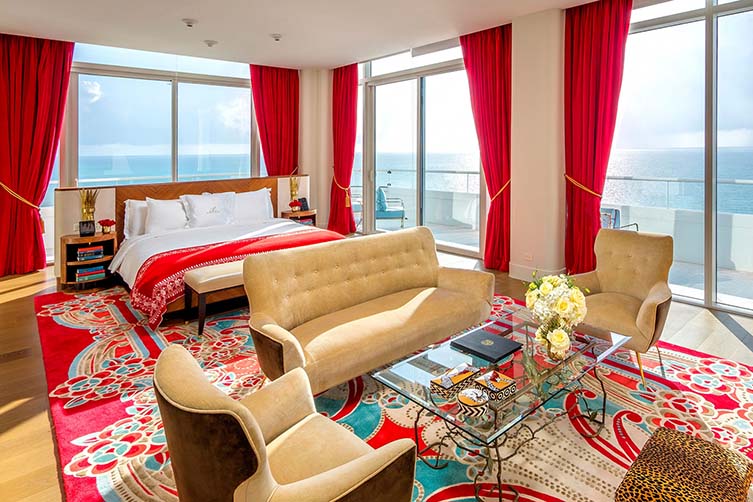 Penthouse, Faena Hotel Miami Beach, Miami
Designed by film director and sunscreen advocate Baz Luhrmann and his wife, set designer Catherine Martin, the lavish Penthouse Suite at Alan Faena's decadent self-titled Miami Beach paradise showcases a stunning panoramic view of Miami and the turquoise hues of the ocean through its floor-to-ceiling windows, marvels with opulent custom furnishings, enjoys indoor/outdoor living spaces, and can also treat its guest to a little Damien Hirst; with two large-scale sculptures—gold-leafed mammoth skeleton, Gone but not Forgotten, and Golden Myth, a gilded anatomical unicorn—to be found within the hotel.
£39,000 per-night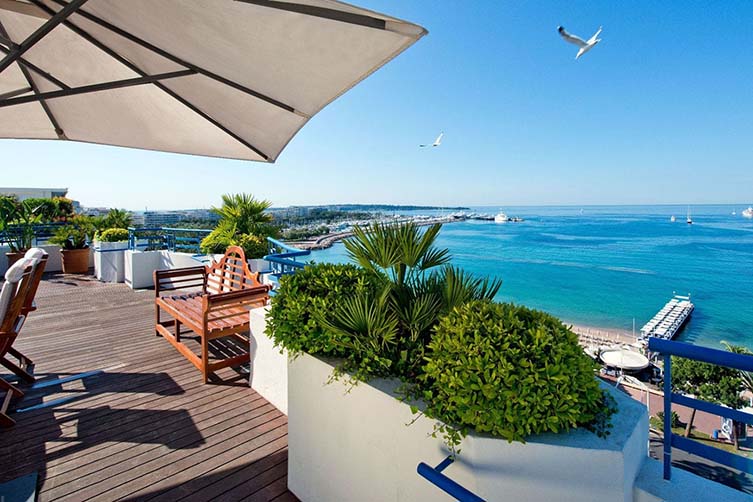 Penthouse Suite, Hotel Martinez, Cannes
An A-lister favourite during the world-famous film festival, the penthouse at Cannes' famous Martinez hotel comes complete with a private 500 square metre terrace overlooking the Côte d'Azur. One of Europe's largest, set on the hotel's highest floor, it is a monument of old-money luxury, and the most expensive hotel room on the French Riviera. The hotel is also home to La Palme d'Or, a two Michelin-starred restaurant led by chef Christian Sinicropi.
£42,000 per-night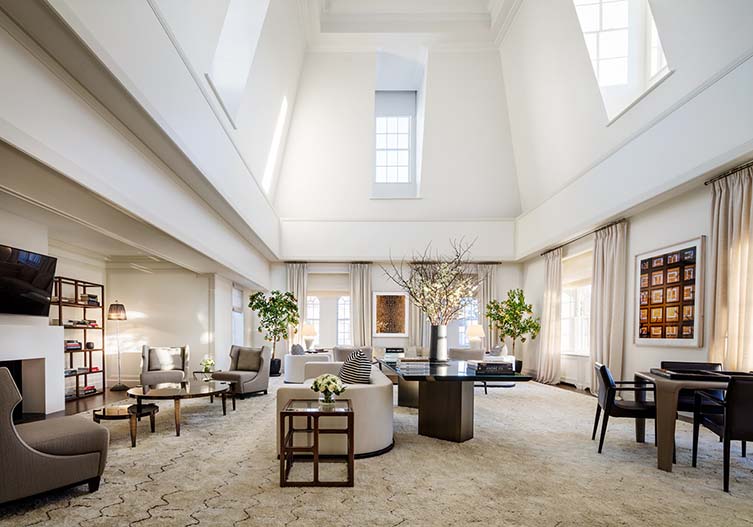 Five-bedroom Suite, The Mark, New York
Built in 1927, this iconic Upper East Side hotel underwent a major renovation from 2006 to 2009, with a luxuriant $75,000 per-night penthouse—the Mark Hotel now offering the then most expensive hotel suite in America—its crowning glory. Located on the 16th and 17th floors, the 930 square metre room is mind-blowingly huge for Manhattan, a home of similar scale would set you back more than $20 million. Eight metre tall ceilings, five bedrooms, four fireplaces, six bathrooms … New York's highest-priced suite is also its most indulgent.
£59,000 per-night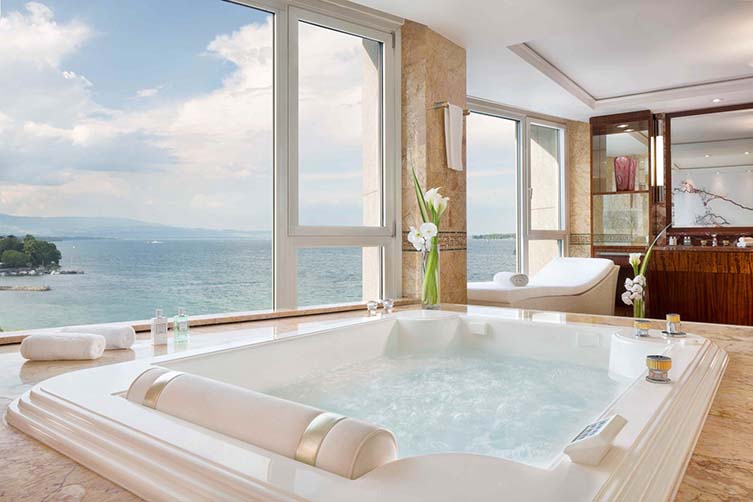 Royal Penthouse Suite, President Wilson Hotel, Geneva
Little remains to be said about the one-time most expensive hotel room in the world. It's commanding views of Geneva's famous lake, its unparalleled size in Europe, its luxury touches and Hermès toiletries, its old glamour style … the Swiss luxury hotel remains its continent's most costly.
£63,000 per-night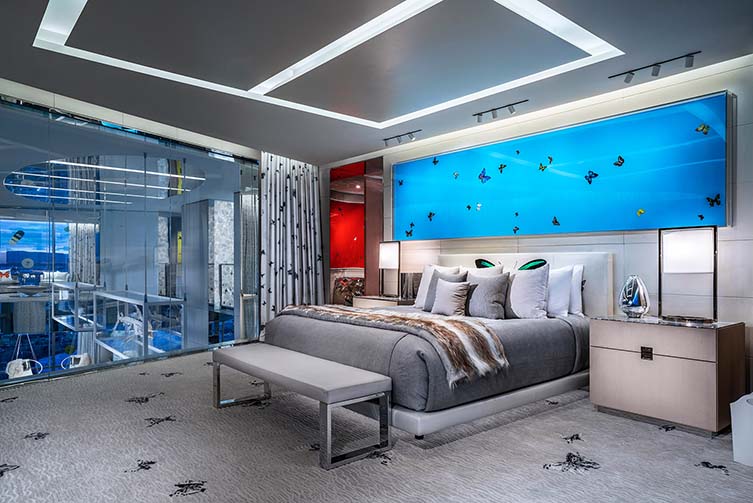 Empathy Suite, Palms Casino Resort, Las Vegas
And so to the new king of hotel rooms. Who will topple the death-fixated contemporary artist? Grand old luxury hotels boasting £10,000 per-night presidential suites can only look on enviously the way a small-time gambler clicking away at an all slots online casino would do the high-rollers who might receive an invite from Palms to stay at this palatial ode to grandiose and new-money swag. It may be vulgar and it may lack restraint and class, but it is a hotel suite befitting of being crowned the world's most expensive. The world's richest artist has found a medium that can match his ambitions. Las Vegas is an oasis of excess, Damien Hirst's commercialist appeal is now its calling card. You may prefer a new Ferrari over a weekend in a Vegas hotel, but likelihood is those bedding down among millions of pounds of contemporary artworks won't need to choose.
£78,500 per-night