Driven forward by the financial might General Motors, Ford, and Chrysler—The United States's largest automobile manufacturers, collectively known as the Big Three—architecture flourished in the 20th century for Detroit, with some of the world's most influential architects leaving their mark on Motor City.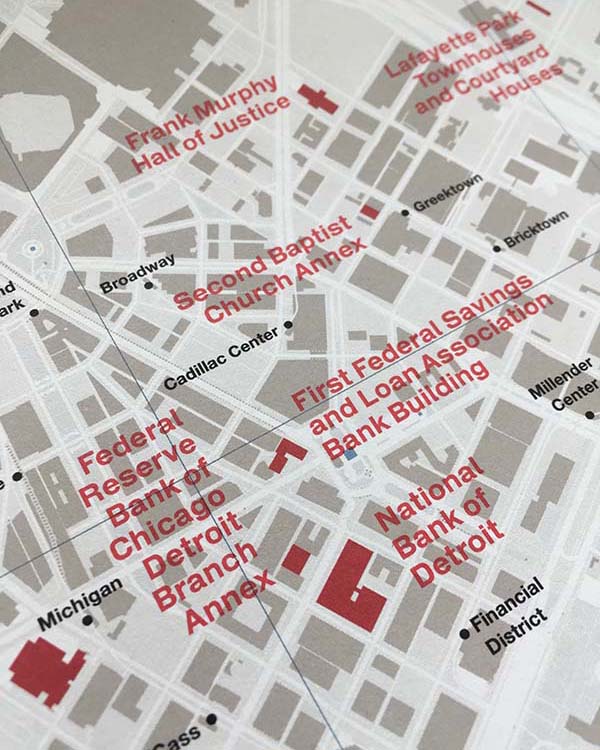 Buildings such as Ford's Highland Park Plant and the Packard Plant got the wheels in motion at the turn of the century, both constructed by local firm Albert Kahn Associates, with the latter the first to use reinforced concrete in the United States for industrial construction in the automobile industry, and considered the most modern automobile manufacturing facility in the world when it opened in 1903.
Finnish-American architect Eero Saarinen, along with his immigrant father Eliel, would lead a European-style modernism movement shortly after the end of World War II; building the General Motors Technical Center in Warren as he went on—along with architects like Minoru Yamasaki—to change the landscape of Detroit architecture during the 1960s and 1970s, experimenting with materials and ornamental techniques that would distinguish the city's then-pioneering aesthetic. But as the Big Three ran of out of gas, though, economic decline would result in the abandonment of many of these structures, which became a magnet for graffiti artists and urban explorers; their reinforced concrete structures retaining a structurally-sound composition despite years of neglect.
Many of Detroit's architectural gems still stand proud, however, and the iconic city is enjoying a new lease of life. For those arriving here to witness its change of gear, Blue Crow Media's latest architecture map, ​Modernist Detroit Map, plots a selection of these buildings; the two-sided guide and map taking architecture fans on a road trip of over 50 buildings by some of the 20th century's most influential architects.
An introduction by architectural historian and critic ​Michael Abrahamson​ and photographs by Jason Woods make Modernist Detroit Map another must-have from the publisher, and is available at independent bookstores worldwide or from Blue Crow Media's online store​ for £8.