One of London's most revered vegan restaurants has opened a second and larger outpost on Islington's Upper Street, enabling its founders—raw food pioneers Joel and Aiste Gazdar—to expand on their vision for plant-based innovation, offering a menu that the Neal's Yard spot is unable to due to size constraints.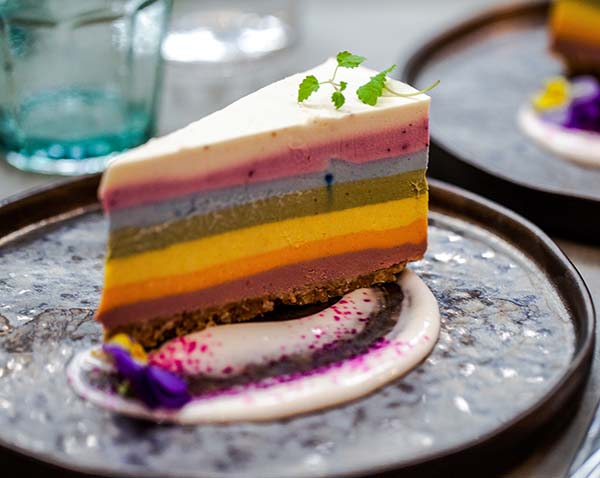 Wood fired pizzas—bases made from gluten free flour containing protein-rich amaranth, sprouted chickpeas, teff, quinoa and a nutrient-rich vegetable mix—are the most recent stars of the show, with toppings kept raw to preserve maximum freshness and flavour, and can be found alongside a menu packed with nourishing plates filled with wild crafted and foraged foods, seasonal produce, and goods from small organic farmers and ethical and local suppliers.
Creative and put together with love, the fare at Wild Food Café sees head chef Thet Min Tun—in partnership with executive chef Gazdar—maintain as much natural goodness in ingredients as possible. Following a traditional three course format, expect starters such as 'Pulled Jackfruit Sandwich Bites' (raw walnut and courgette bread, little gem, black garlic cashew cheese, BBQ pulled jackfruit) followed by 'Living Laksa' (a vegan twist on the popular Malaysian dish combining fragrant coconut broth with galangal, lemongrass, ginger, nori, and squash) and 'Matcha Moss Cheesecake' with wild nettle and kombucha.
A more refined bar offering will see a seasonally changing "liquid nourishment" menu offering medicinally-focused juices, herbal tonics and superfood smoothies as well as natural wines, superfood cocktails, and a comprehensive list of sprits and beers.
Bigger and bolder than its Covent Garden sibling, with decadent flavours, style to match, and innovation at its core, Wild Food Café promotes wellbeing and well-living with its delectable approach to the holistic lifestyle.