Bold, bright and always bags of fun, the work of multidisciplinary artist Michela Picchi has a knack for putting a smile on one's face.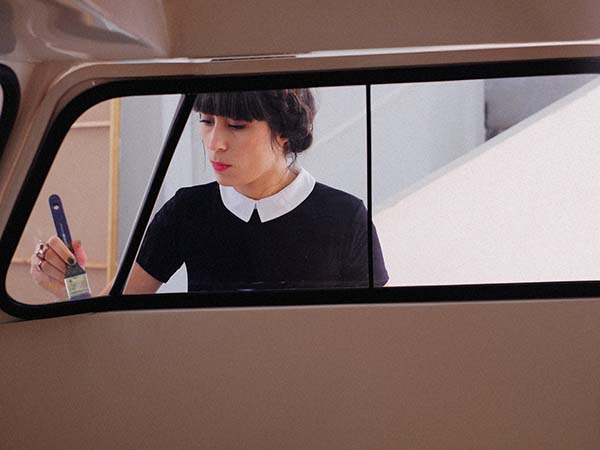 Her lively palette, use of block colour, shape and form are intrinsic to the style of the Italian-born, Berlin-based creator. Never far from a paintbrush, Picchi's work can be seen on walls, vehicles, ceramics and anywhere else you may imagine. With an element of pop, surrealism and psychedelia, Picchi's work almost always features her favourite creature: the tiger. A calling card and an extension of her self, the big cat embodies power and bravery.
Having studied law and economics before following her heart and switching to the arts, Michela has been drawing since her early teens. Bringing joy and happiness through colour and form, she has also attracted the attention of super brands from Apple to Adidas. Intrigued by her sense of freedom and delight—her signature tigers, women, rainbows and even typefaces—we caught up with Picchi to discover a positive and colourful woman with oodles of enthusiasm, doing exactly what she was always meant to do, creating for the sheer love of it …
Born in Italy, you're now based in Berlin, can you tell us about your studio and what you like about the city?
Before I moved to Berlin five years ago, I had already lived in London and Hong Kong, so I was familiar with the experience of leaving my home city, Rome. The charm and freedom of Berlin struck me right away.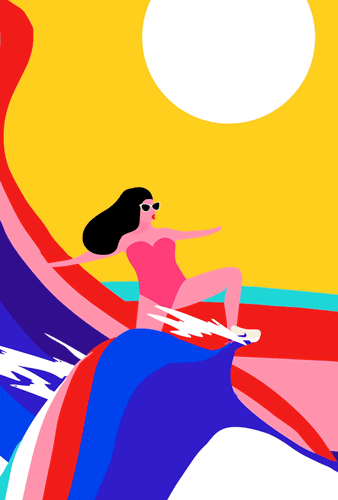 I am lucky to have a studio at the Kunstquartier Bethanien—the famous former hospital in Kreuzberg, now entirely restored through cultural activities, artists' studios, print rooms, music schools, and so on. The former chapel of the old hospital is now a popular public art place. I love being there, and my studio is my creative temple where I can paint and create.
Berlin gave me time to continue to evolve as an artist, especially at the beginning of my career. You can still breathe in the sense of freedom that characterises the city from day to night.
We hear that you originally studied law and economics. Why the brave change, and what advice would you give to someone considering changing their career trajectory?
Since I was a young girl I've always been interested in a lot of different things. After my first BA in Law and Economic Studies, I tried to focus all my energy into something that I could identify as really 'me'; and I undertook the second path in my life. The first choice never excluded the second because, while I was analysing the markets, I was also feeding my eyes with different visual stimulants—art blogs, exhibitions, and already producing my own art.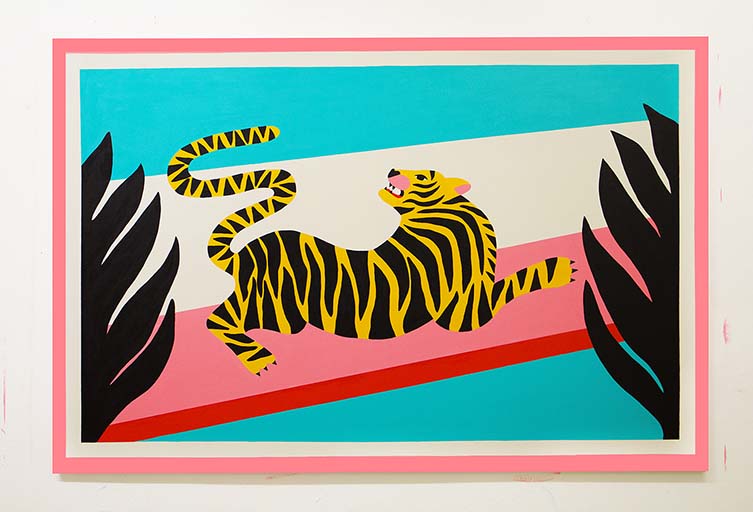 I do not see these choices as restrictive; they are all functional one way or another. In the end, these choices allowed me to realise that in life, with real visualisation, you could become who you are meant to be. I do believe that it's never too late to change your trajectory to do something that fills your heart and makes you truly happy.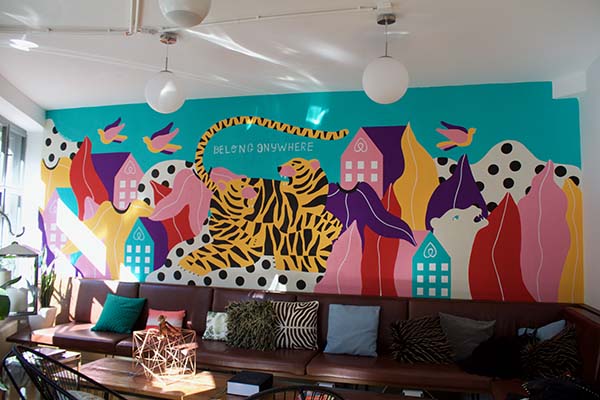 With this in mind, does your academic knowledge ever come in handy?
Sure—the ability to analyse markets, understand trends, have a 'business mind' (especially at the beginning) with contracts, has been very useful.
Your work is synonymous with tigers, why the obsession? Do they have something to do with bravery?
I've never linked my tigers to bravery, but they are definitely one of my obsessions. When I paint them, I always find them so harmonious, and I try to create their pattern more and more dense and optical.
Colour is hugely important to you. What is the significance of the palette you choose?
Yes, colours are a fundamental part of my work. I chose my colour palette during my months in Hong Kong, and it was a kind of revelation. I love my colours, and I can already visualise with them when I have a project in mind.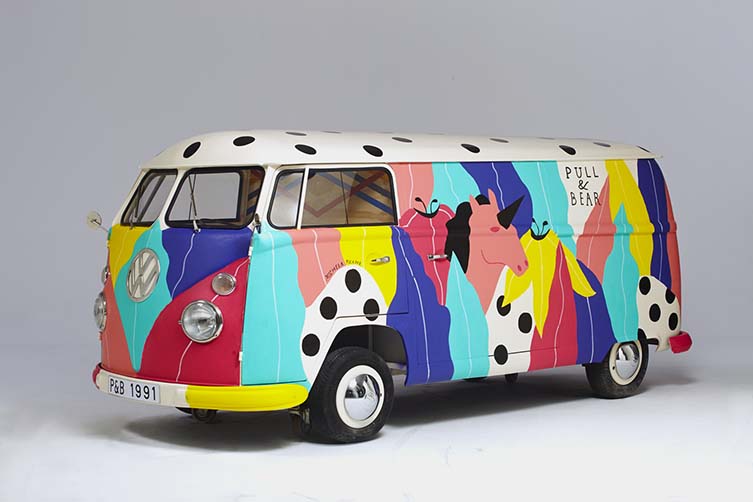 Can you tell us about your favourite commercial projects to date? Were they dream jobs and what did they signify in your career?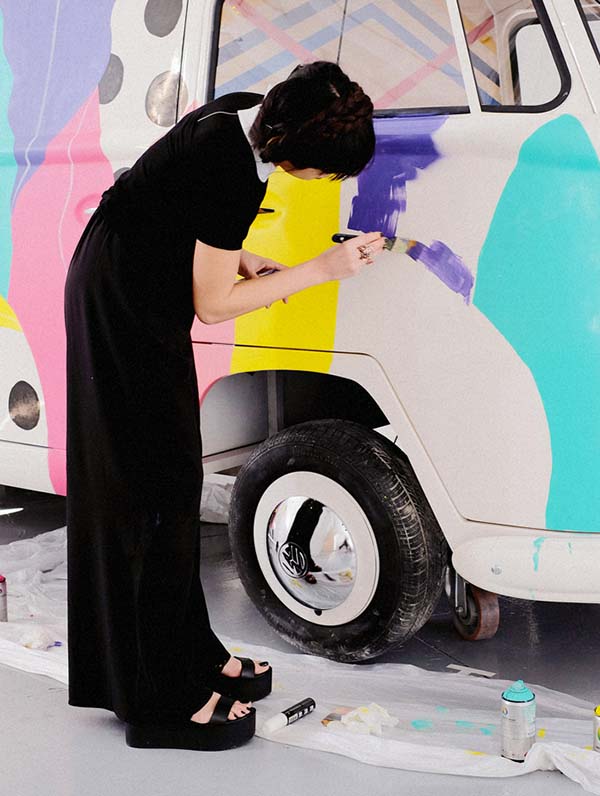 That's difficult. I collaborated with Adidas for the launch of the new Falcon sneakers in Los Angeles. It was great to be there during the event with Kylie Jenner and Laura Fama from Dimepiece for the Sunset Blvd event.
I'm also still very fond of was my collaboration with Pull&Bear in Barcelona, when I painted an entire VW van. It was amazing.
What about personal projects? Do you have a favourite?
Self-initiated work is everything and the core of my work. Certainly more personal and therefore, at least for me, has more depth.
What challenges are you facing as a cross-disciplinary artist?
Trying not to be scared by the labels people put on you—not belonging and being fluid between art and collaborations is the answer for me, but it can be tough. Sometimes I remind myself that being free from all those labels is the best thing that could have ever happened to me. Freedom is the key.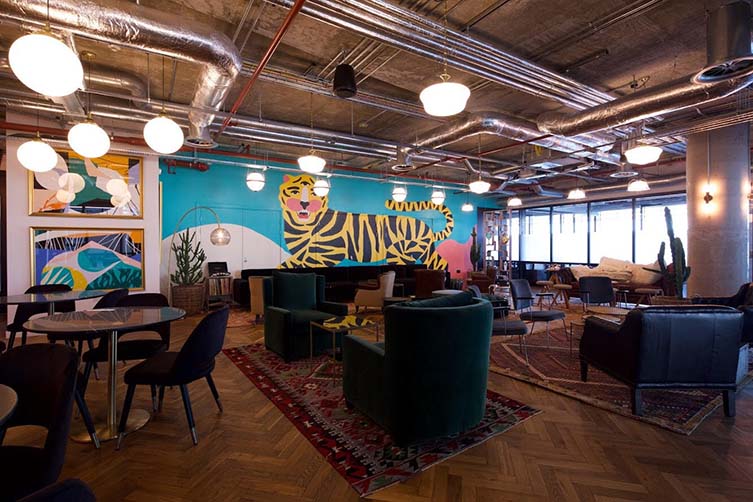 You are creating fun, energetic and positive work, but what are you trying to communicate? Do you have a message for the world?
I create what I visualise, and I create for myself in the first place.
What is your favourite canvas: wall, paper, screen … ?
Painting on walls or canvas and creating something 'real', like my wood installations or my new ceramics.
Strong women (and tigers) feature a lot in your work, can you tell us about these powerful female characters?
Most of the time I think they're self-portraits, even when I draw tigers. It's like imposing yourself at a critical historical moment for female artists. There are so many female artists that I admire, strong in their determination to continue creating. I want to be among them.