Brand new on the Hackney night scene in London is Night Tales Bohemia Place, brought to us lucky ducks by the award-winning minds behind the revered pop-up of the same name. Their first ever permanent site is not just a bar, or restaurant, or club, or music venue … it's a place for all of the above. Albums will launch here, mezcal will be mixed here in copious quantities, and Japanese eats will be served on tap.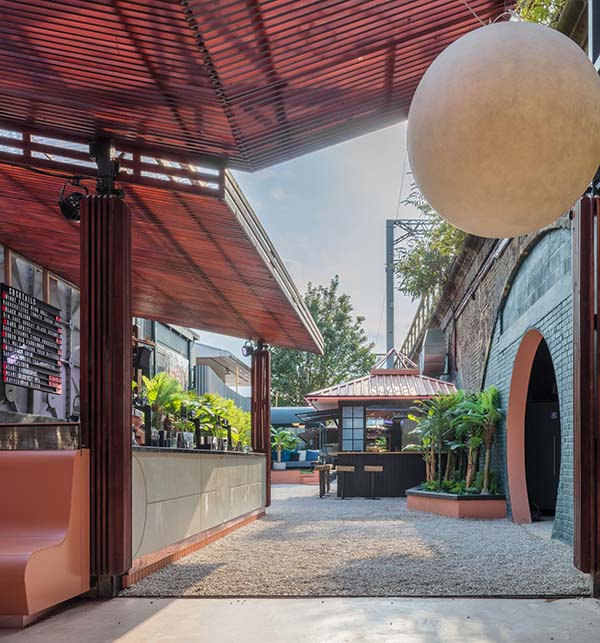 At 9,000 sq ft, this is their most significant project to date, featuring (take a deep breath) an Asahi Super Dry bar; covered outdoor seating areas; swinging day beds; ten-person private booths; a 300-capacity nightclub; outdoor DJ set up; ten metre indoor agave cocktail bar; beer and prosecco shack; and Fat Baby, an in-house Japanese kushiyaki style grill lead by chef Greg Round. It's like the founders—Lottie Campbell, Jamie Rule, and Louis Hyams—picked their favourite things to do on any given night and cleverly curated a space to house it all.
Campbell explains: "when Night Tales launched five years ago, there was an obvious gap in the market for a generation of people who wanted to go out, but might not necessarily want to go 'out-out'. We want a place that appeals to everyone. You can come after work just for food, stay for drinks, or rave until 3am. Our must haves are quality drinks, a carefully curated music program, and a beautiful environment; we never compromise on design and production."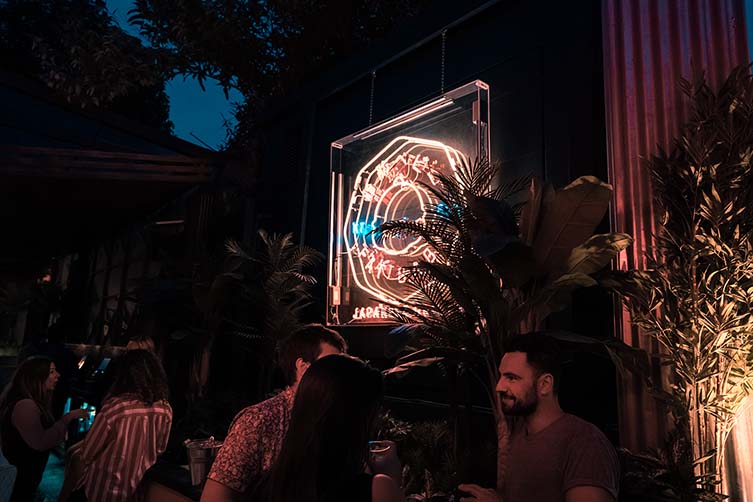 Night Tales Bohemia Place is undoubtedly one for design fiends. Thanks to Sella Concept taking on the challenging project, two large railway arches and a vast terrace garden were converted into a multi-faceted site. Combining function and design in an attempt to merge all the individual elements—the grill, the club, the various bars, garden etc.—the overall feel of the site needed to keep each element unique.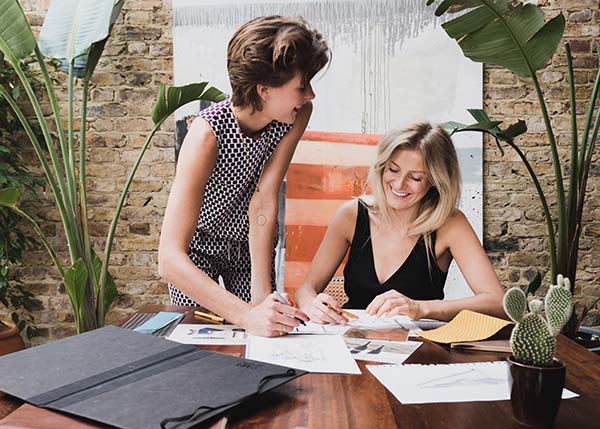 "The Night Tales team had many elements to include in the space," explains Gayle Noonan, co-founder of Sella Concept, "a dance area, private booths, restaurant … so our job was to somehow make them sing together. Create a flow of independent yet cohesive areas to transport guests the minute they step through the punched hole of Night Tales."
The result is a playfully sexy, bold, and highly original manifestation that beautifully combines peach-toned resin, powder-coated metals, pigmented concrete, and rose mirrors that contrast with heavyweight raw materials such as the concrete bar façade and reflective metal touches. Cherry timber features and burnt-wood detailing nod to the organic materials of Japanese design but with a hint of the 1990s.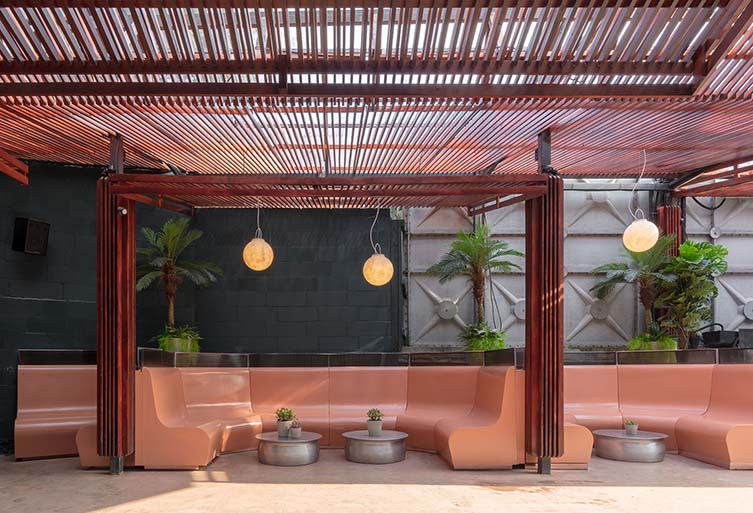 "We had a very clear vision that we were not going to play with a particular theme, but reinvent accents of styles to give the space its own unique identity. Night Tales and the people behind it always had a bit of a '90s feel to us so it was certainly a starting point as the overarching brand that could bind the various elements together," continues Tatjana von Stein, Sella Concept co-founder.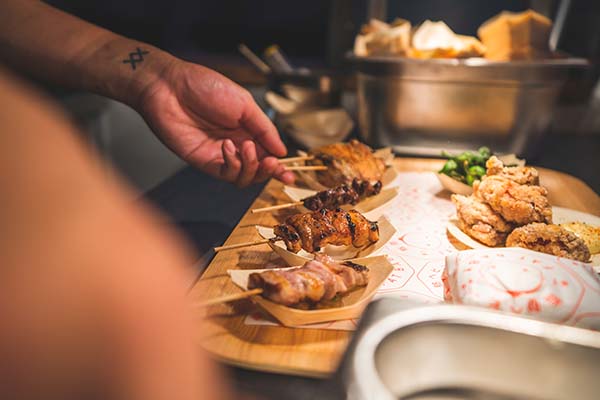 The menu, too, promised authenticity and delight. Alongside pizzas from Sons of Slice, Japanese style grill Fat Baby is the main food offer. Based on the hole-in-the-wall style izakaya grill found on Tokyo's backstreets, head chef Greg Round—ex-Pitt Cue Soho and Mayfair's Two Michelin-starred Umu—is at the helm. Cooked over Binchotan charcoal on a custom-made grill, revellers can sample grilled seafood, gyoza, chicken skewers, and pork belly alongside an evolving menu.
On their love of Japanese food and culture, Campbell explains, "we've always had a genuine love for Japan and Tokyo Nights (part of the Night Tales series) was one of our most loved events. We love everything about the culture, the bright lights and the crazy streets. We approached Greg after learning he was a bit of a skewer hero. He's a grill expert and shares the same love for Japanese cooking as we do. He's passionate about serving authentic Japanese food, and his food isn't fussy, it's all about ingredients and technique."
Like its locale on Bohemia Place, the new, not so grown up, but rather permanent Night Tales feels bohemian, nostalgic, and hedonistic at heart. It's a place for fun, food, drinks, party, and frolics. A true music destination, punters can expect anyone from Foals to Will Saul, James Lavelle or Django Django, to name just a few acts gracing the decks since they opened. For quality drinks, a fresh aesthetic and very loud music, get over there. As Campbell says: "the atmosphere when the sun goes down, and all the lights come on … you feel this amazing energy, and you know you're in for a great night" And we could all do with some of that.