Lahpet, named after pickled tea, is one of London's very few restaurants to specialise in authentic Burmese cooking. Founded by Dan Anton and head chef Zaw Mahesh after a year-long pop-up in Hackney, the pair now have a super-stylish permanent locale to call culinary home.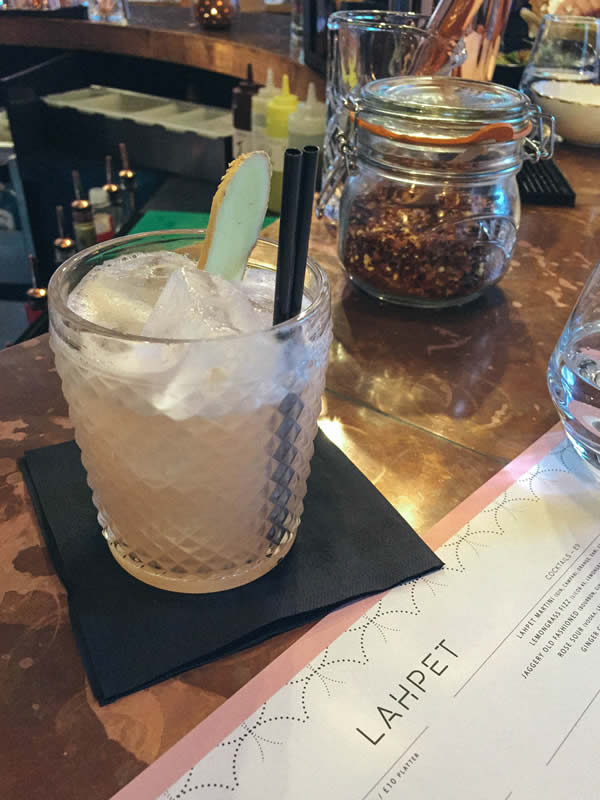 Delivering flavours of Burmese culinary culture influenced topographically by Indian, Bangladeshi, Chinese, and Thai cooking, Lahpet's new site is also ideally located for all that the neighbourhood has to offer. Opposite Rick Mix cinema and neighbouring Box Park and Brick Lane in the heart of Shoreditch, the restaurant fits nicely into the ever-changing landscape of this corner of East London.
"Burmese food is earthy, savoury and full of umami," explains Anton when we discuss a typical Burmese pantry, "noodles, rice, shallots, potatoes, ginger, garlic, chilli, coriander, lime, fish sauce, dried shrimps, fish paste (ngapi), eggs, and coconut. A lot of river fishes—catfish being the most well known—are eaten, as well as chicken, pork, and mutton". It's these flavours with a hint of refinement and contemporary flair that define the Lahpet offer.
We start our Burmese adventure with cocktails; the refreshing Lemongrass Fizz and the pinkish super-sweet Ginger Club. Somewhat unfamiliar, but eager to learn, we see signature and unique dishes, but the menu needs a little explaining. Anton recommends the split pea tofu 'chips' and lentil fritters, and we are delighted with the little-fried treats. Tea Leaf salad is an absolute must he says, so we can't say no. The flavour is interesting, not familiar, and yet full of depth and plenty of texture.
"The Western palate loves Asian cuisine, and is only now starting to embrace the flavours of Myanmar," Anton continues. "I think this is mainly because there has been a real lack of Burmese chefs and entrepreneurs anywhere outside of the country for decades due to its military dictatorship. Our Tea Leaf Salad is our best selling dish, so London is definitely now ready for it."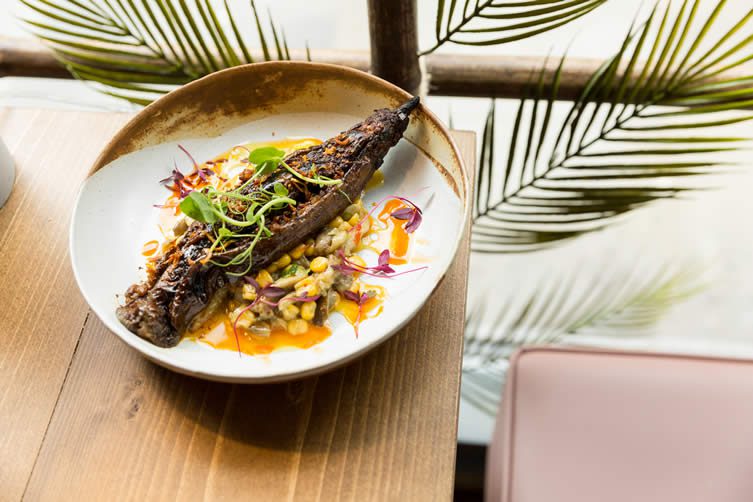 We also try the super crunchy ginger salad, and the pretty, gelatinous steamed Balachaung dumplings that are utterly delicious. A bowl of Mohinga, a catfish and lemongrass chowder, is next and is surprisingly elegant and light albeit containing complex flavour; similar to a laksa. Pon Yay Gyu relish, a fermented soya bean sauce, accompanies the plain rice, and we are urged to mix the two for a sweetly rich taste with hints of fire. Lemongrass and fresh chilli are key features at Lahpet, and we love the flavours of these regional dishes for their subtly humble origins with a balance of salty, sweet, sour, bitter, and umami.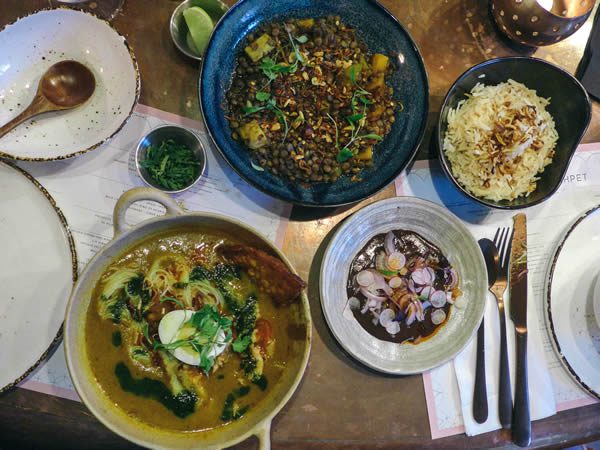 If the food is not enough to entice you, then perhaps the interiors will. Natalie Weavers Interiors designed the space, and Instagrammers should drop everything and head there immediately. The floor-to-ceiling windows with cross hatch framework and palm leaf décor set the tone—while concrete, soft pink hues, and exposed lightwood are highlighted with hints of copper and deep green foliage. Diners can sit in booths, at the bar, or on tall sharing benches made of black scaffold and stripped wood. There is a large open kitchen at one end and a curved bar by the entrance.
"We commissioned Natalie because we liked her and she had worked with our building contractors before. Her brief was to take as much inspiration from our previous warehouse site in 2017 and transfer that to the new restaurant—utilising the copper bar, which remained in situ from the previous occupants, and merging it with concrete, shades of pink, and lots of plants and bamboo. She did a great job."
We think so too, as have Anton and Mahesh. Head down to Shoreditch and get yourself acquainted with Burmese food in a deliciously designed setting. You won't regret it.