Fusing Thai tradition with global influences, Greyhound Café—which began life amid the choas of the Sukhumvit neighbourhood of Thailand's boisterous capital—captures the spirit of the Bangkok-style café, serving a selection of small and large plates, cocktails, and craft beers in a bold space set over two floors in Fitzrovia.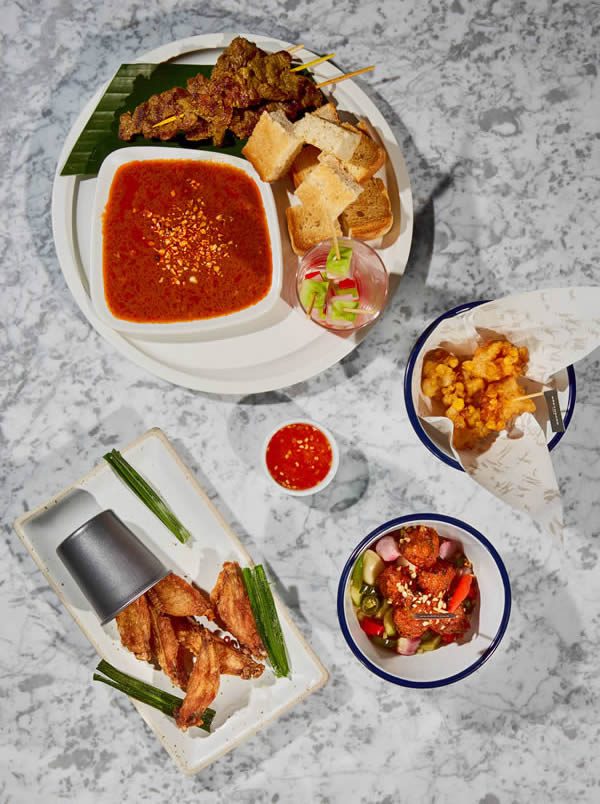 Having arrived in London, Greyhound Café brings with it the jovial ambience and Thai flavours for which it has become renowned for throughout Asia. Offering the 'best of Bangkok' with twists for the UK market, diners are in for a treat: thinly-sliced sashimi-grade salmon in chilli-spiked green sauce, followed by German-style pork knuckle simmered with Thai herbs, deep-fried until golden and served with sticky rice and the signature fresh coconut sorbet. A good dose of Thai chillies make the cocktails—developed in partnership with Thai spirit distillery Mekhong—all the more welcome and refreshing.
B3 Designers developed the space, which, alongside Greyhound's signature monochrome design, features hand drawn chalk designs, and an eclectic Thai-meets-West interior—typical of the post-'70s era of 'Siwilai'. A canopied entrance welcomes diners who step into the ground floor bar and dining room complete with Bangkok style 'shophouse shutters' and an oversized Sai fish trap, said to bring good fortune. Downstairs, the basement dining area—reminiscent of the Bangkok street scene—boasts corrugated metal-sheeted walls, mock folding tables, brightly coloured chairs, and Thai 'Temple Fare' pendant lights.
Thai at heart with inspiration from far and wide, Greyhound Café London is an unexpected fusion of cool cosmopolitan style and Bangkok chaos. Same same but different to its Thai original, the Greyhound brings its singular tenor to central London.