THE COME UP by Charles Jeffrey remains on show at NOW Gallery until 11 February; the Glaswegian fashion designer and illustrator's first solo exhibition a riot of interactive and three-dimensional portrayals of his LOVERBOY brand.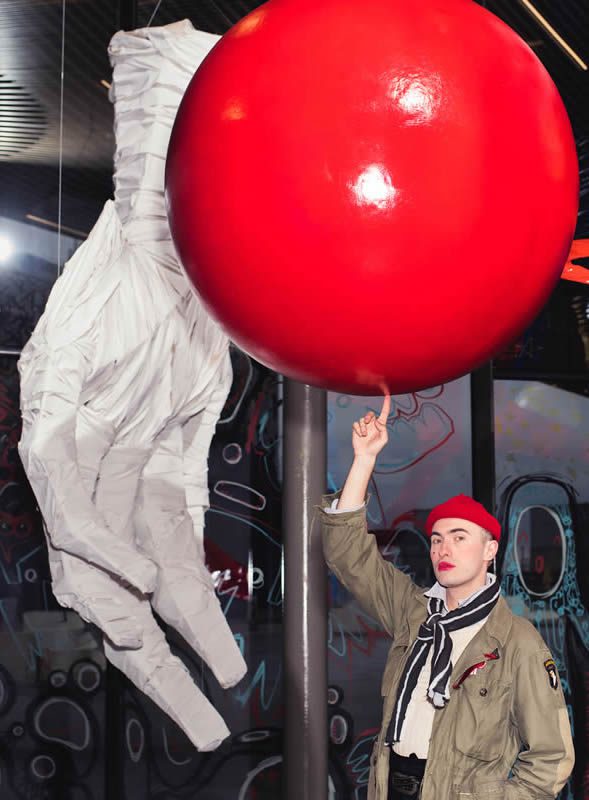 Hailed as 'the ringleader of London's next generation of club kids', Jeffrey's cult Dalston club nights form the primary research for his fashion collections. THE COME UP — housed in Greenwich Peninsula's first hub for design, fashion, and art exhibitions — is based around the creative's emotive illustrations; an IRL manifestation of his mind interpreted through some impressive sculptural pieces.
Hanging from a seven-metre ceiling, these works make use of PVC, fibreglass, chicken wire with papier-mache, and electrical tape — varying in size and shape, Jeffrey's brazen creations serve to amplify his increasingly renowned designs; haute couture's rising star already having an LVMH Prize nomination and collaboration with John Galliano under his belt.
Visitors 'coming up' with Mr LOVERBOY can get creative in the interactive experience, mixed media artistic materials allowing the mind to flow as guests can participate by drawing their face onto the freestanding 'ginger root' sculptures. The fabric that is created will go on to be featured in Charles's Autumn Winter 2018 collection; the haphazard impulsiveness of punk's DIY culture an integral part of his ongoing work and the aesthetic of his revered Dalston club nights.