Scouting out Detroit's street art-heavy Eastern Market one Saturday, friends Dayne, Paul, and Devin — who'd some weeks earlier decided that they would set-up their own brewery — came across a decrepit building with a telephone number scrawled on a faded 'for sale' sign. Not wholly believing they'd actually obtain the property, the trio made the call regardless. The rest, as they say, is history.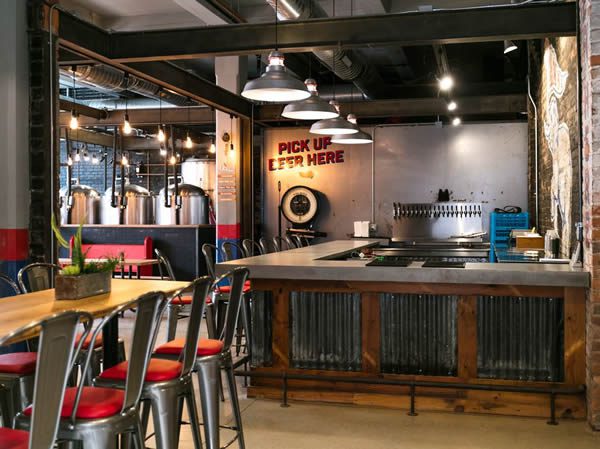 12 months, a complete overhaul, and lots of blood, sweat, and tears later, 2515 Riopelle opened up as Eastern Market Brewing Co, a community-focused craft brewery and taproom in the heart of the city where locals and visitors alike can mingle over a good beer; beer that is brewed with local ingredients where possible, mixing tradition with experimentation whilst supporting the vendors and businesses that make Eastern Market what it is.
Surrounded by art, culture, and over 150 years of rich history, Eastern Market Brewing Co (EMBC), is a vast space with exposed brick walls, high ceilings, and huge windows. Contemporary touches blend with industrial-type lighting and fittings, whilst large murals and lush greenery add a certain warmth. Inspired by the German beer hall, long, communal wood tables are the ideal spot to taste the tipples brewed in their taproom: Belgian, American and Double IPAs, a Saison, Pale Ale, Scotch Ale, and Porter; all listed on a whopping great big blackboard. Keenly involved in a host of community projects, EMBC is at the heart of this neighbourhood's buoyant regeneration, and a proud cog in the wheel of Motor City's resonant revival.