A space filled with flowers and lush greenery that just screams genteel (gently, of course) awaits hungry diners in Clapham, London. Serving seasonal fare with a contemporary twist, Minnow is a new neighbourhood venue founded by Chris Frichot (whose parents opened the Michelin-starred Knockinaam Lodge on the very week he was born) and Saba Tsegaye (who procured a love of food and flavours through extensive travels).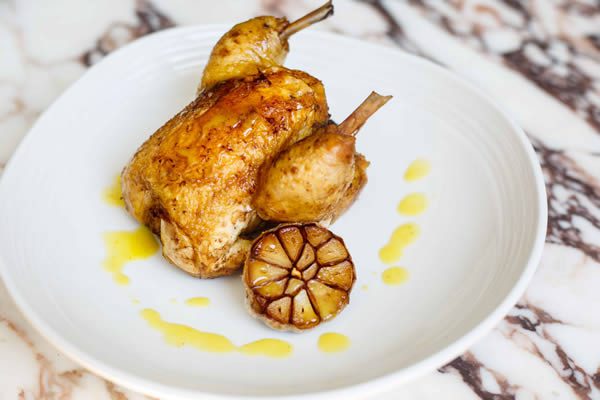 Embracing the pretty pavement culture of Clapham Common, tables spill out onto Minnow's small terrace, whilst downstairs an open kitchen and vaulted booth — illuminated by a very fancy stained-glass light box — makes for a moody, romantic setting that is pleasingly at odds with what goes on above.
Jake Boyce (formerly head chef of Jason Atherton's Social Wine and Tapas) has created a menu that features the freshest seasonal produce combined with spices found the world over. Dishes like squid with lemongrass, lime and ginger, and whole roast poussin from the Robata grill are a lighter alternative to hearty weekend brunch options that include mouthwatering banana pancakes with almond butter, and Merguez sausages with red pepper and homemade baked beans. Ooof.
Close to Clapham Common tube station, Minnow is quite the spot to pass away a few boozy hours with good food, a cocktail selection that takes its inspiration from local heroes and landmarks, and an exceedingly handsome environ.