In a stark contrast to modern society — where our obsessions lie with selfies, filters and instant gratification — Mike Mandel's recently-released publication, People in Cars, revels in the unaffected sincerity of people he captured on film in 1970s California.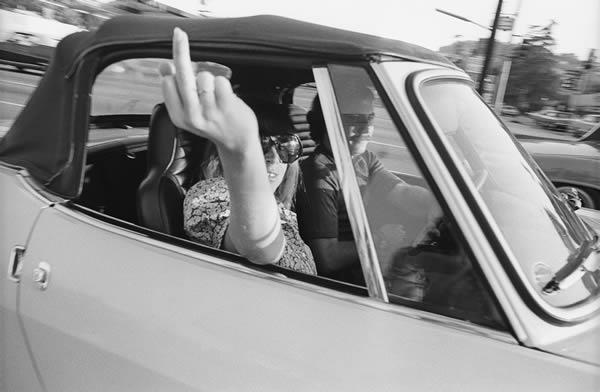 As a kid in the San Fernando Valley during the 1950s, Mandel walked everywhere — from school to the shops, and down the road to hang out with friends and catch lizards. (Really.) Spending so much time on foot, it would be his early twenties until he realised how large a role the car would play in his life, and thus the photographing began.
Shot with a 35mm camera, Mandel would find a spot on the corner of Victory Blvd. and Coldwater Canyon Ave. in Van Nuys; the low light of late afternoons ideal for the perfect photo. At a busy intersection, Mike had his pick of cars — inching closer, ready to make a right turn … the fledgling photographic talent able to get pretty close to the window with his 28mm wide angle lens, where he'd make his move.
Published by STANLEY/BARKER in collaboration with Robert Mann, People in Cars features 34 of Mandel's images — reactions ranging from surprise and amusement to annoyance, each revelling in the beauty of mundanity, the language of the automobile environment a conduit through which his unique take on street photography was distilled.