The Californian sun shines right into BäcoShop, a design-conscious downtown Culver City casual eatery that serves up wholesome and delectable grub — all of which is centrally themed around the humble flatbread.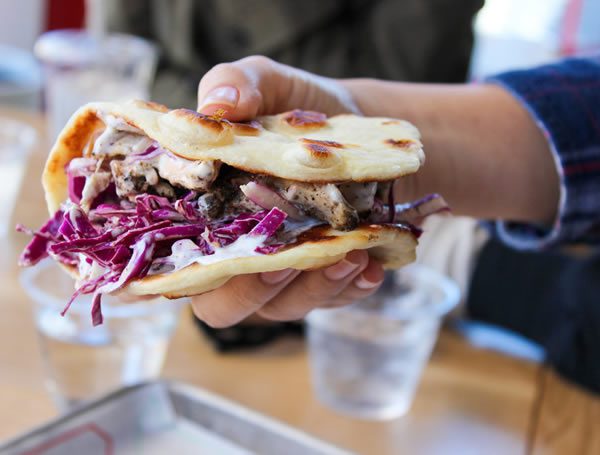 In fact, here at BäcoShop you'll find said flatbread wrapped around everything from grilled and braised meats to seafood and veggies; hot sauces, herbs and spices providing the beat to which tastebuds will dance. Occupying a light, bright and airy space (formerly home to Chop Daddy sandwich shop), chef Josef Centeno (known for L.A. restaurants like Ledlow, PYT, and Orsa & Winston) uses the flatbread as a vessel for his creativity.
The menu — designed for those wanting to eat inside the stunning Art Deco building, or to take away — offers BäcoShop diners the chance to also chow down on the Bäcorrito (a Burrito/Bäco creation that trades the traditional flatbread for a version where the dough is rolled thin and griddled); healthy salads; a handful of side plates; and delicious desserts. All to be washed down with a cold glass of their very own signature BäcoBeer Sumac Imperial IPA. Humble ingredients, we salute you.