I love a neighbourhood restaurant. There's something quite special about a cosy space with a warm welcome, a seasonal ingredients list, and an omnipresent independent attitude. Located between a barber shop and a ballet store, so synonymous with Covent Garden, is a lovely little restaurant called Jar Kitchen. Owned by two friends — Lucy Brown and Jenny Quintero — it is just two years since their dream of leaving careers in fashion and publishing to open a restaurant came true.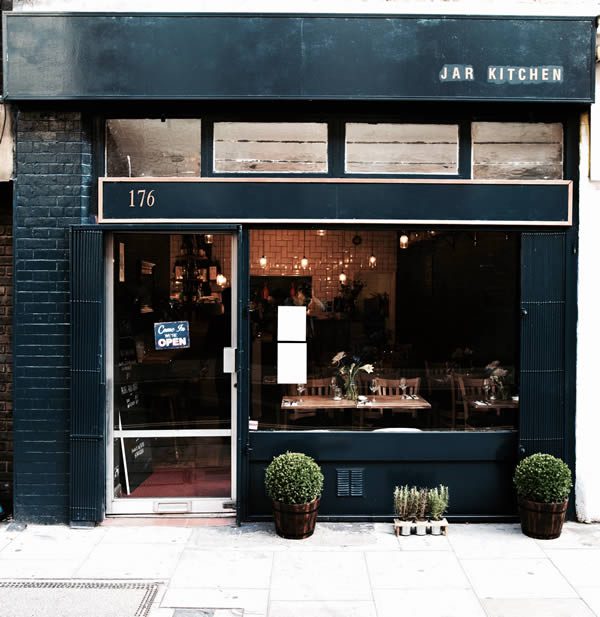 The deep blue-grey exterior with small typographic detail hints at an evident style, that is pared-back but most intentional. Inside, the petite space ushers in more dark tones, odd shelves laden with jars (of course), plants and herbs; exposed wooden tables, an open bar and kitchen — plus a large window allowing natural light in. Everything here is aesthetically pleasing, without being in love with itself.
Greeted with genuine warmth we're immediately made to feel welcome and attended to. The most incredible whole-wheat focaccia with rosemary and a zingy aioli arrives, and we're already in love. We discover that all the wines at Jar Kitchen originate from Europe, so we start by the glass with a charmingly-good all rounder: Félicette Grenache Blanc. The bottle label depicts two cats in space suits, and I wonder if it was chosen to compliment the cuteness of Brown and Quintero's space.
The menu has evidently been conceived with a respect for seasonal and well–sourced ingredients. New head chef Paula Borreguero, formerly of 10 Greek Street, takes charge of it; and there is a strict farm-to-fork policy. We begin with a couple of Colchester oysters just because we're feeling good. Our starters are healthy, fresh and utterly delicious. The red cabbage, carrot and fennel salad with home-smoked salmon is a hit — while the courgette flower stuffed with Innes Brick goat's cheese with fig jam blows our little minds.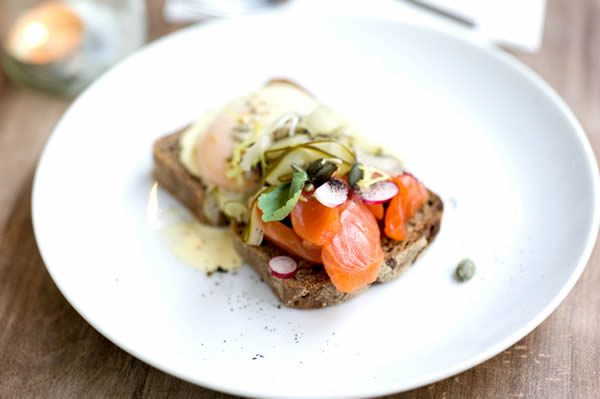 Lucy, taking care of front of house is keen for us to try the biodynamic Guerila Pinela from Slovenia. The green wine is light with hints of dried pineapple. We try the sea bream with petit pois (which is cooked to perfection), the white flesh milky and fresh, while the skin crispy and light. The confit of Portobello mushrooms with labneh and sunflower bonbons are simple yet inventive; for meat lovers, a daily delivery from Walter Rose & Son in Wiltshire ensures seasonal and well-treated meat is always available. Daily bread, yoghurt, pasta, granola and kombucha are made every morning, and you get the impression that the entire team lives and loves Jar Kitchen.
We too have fallen for their charms and skill, and will be back to try their popular Saturday brunches as well as their three-course raw lunch menu (which the team are busy developing as I type) during The Evening Standard's Food Month this June.