The Rostang family name is a familiar one in France, and to anyone with any culinary gusto; adorned with Michelin stars since the 1960s, to say the family knows their food would be an understatement. One of the first Parisian names to establish both bistro and fine dining establishments in close proximity of one another, the family now operates under the brand Rostang Père & Fille — running seven restaurants in France, the majority of which in Paris, it's down to Michel's two daughters to carry on the family vision and take it forward for new generations.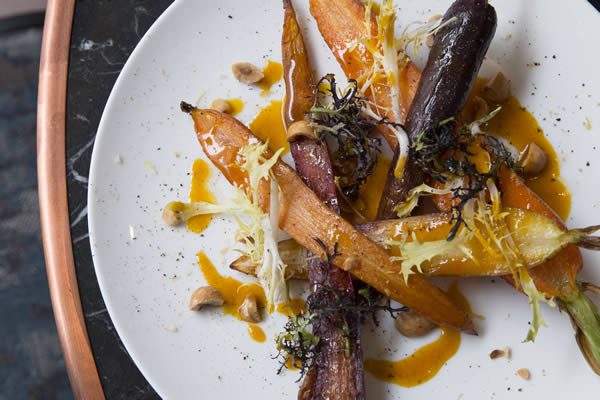 Sisters Caroline and Sophie grew up in kitchens, their lives absorbed by the restaurant business, and their most recent venture sees them open Odette — L'Auberge Urbaine at Maison Albar Hotel Paris Céline in the city's 1st arrondissement. Teaming with Céline Falco (who herself is of esteemed hospitality lineage) and her husband Jean-Bernard, the collaboration is one of quite perfect fitting.
Odette is a petite restaurant of distinct visual character. A large metal bistro style bar is at one end of the L-shaped space, above it copper tube lights by Tom Dixon hang; the wooden deck style paneling on the wall setting a visual pace. On the other side of the L-shape is a wall of wine that faces the floor-to-ceiling windows with a large table between. Copper not only features in lighting, but detail on the bar stools and other fittings accentuate the muted natural wood and soft cream upholstery. Even the cutlery, by Hepp, is finished with copper bronze. Large banquette seating runs along another wall with fluid, wave-like wooden panels above that create a sense of movement. Little bird-shaped lights from Beau & Bien float above a service island with a large arrangement of flowers atop; it neatly divides the space and all feels nicely congruous.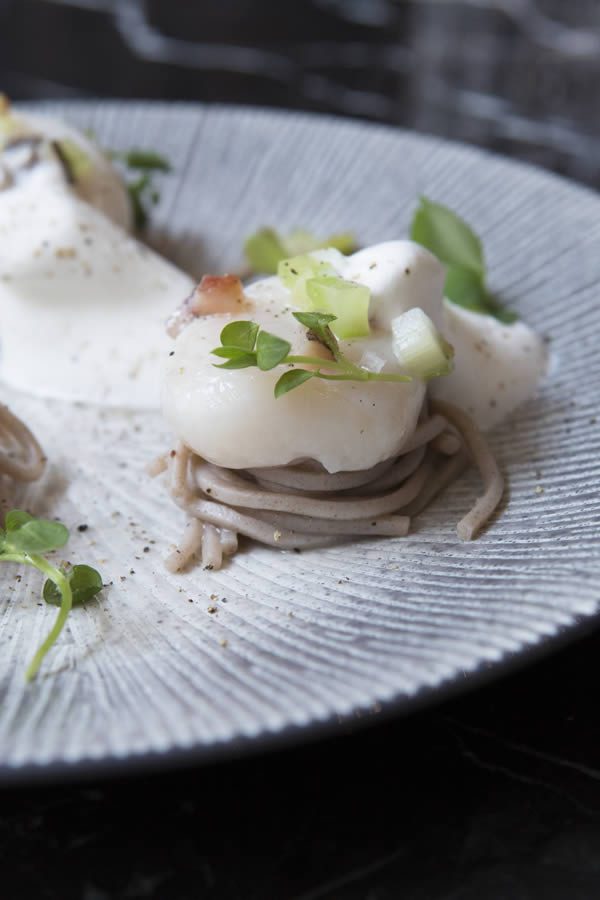 Caroline, Sophie, and head chef Yannick Lahopgnou have developed a contemporary, unfussy menu that is seasonal and refined; having trained under three-Michelin starred chef Yannick Alléno and at kitchens in Japan, Lahopgnou's food is a hybrid of haute cuisine and bistro-style. Our confident and knowledgeable waitress Maggie paired our wines — self-admittedly not strictly a sommelier, she nonetheless had excellent knowledge and ability to match. We tried the chunky dough squash ravioli in umptious chestnut velouté and Comté cheese paired with Pouilly-Fumé Villa Paulus 2015; nicely accentuating the sweetness of the chestnuts.
The wine also works well with the salt cod, avocados two-ways and roasted lovage. Distinctive flavours of creamy and salty, the two ingredients are somewhat unusual together; but balanced and complementary. For mains we opt for the monkfish for two, with butter mash and lentils. Cooked beautifully, it was a tad too salty for us — paired with the versatile yet floral Viognier de Rosine 2015 from Northern Rhône, though, it was a real treat.
As someone with not much of a sweet tooth, I urge everyone not to skip dessert here at Odett. 'The Thing' with Jivara chocolate, hazelnuts and tonka bean is simply beautiful. As is the coffee crème brûlée with banana and milk mousse; both unusual yet utterly divine.
Odette is a great little spot for breakfast, lunch and dinner. It has a real design edge to it with plenty to look at; as much a continuation of the hotel as it is a Rostang restaurant, a lovely equilibrium has been achieved in the partnerships between the two famous families. Here's hoping it sparks further collaboration.