Keiichi Tanaami has led a rich and varied life. Witness to the horrors of war at nine years-old, as American forces bombed Tokyo; inspired by the 1960s art happenings of Yoko Ono and Nam June Paik; converted to Warhol's vision of Pop on a 1967 visit to New York; suffering a near-death experience at the turn of the 1980s. It is easy to see why the Japanese artist sees things through a uniquely psychedelic filter.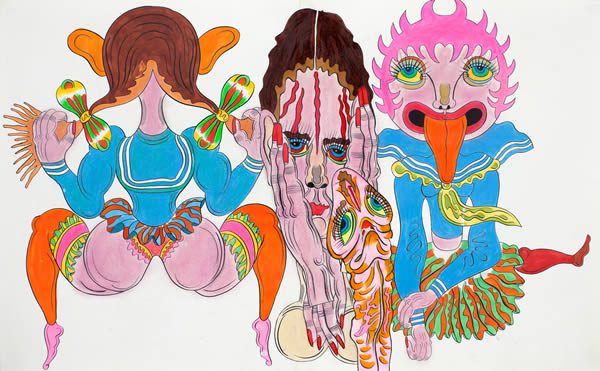 Titans and dwarves and conjoined twins; a one-eyed giant and somebody with reversal limbs; deformities and corpses; freak shows and fantasies — just some of the miscellany of madness that comprises The Catalogue of Eccentricity, Tanaami's latest body of work; part of which makes up a dizzying new exhibition at Dresden's Galerie Gebr. Lehmann that spans the enigmatic artist's expansive career.
Designing album sleeves for the Japanese releases of albums by The Monkees and Jefferson Airplane in the 1960s, Tanaami later assumed the role of art director for Japanese Playboy in 1975; the restless creative navigating his way through graphic design, video art, collage and painting. The Pop and psychedelia that defined that era, though, has been transcending as the artist's career has progressed, his work now an otherworldly journey into deeply chaotic imagination; the rich tapestry of his singular time on earth a buoyant resource to draw upon.
Here in Germany, mixed media works from the 1960s through to present day offer a compelling insight into one of art's most intriguing minds; the Tokyo-born pioneer's hallucinogenic musings making for hypnotising viewing.
A Perfect Peach-Pink Day continues at Galerie Gebr. Lehmann, Dresden, until 11 March.