Eurostar has just unveiled its brand new and very fancy Business Premier Lounge at Paris's Gare du Nord. Responsible for a look more akin to a town house-dwelling design hotel are UK-based architects Softroom; who've utilised a vast top floor of the 19th century building. With views of the concourse and a leaning toward the classic design heritage of the station, the transformation evokes notions of old movies and sets this is a lounge apart from others.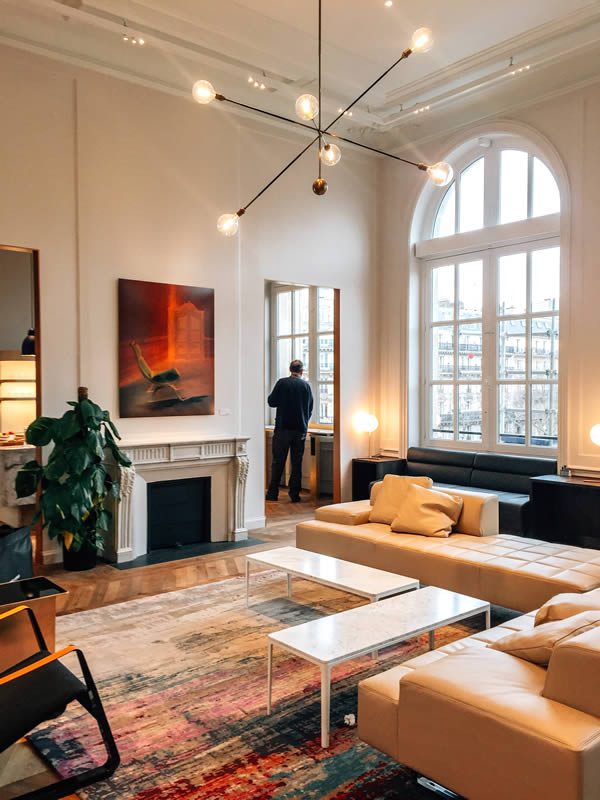 The new business lounge is a bright, roomy space — divided into three fluid sections: an open-plan work room; service area for drinks and snacks; and a softer, relaxed bar space. Throughout, Softroom have opted for one-off soft furnishings, large sofas, and gold panelling; marking the history of the building with high ceilings, herringbone floors and marble fireplaces. Open-plan and communal, to cosy snugs for heightened privacy — each area is equipped with all the 21st century necessities to help you stay connected and fully-charged.
The star of the bar area is a sunken circular gold bar, which is surrounded by darker hues; reds, oranges and purples evoking a less work, more play vibe. The revered London Cocktail Club is responsible for the cocktail menu, which featured five signature libations when we dropped in this week. I heartily recommend the Angélique, made with Toujours 21 gin, which was specially-designed by Raymond Blanc for the 21st birthday of Eurostar. Made in Surrey by The Silent Pool Distillery, it's a clean dry gin with hints of lavender — teamed with Cointreau, green Chartreuse, honey syrup and chardonnay, it's exactly what you need after a hard days work.
Alongside contemporary furnishings and its sophisticated bar, art also plays a pivotal role in the concept here. London's members' spot The Hospital Club curated the collection of work by French artists; pieces dotted sparingly, all for sale. Overall, business-class travellers could easily while away a few hours here at the new Eurostar Business Premier Lounge; it's as sophisticated as it is luxurious, a darn sight nicer than the old lounge, and we rather like it.