It all seemed so much more glamorous back then. Driving down the Amalfi coast in a drop-top Alfa Romeo; off to an opulent hotel to sip negronis and watch deals being done over white linen tablecloths. It might all be a figment of nostalgia, but the image of post war-Italy's glitz and glamour lives on; and restaurant heavyweights John McDonald and Steve Eckler have decided to share a slice of it with New York diners.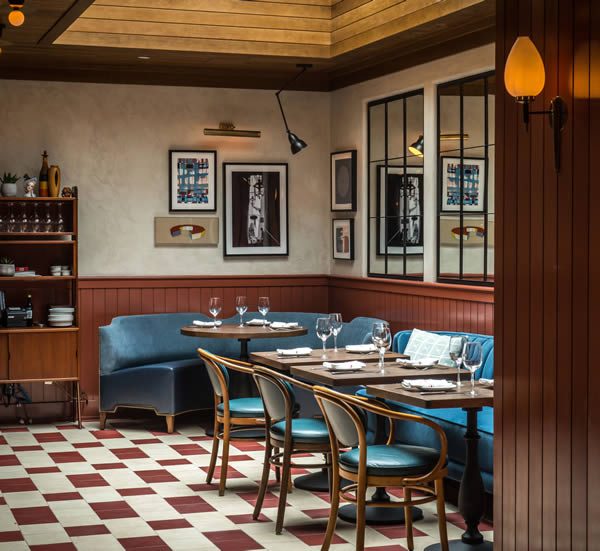 Sessanta's wood-panelled walls and leather booths might seem outdated in many other restaurants, but here at Sessanta they are combined with brightly coloured sofas, modern marble floors and contemporary Italian art; it all lends the restaurant a playful edge for which the Italians are so known. A teak and marble bar forms the centre of the main dining room, and a second space — lit by skylights and filled with foliage — offers a conservatory feel for those who prefer not to dine al fresco.
Pre dinner cocktails are practically obligatory in the land of the apéritif, and Sessanta doesn't disappoint with an impressive list of the usual suspects; along with their own signature cocktails. The menu here is simple and seasonal, and rooted in Italian home cooking; chef Paul DiBari's unpretentious approach a result of growing up as an Italian-American in New Jersey. A lifelong passion for preparing classic Italian dishes sees DiBari conjuring up the coastline of Puglia; the sun-baked fields of Calabria; the volcanic flavours of Sicily — all with the lightest of touches.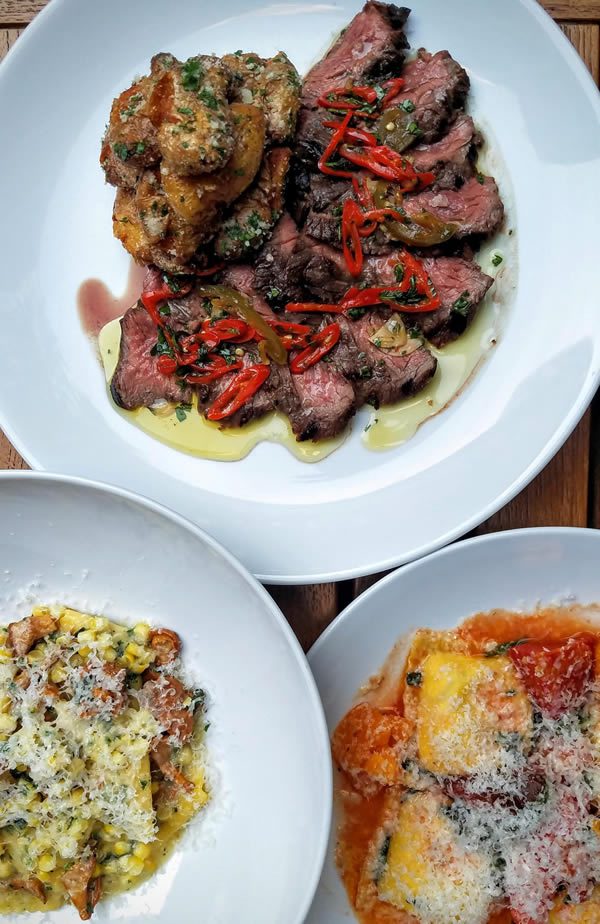 We start with the tuna crudo: raw tuna with oranges pistachios and pickled red onion, fresh, light and bursting with citrus flavours, you can almost feel yourself transported to a white-washed restaurant on the wild Italian coast. The veal meatball is a revelation, falling apart in our mouths and boosted by the rich tomato and thyme sauce. Pasta of the day was the ubiquitous lasagne carnavale (vegetarian lasagne). Forget heavy, béchamel-soaked dishes; this lasagne is packed full of colourful fresh vegetables. After this, even doing the samba would be little problem.
If you prefer a bit of heat, go for the prime hangar steak; perfectly cooked and marinated in fiery Italian chillies, it's a welcome respite from many restaurants' staid Italian fare. Side dishes use modern, fashionable ingredients; the perfect contrast to the more traditional flavours of the main dishes. Sessanta's crispy brussel sprouts have triumphed where so many Christmases have failed, and I finally enjoy the humble leafy green veg; roasted butternut squash adds a dash of sweetness to the main course. All this gets washed down by the Sommelier's pick of a Bordeaux style red from Tuscany, an excellent pick that doesn't overwhelm the lighter dishes, but carries with it enough body to stand up to the steak and chillies. After all this Eduardo, the friendliest waiter in Soho (and he's up against some tough competition), brings us the most classic of Italian desserts: tiramisu. Just like nonna used to make, it's light, airy, and with a decent slosh of Marsala wine. The perfect end to a contemporary Italian feast.
Deals to be made or not, McDonald and Eckler's ode to old world glamour in the heart of New York is a winning combination of nostalgia and contemporary comforts. Where do we sign?