New York has an unexpected new public art attraction, internationally-acclaimed contemporary artist Brian Donnelly — aka Kaws — leaving his inimitable mark on a pair of basketball courts in the city's Sara D. Roosevelt Park.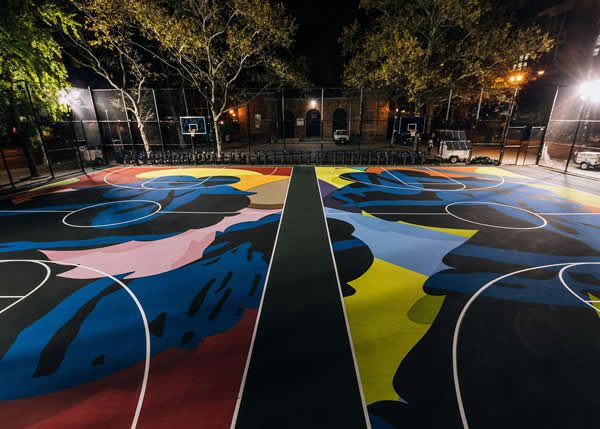 Rising from street art star to global Pop Art powerhouse, his work on the courts — which are situated in Manhattan's Lower East Side — represent a personal triumph for the artist, having moved to the area from New Jersey in 1996. 'The courts that we painted, I used to pass everyday,' he recalls. 'I worked over in Soho, so I'd walk through … when I wasn't taking Houston, I'd go through that park.'
As well as being given chance to add a permanent mark to the area, Kaws has also relished the opportunity to be involved in a public art installation: 'I've been conscious of how my work disseminates and reaches people. It could be a canvas in a museum …or it could be a court, a wall or a t-shirt. I like the idea of public art because it reaches people in a casual way, and when they aren't necessarily looking for it.'
Donnelly's Stanton Street Courts are the first fruits of New York Made, a new Nike community project founded on the brand's roots in New York City.