Founded in 1984, the Turner Prize really picked up steam in the '90s, when Britannia was riding high on cultural waves; KLF chaps Jimmy Cauty and Bill Drummond's concurrent K Foundation award for 'worst artist', Mr Hirst's winning Mother and Child, Divided, Tracey Emin drunk in 1997 then presenting her infamous My Bed two years later … it is the planet's only headline-making art award, and continues to confound and perplex.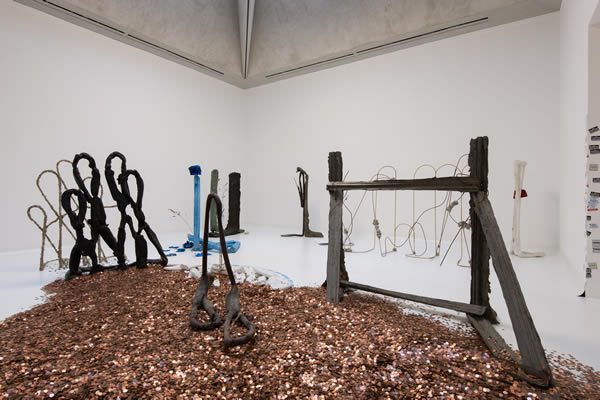 The 2016 shortlist of Michael Dean, Anthea Hamilton, Helen Marten and Josephine Pryde are currently exhibiting at Tate Britain — and the headline-grabbing of the '90s continues; not least through Hamilton's huge arse. This is not a slight on the Londoner, rather a reference to her imposing Project for a Door (After Gaetano Pesce); a colossal sculpture that uncomfortably reminds me of Goatse.
Realising a proposal by renowned Italian designer Gaetano Pesce for a vulgar doorway to a New York apartment, the buttocks are an unforgettable headline act, but shouldn't distract from the more subtle oddness of Helen Marten's intriguing sculptural work; poetic meanderings through contemporary culture, everyday objects elevated to surreal storytelling.
New Media Express in a Temporary Siding (Baby Wants To Ride) is Josephine Pryde's scale model of a Class 66 diesel locomotive and carriages in DB Schenker livery, tagged by graffiti artists from cities where the train has been exhibited previously; elsewhere Pryde's train has moved, viewers invited to jump on for a ride, here it is stalled and awaiting its next move. Like Britain, whose current plight is also touched on in Michael Dean's arresting installation, United Kingdom poverty line for two adults and two children: twenty thousand four hundred and thirty six pounds sterling as published on 1st September 2016.
The Turner Prize 2016 exhibition continues at Tate Britain until 2 January; the winner will be announced at an awards ceremony broadcast live on the BBC, 5 December.