Aguascalientes, Mexico. The city and region of the same name don't come with major international recognition, but a new 200 acre cultural project set in former railway workshops is changing that. Macro Espacio para la Cultura y las Artes (MECA) is one of the most significant ventures of its kind in the country; a new contemporary art museum joining the University of the Arts, National Graphic Arts Workshop (TNG), Central Library, and Symphony Hall at the mammoth complex in February.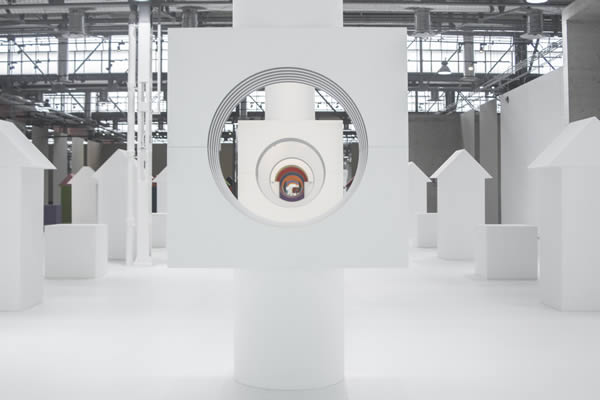 The new Museo Espacio's 6,000 square metres of industrial architecture have recently been overtaken with an installation by acclaimed artist Daniel Buren, whose 'in situ' works exploring the relationship between art and that which frames it have beguiled art critics since the 1960s. The French artist is literally toying with his viewer's imaginations in Como un juego de niño — filling the space with over 100 geometric objects that hark back to childhood and the very genesis of our learning. Buren's renowned colour palette is on show here too, as are the 8.7 cm wide stripes he began using in 1965, as the beginning of research into what painting is, how it is presented, and the environment in which artists work.
The site-specific exhibition has adopted different guides at both the Museum of Modern and Contemporary Art of Strasbourg (MAMCS), under the title Comme un jeu d'enfant, travails in situ (14 June, 2014 — 8 March, 2015) and at Naples's Museum MADRE, titled Come un gioco da bambini (25 April, 2015 – 29 February, 2016); its varying names following the artist's practice of adapting his shows to each exhibiting country's language.
Como un juego de niño continues at Museo Espacio, Aguascalientes, until 2 October.