Billed as 'more than just a hotel', OFF Paris Seine is a floating vessel (a very fancy boathouse, if you will) anchored on the Seine at the foot of the Gare d'Austerlitz in Paris's 21st arrondissement; travellers and locals looking to sing to a different tune its target audience.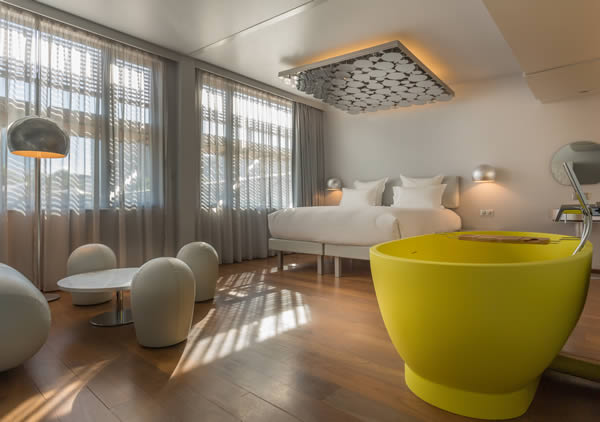 There's 54 rooms and four suites (that occasionally find themselves looking a little '1990s'), and guests can either 'dock' themselves on Rive Gauche or Rive Droite, depending on whether they prefer to admire the views of the historic Paris Austerlitz railway, or the urban activities that happen along the famous river's banks.
Gérard Ronzatti of Seine Design was responsible for the design, and chose materials like wood, copper, leather, glass, and zinc to enable the floating raft to blend harmoniously with its surroundings. Discreet contours embrace the shape of the river, whilst something technical they call 'supple articulation in the hulls' creates a rocking motion that makes for an authentic boat experience — sufferers of motion sickness need not apply.
The outdoor terrace is where things really get moving, though, open from 5pm till 1am the OFF bar is a fine spot to while away evenings on the Seine; OFF's location next to fashion and design hub Les Docks – Cité de la Mode et du Design means you should be accompanied by a suitably cultural crowd.