Henry Hussey is a British artist with one foot way, way in the past. His intricate textile-based artworks (masterfully created with grand materials like lace, silk, damask, velvet, Swarovski crystals, and faux pearls) look the stuff of formidable museums, of Medieval tapestries — politically-charged, they could as easily be at home in the arms of marching protestors. For now, they are at London's Gallery 8, but that does not render them any less powerful.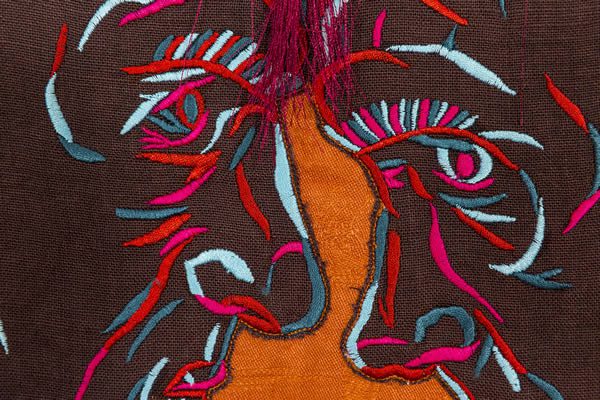 The working process behind Hussey's remarkable textiles is a fascinating one, presenting actors with a pre-prepared skeleton script, their live performances form the artist's key inspiration; sketching, photographing, and recording their interpretation, their faces and body movements serving as a muse for the eventual artworks.
For his latest solo show, Reliquaries, the Surrey-based artist worked with highly-regarded actress Maxine Peak (forever Veronica from Shameless to me) — capturing the raw emotions of her performance. 'The pathos she can convey is incredible.' Says Hussey of their collaboration. 'Maxine not only embodies the spirit of the work, but working with her inspired me to develop new areas of work and inspiration. The growing political comment in some of the works arose directly from our partnership.'
There is a growing political awareness in the artist's work, but his uncomfortable relationship with his father has long been a source of bitter inspiration. Finding out he had two families that didn't know each other, this fractured kinship is portrayed in the body of work Locking Horns — which, along with The Last Breath, feature within the overall works of Reliquaries.
Reliquaries, presented by Coates and Scarry, continues at Gallery 8, London, till 30 July.
@henryhussey
@coatesandscarry
@8dukestreet