You know when you meet individuals that you admire, say designers, chefs, or artists, and they're not exactly what you envisaged from the interviews you've read, or the TV shows you've seen … the books they've written?
Well, sometimes it's best to just keep them on that pedestal, and leave it at that. However, you know when you meet those individuals that you respect and they're friendly, kind, and happy to share their passions with you? Well that's something worth shouting about.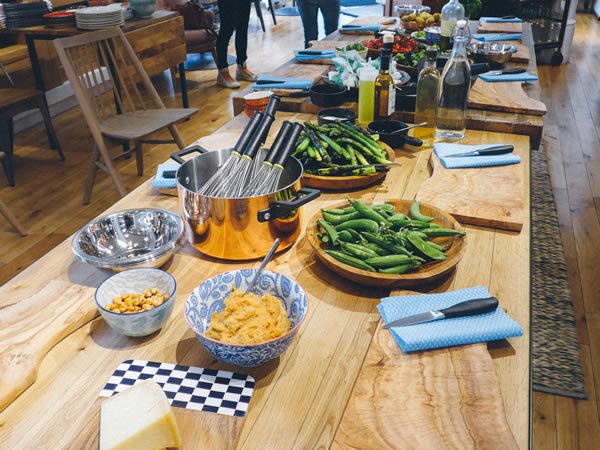 Chef Jun Tanaka is one of the latter gems. Having worked with greats like Michel Roux Jr., Marco Pierre White, and Éric Chavot, you might think he would have an ego. Not so. Gaining three AA Rosettes during his time at now-closed Pearl in Holborn, just six months ago he opened his first solo project — The Ninth — in London's sought after Fitzrovia.
The restaurant is very much a neighbourhood affair. Yes, that particular hot spot is one of London's most visited for food and drink outside of Mayfair and Soho, but it is also a neighbourhood for media and retail. Running parallel to Tottenham Court Road, where various interior design stores dwell, it appears that homewares and dining go hand in hand.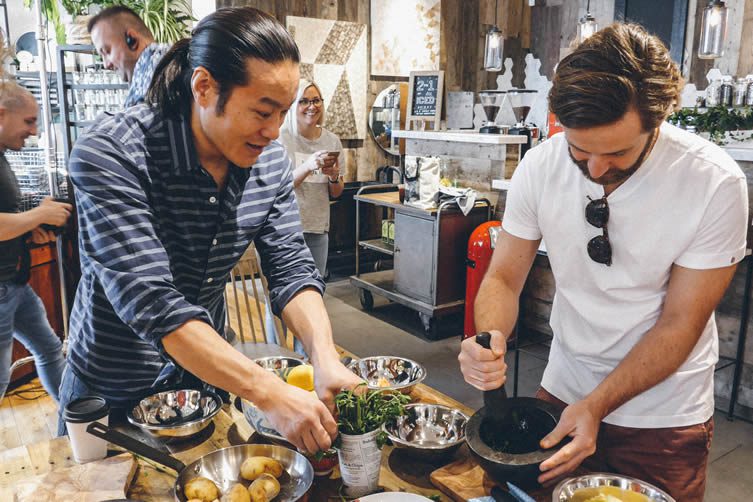 Keen to collaborate with neighbours, Jun Tanaka has paired up with fellow New Yorkers, West Elm, on a series of Summer Cookery Workshops on Saturdays in June and July. The masterclasses give aspiring chefs, and those who have no culinary skills whatsoever (but fancy having a go at creating simple, seasonal sharing dishes), a chance to learn a thing or two. How to make food look like you've worked in a restaurant? I went to find out.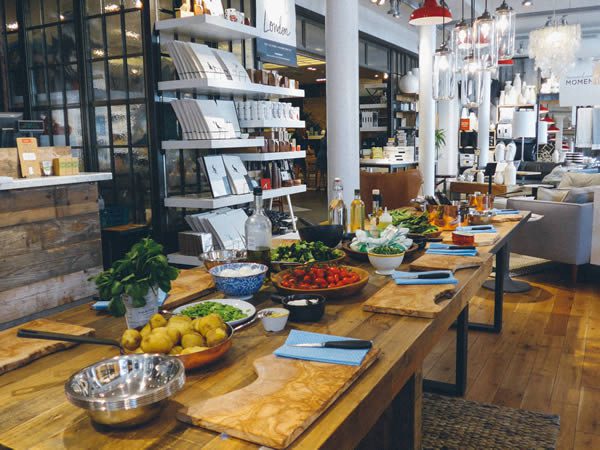 At the masterclasses you can expect to learn how to cook and prepare versions of the dishes served at The Ninth. From sea bass carpaccio with salsa verde and pickled kohlrabi to summer tabbouleh, the hour long session sees food fanatics working side-by-side with Jun on long wooden tables full of beautiful ingredients, and on Dapper Animal Plates created in collaboration with Rachel Kozolowski.
The informal classes match the relaxed and design-led style of the store, and Jun's sunny disposition. He's passionate, patient, and hugely knowledgeable — in a short space of time I learned how to make a blinding miso dressing, the best way to season Jersey Royals, and why it's important to have incredible store cupboard ingredients (like Chardonnay vinegar, or hazelnut oil). The key to Jun's Mediterranean style cooking is simplicity, flavour, and allowing ingredients to sing; his masterclasses offer a jolly enjoyable way of experiencing just that first hand.