Typically a structure for transporting freight, wooden pallets are by and large cast aside without much care or thought; save for the odd design pioneer who rescues these storied objects from the scrapheap. Introducing: Craft Combine, a Korean foursome who have taken old and discarded pieces; working their DIY magic to create the Patterned Pallet Chair.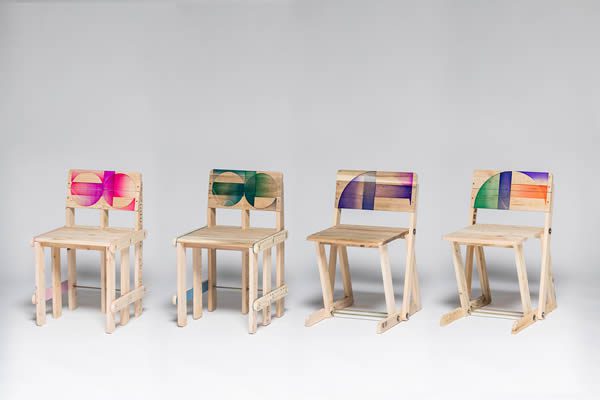 As each pallet is unique (their travels physically ingrained), so is each design. The wood — treated in two ways, HT (heat treatment) and MB (Methyl bromide) — retains a rough style, whilst the back of the chairs are brightened with coloured acrylic; symmetrical and asymmetrical patterns that evoke the different histories of travelled pallets.
The chairs are Art Deco-inspired, recalling the pallet's place in history at the beginning of the 1900s' mass-production era, and take on the role of function as well as decoration, thanks to a solid interlocking structure. A nice making-of video, below, takes you through the process — from pallet to enviable design object.