Alexandre Farto is Vhils, the experimentalist street artist who rose to fame with an individualist reductive approach; removing layers of his walls' surface to create portraits that represent our relationships with the urban surroundings we occupy.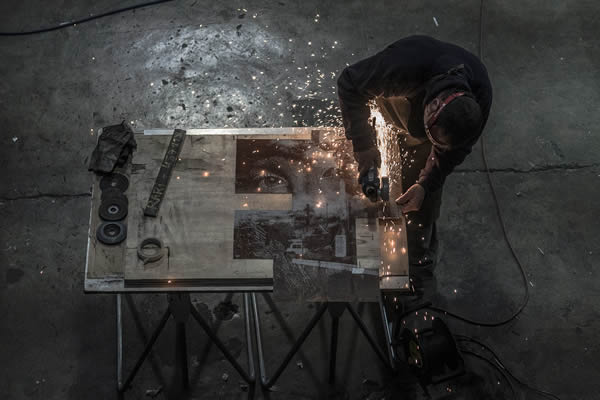 The Portuguese artist's star has risen over the course of the last decade, and is now an established member of the street art elite — the new generation of artists who are as familiar to top galleries as they are the street. His groundbreaking technique has been expanded upon, now drilling, sculpting, collaging, and turning to immersive video and neon lighting to augment his will to visualise the complexity of contemporary urban societies.
Currently underway is Debris, Vhils' debut solo exhibition in Hong Kong, which is both impressive in scale, and alarmingly short; running for just less than two weeks. That tension between the urban environment and those who live among it is once again the leading narrative — splitting his time between the city-state and Lisbon, Farto knows first-hand the dizzying nature of life in the former British colony, and it shows in the landmark exhibition presented by Hong Kong Contemporary Art Foundation [HOCA]; the two year-old non-profit organisation established to push a new generation of contemporary artists.
Showing in a space, specially constructed by Lisbon-based studio Pedrita, on Hong Kong's Pier 4, Debris follows a series of city-wide interventions by the street artist, and marks his first application of such a wide range of mediums. The show continues until 4 April.