When watching capoeira dancers spin and arc, locked in a balletic flow, it's impossible not to be carried along with the rhythm and grace of their bodies. The Brazilians have a name for the feeling that such fluid, intuitive movement evokes: ginga. Pronounced dzhin-gah, this spirit extends beyond the fighting dance of capoeira into all aspects of Brazilian life, from the irresistible beats of traditional music at the never-ending parties to the young football players weaving their way through the city streets, honing their silky skills.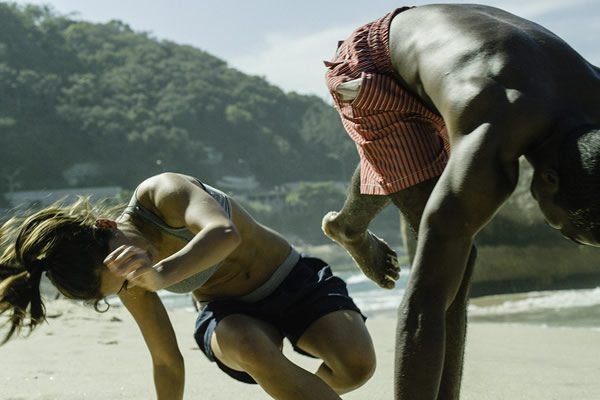 Film director Mollie Mills has had her boots on the ground exploring Brazil, attuning herself to the country's ever-present ginga undercurrent, and documenting ginga in action for a video to mark the launch of a new footwear brand. Mo:vel shoes have the spirit of ginga at the core of their design, and the good news is you don't have to go all the way to Brazil to experience the joy of ginga for yourself. Mo:vel has just opened it's first store in Brighton, stocking a range of casual and sports footwear that's got so much of the stuff, the shoes practically dance off the shelves.
There's more than a philosophy at work here too; Mo:vel shoes are made with a dynamic wave structure through their uppers, and a flexible rubber sole with pivot points to help release that inner rhythm. Brazilian graphic designers Bruno Nunes and André Coelho Moreira have had a hand in the debut collection, inspired by the vibes of Bossa Nova, Axé and Forró.
Once you've finished grooving to Mollie's film, dance on over to the Mo:vel store on Bond Street, Brighton, where the feel-good, fluid footwear will put the moves on you.