There is a seamless link between the past and the present at the Casa Fayette hotel in Guadalajara; Mexican architect Vanessa López deftly integrated a soaring new-build contemporary tower with a characterful early 20th Century building to achieve a delicate balance between the two eras.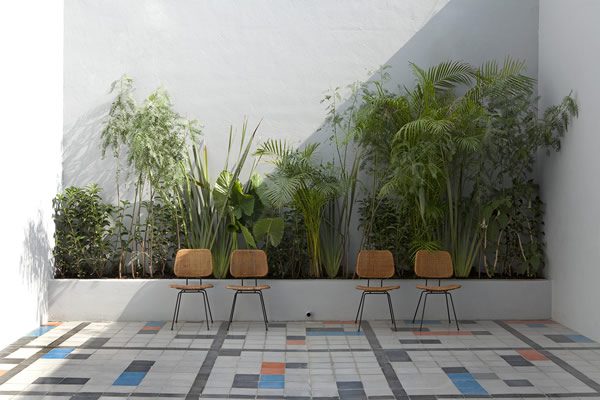 The tower houses the 37 boutique guest rooms, a rooftop patio lounge with panoramic views of the city, and multi-use events spaces, while the historical section is home to public spaces such as the library, restaurant, and a leafy pool terrace. New materials chime with those used in the original façade — concrete, artisanal cement tiling and glass — with luxe additions of marble, iron, brass, and elegant glass panelling.
The same skilled retro-modern blend has been achieved in the interior design by Italian studio Dimorestudio. There's elements of mid-Century European style seen in the tropical fabric of the bar seats, and traditional Mexican references in the bespoke green wicker chairs inspired by the country's rustic "equipale" shape. The vibrant palette of deep greens, blues, burgundy and salmon reflect the vibe of the up-and-coming Colonia Lafayette neighbourhood, which is gaining an enviable reputation for its creative energy and exciting nightlife.