Studio Droog's installation Splendour in the Grass is described as an "experiential sensorium" which transforms its host museum into "an immersive, erotic camping ground", if you please. We didn't get that sort of thing when I was in the Scouts, but then again we are talking about The Museum of Sex in New York so a bit of sexy sauce is to be expected.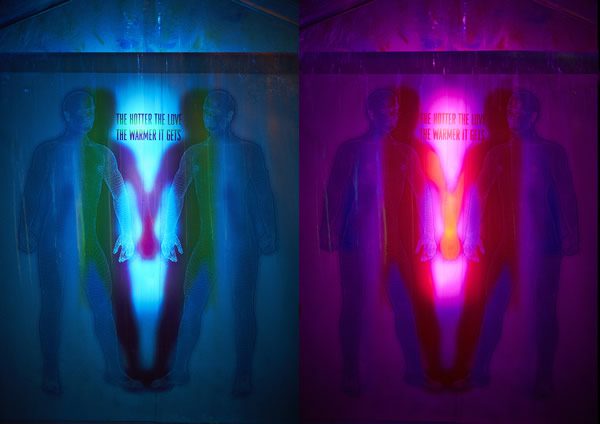 Set against a canvas backdrop depicting a couple rutting in the woods, the Dutch studio's creation comprises five interactive tents which tickle, tease and stimulate the visitors' visual, auditory, haptic and kinaesthetic senses in various erotic ways.
Tapping into the innate link between outdoor living in the wilds of nature and our primal urges, Splendour in the Grass exists halfway between an adult playground and an informative natural history exhibit. Public information-style signs by each tent explain the sensations that are being activated by each tent.
Grass Girl Arouses, for example, sees a semi-supine female form made of grass glowing seductively. The closer you get, the more the pleasurable tingling sensation caused by her whispering is heightened, and a scientific explanation to the side gives some physiological details to go with your involuntary boner or internal sploosh, depending on how you're made. The exhibition is due to remain until June 2016.