Michelle Hamer's first exhibition was a solo show. She is defined as 'mid-career', but has only recently handed over her representation to a gallery. An architect with no art-schooling who began toying with needlepoint samplers as a means to keep mentally active during illness, Hamer is an artist, although you get the feeling she needs to pinch herself from time to time, just to be sure. Fascinated with the perforated plastic sheets that are more commonplace in mumsy craft shops than contemporary art galleries – having explored perforations in her former life as an architect – Hamer somehow found herself replicating LED road signage that was positioned in "in-between spaces" (motorway slip-roads, central reservations), another preoccupation from the 'day job'. Beats 'there's no place like home', that's for sure. Two obsessions, worlds apart, the digital signage oddly lent itself to the pixelated nature of small-scale tapestries. An odd couple united, a marriage in fine-art heaven was born.
That was the mid-noughties, this is the mid-teens; Hamer's work remains embedded in embroidery, but her output has evolved. I meet Michelle at her Collingwood apartment, where she's preparing for a workshop at Melbourne Now – the National Gallery of Victoria's major exhibition of local creatives, at which Hamer's work is displayed – and to send works to the second edition of Art14 London. Road signage remains alluring to the artist (she assures me that those scattered around are not stolen), but it is language that Hamer most labours upon – pixelation, needlework and photography act as a backdrop to a preoccupation that's now more fundamental to her practice. Wordplay; confusion; double-meanings; regional interpretations and misinterpretations; the subtleties of language fascinate Michelle, and they're the core element of her art.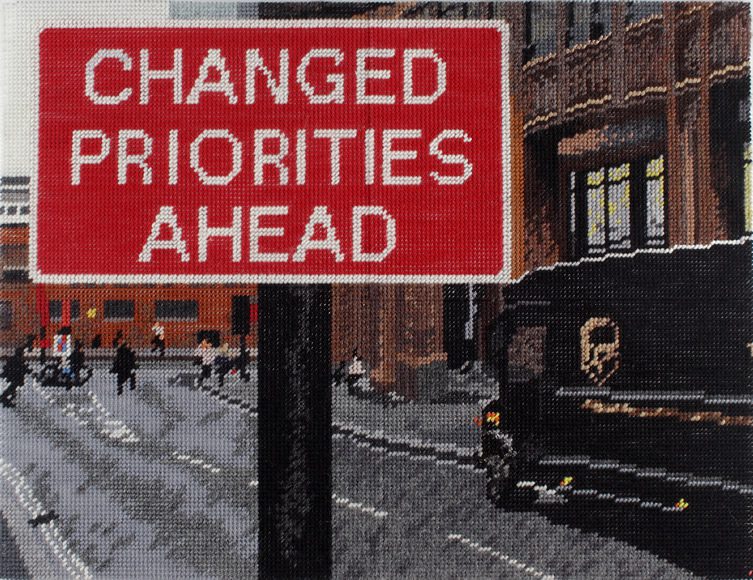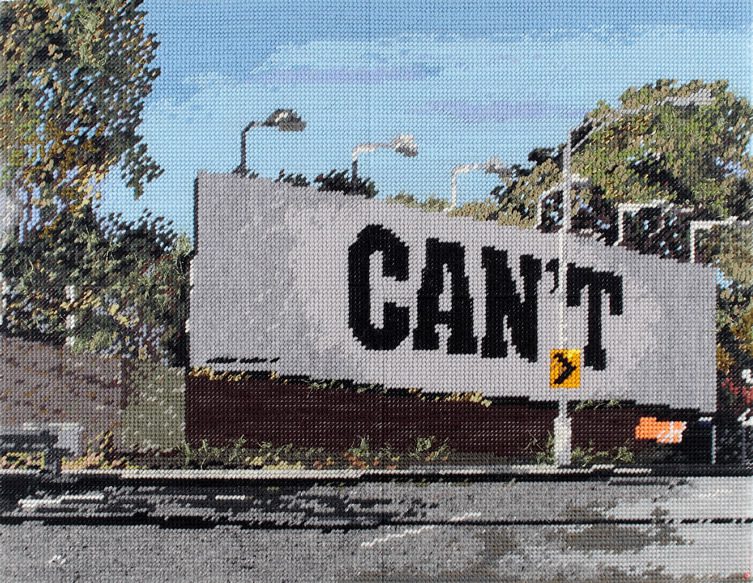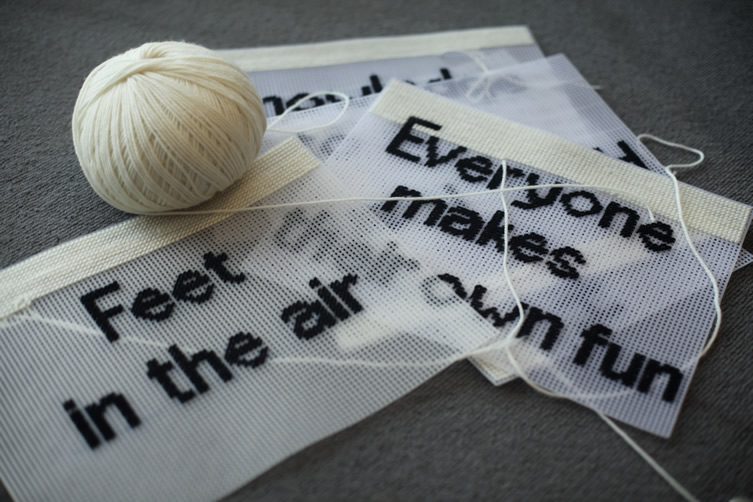 This paper belongs to Ken Hamer. If it is not your paper, please do not touch it. Michelle can't control her excitement as she shows off this note – printed on a piece of 'paper'. The subtle duality of the message is exactly the sort of linguistic nuance that acts as source material for her increasingly elaborate tapestries. And elaborate they are. The process: Michelle drives around, Michelle sees something interesting, Michelle takes a photograph, Michelle translates, by eye, said photograph to perforated plastic with needle and wool. It is certainly a curious process, a curious medium, and a largely curious subject matter – and one that leaves Hamer awkward to pigeonhole (photography, textile, conceptual). But what fun are pigeonholes?
The natural pixelation that occurs through this distinctive technique shines quizzical light on a modern obsession for the compulsive capturing of digital images. At present I've 1,942 moments in time captured on my iPhone. When will I look at them? Who are they for? Where will they end up? Michelle Hamer's process of documenting captured moments through a means that dates back thousands of years poses a question to an increasingly ephemeral age. And herein lies the key to great art, kids. One thing on the surface, many more things on many more levels beneath. Michelle might not have trodden the typical path to becoming an artist, but she's hitting the nail smack-bang in the middle of its head. Inspired.
***