Seychelles. From the moment that euphonic name laps gently against the ear, we are transported, carried away on an evocative tide of images. The translucent turquoise ocean. The white sandy beaches. The barefoot shoreline strolls of newlyweds, hand-in-hand. Diving among the dazzling marine life. The intoxicating cocktails, and lazy hammock snoozes. The art.
The art? That's right, there's a surprise in store for those travelling to this idyllic archipelago off the African coast asides from those fantastic beaches (although let's be honest, they're not too shabby, and 155 islands certainly makes for a lot of beach) and to much astonishment, a great deal of it wouldn't look out of place hanging in a hip East London gallery or gracing the pages of a self-published art zine. Of the thousands of tourists who visit the Republic of Seychelles each year, not many will have exploring the art scene high on their to-do lists, but they are missing out on one of the treasures of the islands.
Perhaps it shouldn't be such a surprise that Seychelles has a vibrant art community; where there is beauty, there is art, and there is certainly plenty of beauty here. The same things that make the islands a dream holiday destination make them an interesting proposition for painters and sculptors. Lots of sunlight. A stunning landscape backdrop wherever one looks. Colours popping from every point of the spectrum. Interesting wildlife in abundance. And not a bad place to set up a studio either!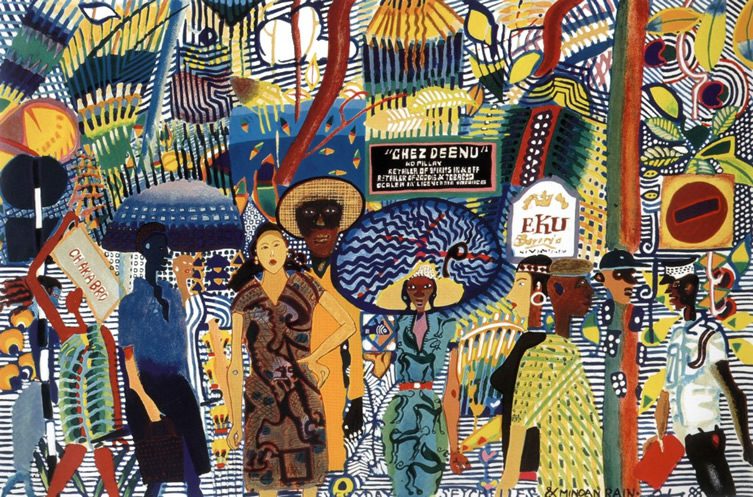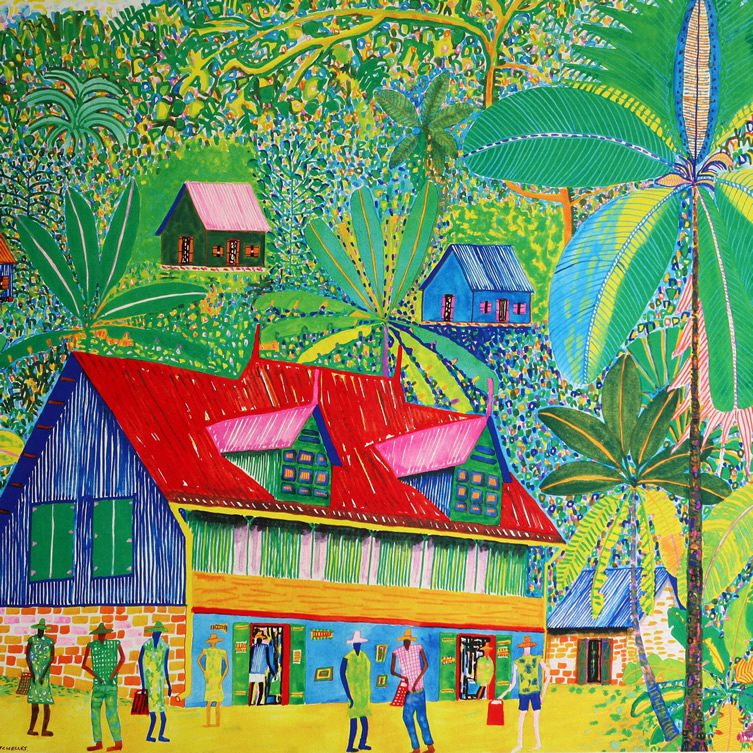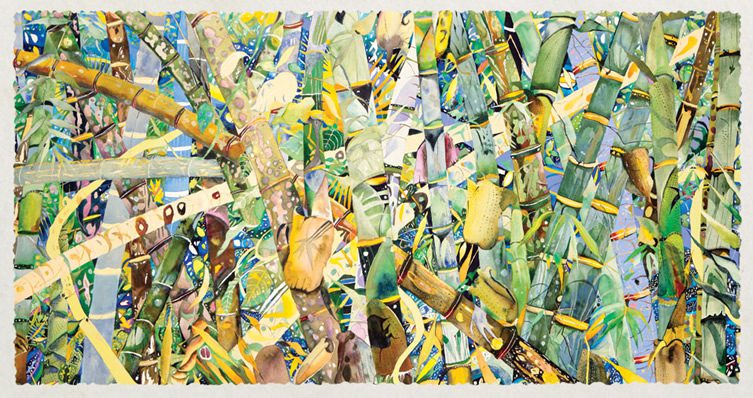 So who are these artists lucky enough to call Seychelles home? Arguably chief among them is Michael Adams MBE, who has lived in a wooden jungle retreat with his wife Heather since they moved to the arcipelago's largest island – and home to their capital, Victoria – Mahé in 1972, and have since been joined by children Tristan and Alyssa – the latter of whom has exhibited her exquisitely detailed work in aforementioned East London galleries, after graduating from Chelsea College of Art and Design. The Adams' family home on Anse Aux Poules Bleues (Bay of the Blue Chickens) is full of animals – the list of residents reads like Noah's pre-flood checklist – and the flora and fauna of the island is a major influence on the artistic clan's style and subject. Having graduated from the Royal College of Art in the 1960s, Adams Senior has enjoyed an esteemed career, his work harnessing the vibrancy of Creole culture and his natural surroundings; vivid, borderline psychedelic, his style wouldn't look out of place adorning the album sleeves of blog-hyped Brooklyn bands – Alyssa Adams continues her fathers themes and techniques, but applies an added element of elegance, pastels and shading replacing block primary colours.
Further north on the same island at Les Mamelles we find the studio/gallery of Gerard Devoud, whose approach to painting recalls the childlike naïvety of virtually every super-cool illustrator du jour – his brushstrokes evoking the primitive felt-tip daubing of graduates in tight jeans and craft beer addictions. An international exhibitor, Devoud's ultra-colourful scenes certainly caught the eye of visiting Miss World contestants, who snapped up several of his prints during a visit to the gallery. The artist also runs a second gallery at Baie Lazare.
Many other talented artists have settled in the Seychelles – some have been born here too, including George Camille who was born in the Seychelles' art capital Mahé, and studied in London at Goldsmiths – and with such a wealth of creative talent on the islands, it's high time their art reached a wider audience. Four Seasons Resort Seychelles now run specialised art tours from their Mahé base of Baie Lazare, whilst you can live like a local at any number of SeyVillas properties on Seychelles' largest island and do the gallery circuit for yourself. Far from rolling off the tongues of seasoned culture-travel know-it-alls, the Seychelles islands prove they can offer more than just white sands and turquoise waters. Who'd have thunk it?
***