It's a Friday evening and we've just checked into The Magdalen Chapter hotel which, in bygone days housed the West of England Eye Hospital. Now – thanks to Swire Hotels' British collection Chapter Hotels – it's still a treat for the eyes, but under the guise a chic city bolt hole which, at the time of our stay in late May, was just one week away from celebrating its first birthday. Set within an expansive 19th Century building, the hotel gives nod to the historical surroundings of its locality – the cathedral and university town of Exeter – whilst retaining character and quirkiness; 'patients may be visited on Sundays, Tuesdays and Fridays between 2.30 and 3.30pm' states a wooden board in the public area.
There's a strong design and art theme throughout, we notice Alison Crowther's wooden sculpture The Font II on arrival (Font I lives in sister hotel The Montpellier Chapter) and Tracey Bush's Worldwide Butterflies collection shortly after. We find our generous deluxe room engaging; an Eames chair tucked beneath a desk upon which sits a Nespresso machine and docked iPad, whilst our bathroom boasts a sizeable free standing bath, separate monsoon shower and plentiful supplies of REN goodies. As natural light starts to flood our room, we realise that we should be making the most of this fine Devonshire weather and head to meet friends patiently waiting for us in the Magdalen Chapter's perfectly manicured gardens.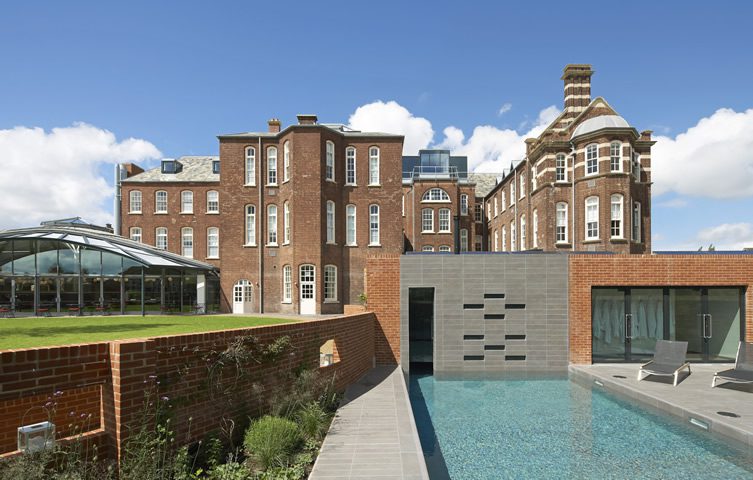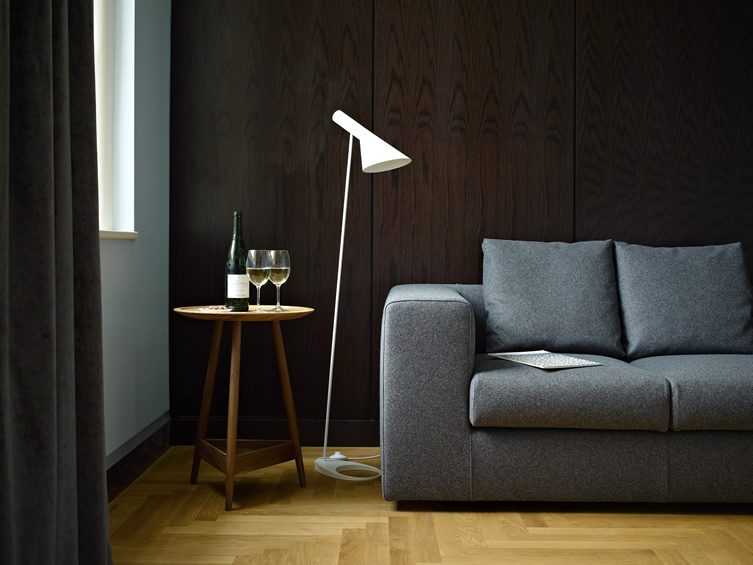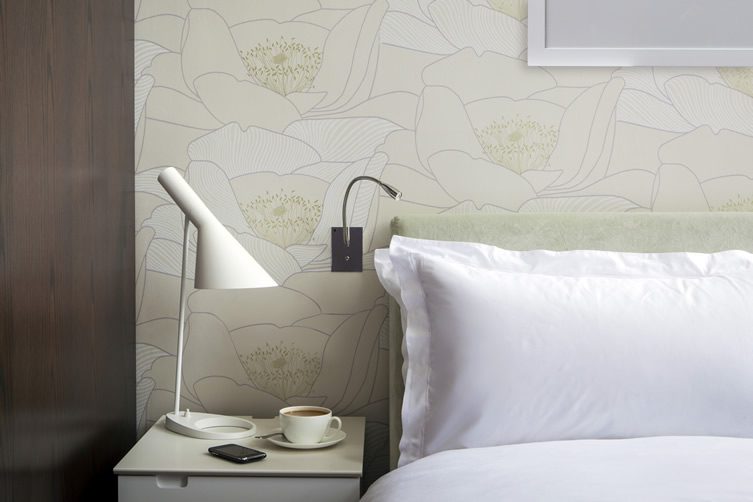 Though popular with business types in the week – there's no shortage of meeting rooms brimming with the latest technological gismo – come Friday afternoon it's abuzz with friends, couples and families enjoying both the outdoor space – including the rather unique inside-out pool – the lounge, well stocked library and more importantly (to us anyway), the well stocked bar. Catching up over a cocktail (Chapter Truck, if you're asking), this is a sophisticated yet informal setting to while away a few hours or sneak in a pre-dinner drink. Imaginatively named restaurant, The Restaurant, serves modern British fare in an airy dining room, red seats and an open kitchen help to create a sense of theatre. Guided by Simon Hopkinson – Head Chef Ben Bulger and team strive to source seasonly changing local ingredients, so – thinking it'd be rude not to – we tuck into River Exe mussels, roast monkfish and local cheeses all complimented by a perfectly chilled bottle of wine; ordered via an iPad – obviously.
With grand plans of a quick swim and spa forgotten, mostly in part to the eclectic cocktail list, we make a return to The Restaurant the next morning for breakfast, the glass fronted windows have opened up on to the terrace and despite it being shortly before 11am, a small group has gathered to enjoy a glass of Champagne, we overhear that a wedding breakfast is set to take place later in the day at 'The Potting Shed' another of the hotel's private retreats set within the gardens. Keen to explore what sits outside of these walled parts, we take ourselves back to our room but not before one last dose of design, checking out an impressive 319ft Hugo Dalton wall painting Avenue of Palms en route. Easy on the eye, naturally.
***