Being a Croatia virgin I was pleased when a hotel massage therapist pointed out just where my husband and I should be hanging out. He said it was our energy, I say it was our tribal tattoos that tipped him off. But nonetheless he was spot on when he recommended we take a small boat to the island of Palmižana, a very short ride from Hvar where we were staying. The tiny island has a bay of restaurants and rocky beach, where some beautiful yachts pull in for late lunches or afternoon cocktails. It was Laganini Beach Bar that caught our attention and ultimately where we caught the sun and dipped into some cocktails ourselves.
It is a fabulously chilled day out. The name Laganini means "slowly" in Croatian and that is the sentiment you will encounter. A relaxing, no worries atmosphere, where soul and Balearic music make up the soundtrack (the levels rising later in the day).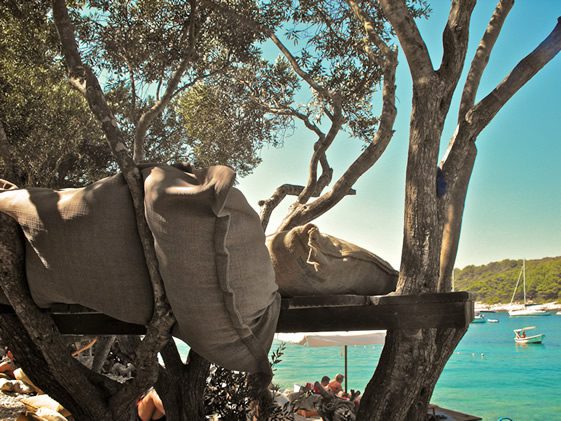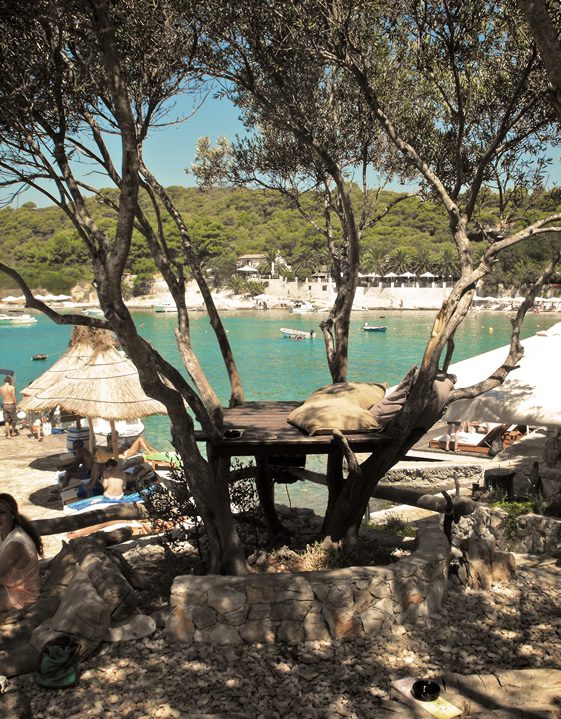 It shares a similar hippy ethos with the northern part of Ibiza today, with an ever so slight touch of exclusivity… of being in the know. A secret little paradise sounds clichéd, but true. The relax "motto" is seen everywhere, from the potato sack-esque beanbags to laze on, to the cooler than now olive tree–houses to socialise in, or simply let the mind drift. These platforms-of-fun are a genius use of space and design within the raw beauty of the olive trees.
The fish at the restaurant is, needless to say, delicious. There is no menu and you pick what fish they have on offer for the day. Salads and potatoes accompany it, just like you were eating at a relative's house. The chef works solely at a wood burning fire and does the fish prep as well. Beautiful food in a beautiful set up, really is paradise.
Having afternoon cocktails in a tree house and chatting with cool patrons, who are also glad to have found such a place, are those great life moments that you wish to repeat. Surrounded by down to earth people, friendly staff, beautiful water, fantastic food and drink, and a welcoming attitude, Laganini and its slow sensations are a welcome retreat for the mind and body. Just look at the pictures!