It's no secret that I am a big fan of the Southbank Centre, and a little bit of a geek when it comes to design, so it came as a big surprise to me to discover a whole area of the Southbank Centre I knew nothing about! I was recently given a tour of the Festival Village, which will play host to Designersblock during this year's London Design Festival, really putting the Southbank on the map as a design destination.
In the meantime, it is a 'green room' of sorts for artists, staff and volunteers for the Southbank Centre's Festival of the World (1st June to 9th September), and will be continue to serve that role during LDF (15th – 23rd September) in an interesting space sharing initiative that will give the venue a real buzz. What's really interesting though is how the space has been designed. Design is being democratised and is no longer something that happens behind closed doors. Designers are increasingly asking people to get involved, and this project takes that approach to a whole new level.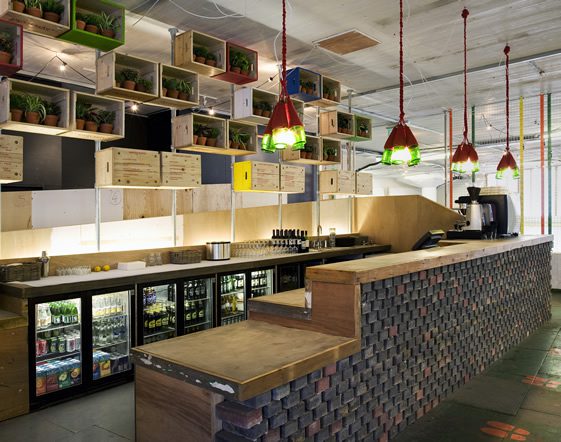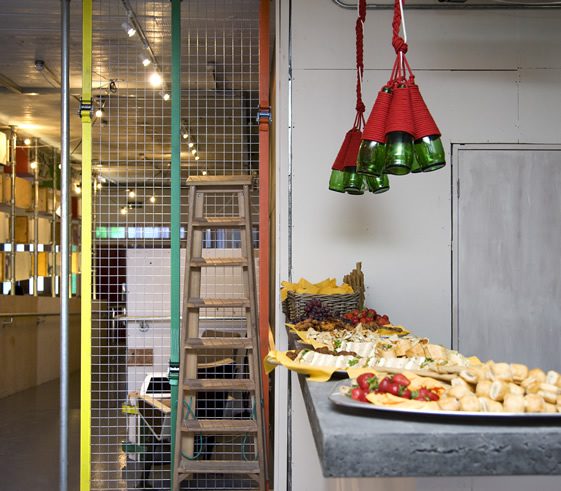 Architectural practices Lyn Atelier and TILT, and the Southbank Centre's in-house team led over 200 volunteers, including structural engineers, art students, furniture designers and DIY enthusiasts, in a process they describe as 'co-design' and 'co-making'. The process involves engaging a diverse creative community with a space, letting them collaboratively develop the brief, and giving them opportunity for hands-on involvement in the build. The idea is that, whilst everyone has fun, the end result is fit-for purpose and better than any one person, or small team, could have come up with on their own.
The team used social media and their extended networks to source materials like wood, paint, bricks and shelving – and 3 tons of recycled material. They salvaged another 2 tons from the existing site, saving 5 tons of material from ending up in landfill.
I think the project has been a success. They have transformed a disused space under the Queen Elizabeth Hall into something comfortable and yet stimulating, in keeping with the Southbank Centre's existing design and architecture and yet contemporary; and something that achieves the hardest thing of all – it just feels right.