Re-using, re-vitalising, and re-imagining; Margate-based designer Zoe Murphy updates mid-century furniture with a very individual aesthetic. Whilst many designers are scouring car-boot sales, antique shops and salvage yards and transforming their findings with modernist flair, Murphy updates retro with retro. Her whimsical, '50s-inspired designs give the pieces she treats a new-life, but one you feel they may have already had. It's an interesting take on the up-cycling culture, and it's one that creates mesmerising works that feel as though they've been transported, untouched, from a past of eccentric dreams.
As she prepares, once more, to show at Tent London – usually a resounding success, that sees her works picked up by the likes of Liberty London – we spoke to Zoe to chat Create GB…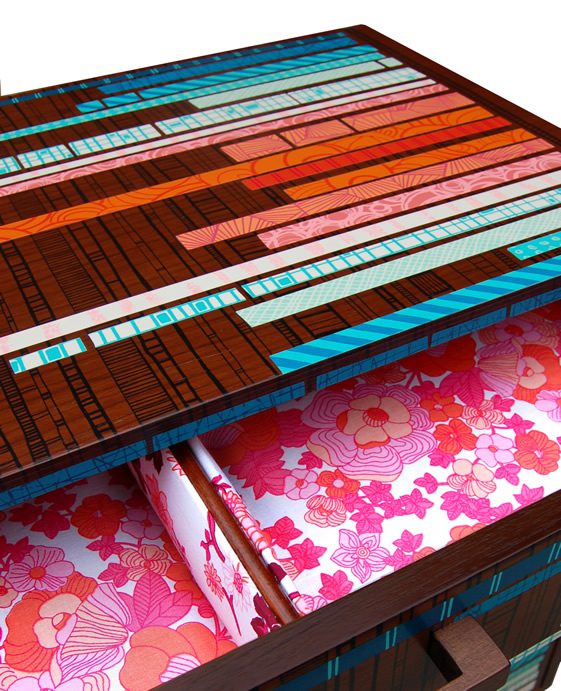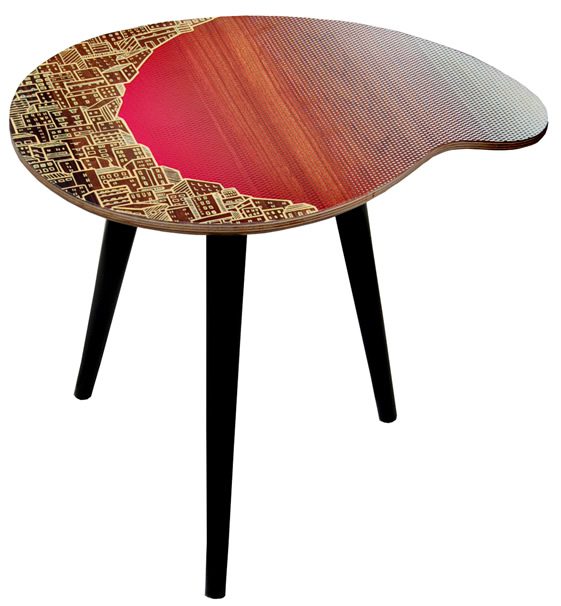 Where's your hometown, and where are you based now?
I'm based in Margate, which is the town I grew up in and where I returned to in 2008 to start up my business. It is an optimistic, glittery, grotty, diverse and exciting seaside town in the south east of England. Like a lot of UK coastal towns, Margate has it's historical feet firmly rooted in the 1950s day-tripping era and has suffered a real decline ever since, especially through the '80s and '90s. However, it's being reborn at the moment through the passions and the creativity of the people who live here, and those who have moved here to join in – I LOVE IT!
Do you think location affects creativity?
Location most definitely affects creativity, in the same way that politics, and culture, and sport, and music do. I always believe I am a product of my environment, and that as a furniture/textile designer the colours, surfaces, typefaces and opinions I come into contact with every day move my practice on. I am very proud to live and work in a place that is at times really bleak and broken, and at other times colourful and uplifting. I think that kind of contrast must come through in the things I make and the ethics I follow, I would probably be very different if I lived in the countryside, as would my work.
Is Britain's creative industry too London-centric?
I think that up until recently the industry may have been a little too London-centric. In recent years though we've had the rise of strong social medias which make location less important. Also this patriotic return to our home turf, be it England or our home-towns, seems to have everyone wanting to re-invest in what belongs to them and make something good out of what they've got. This has lead to creative industries really starting to thrive in other UK cities and even towns. I have never felt at a disadvantage being out of London, it is a choice I make to be here and if anything, it's helped me! Creativity itself, however, has always been spread nationally.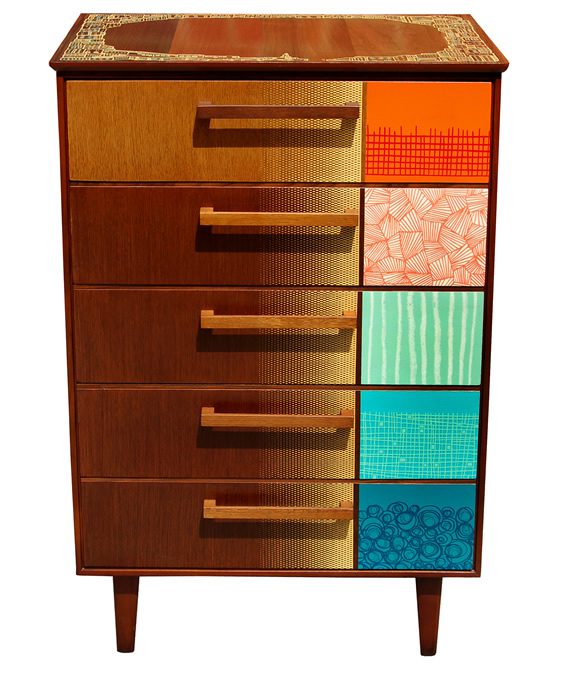 How would you describe British creativity?
I would describe British creativity as progressive and inventive. We are still a nation that others look to for ideas and inspiration, and I think that is a lot to do with our diversity and our diplomacy. Our very broad society has a culture that encourages new thought and debate, which creates a wonderful breeding ground for creativity to constantly move forward. British creativity has a good sense of humour too, which is nearly as important as all the rest of it.
Has being British had an effect on your discipline?
Being British has absolutely had an effect on my discipline. Living in such a free and culturally rich nation has given me the confidence to experiment with my process, subject matter, and design philosophy however I might choose to. The ʻanything goes' acceptance of the UK means that I can be as crazy as I like as a designer, but that at the same time I will need a strong reason to stand out. The other half of the coin is all of the everyday woes that being British entails. We have bad weather, social unrest, busy cities, and economic problems, but again I think that operating in that kind of environment develops designers who look for the positive in all the murk. I would like to think I'm one of those.
What do you thinking the rest of the world's view of British creativity is?
I think the rest of the world thinks British creativity is crazy, but compelling.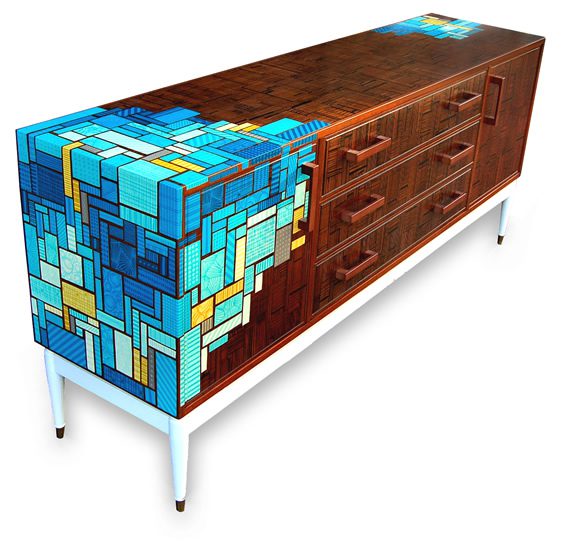 The Swinging '60s, punk, Hacienda-era Manchester… is there one period of intense British creativity that you'd like to have been a part of, and why?
Honestly? I would like to be about five years from now, because I think things are going to get really exciting. My furniture and textiles always reference the 1950s, and that truly was a time where – post war – Britain was leaping forward in terms of invention and creativity. Using a lot of the technologies brought about by the war, that era developed sciences that changed the way we live today and the forms that we accept can be used in design. It was an intensively creative time, and one where Britain saw a bright future for itself (something very attractive to us at the moment), but I don't think it was anywhere near as informed as this era is going to be. For that reason I enjoy taking inspiration from all the optimism and progression of the 50s, but I can't see anything more intensively creative than what is in front of us.
Are there any quintessential British traditions that inform your work?
The British tradition of striving for quality and honing skill is definitely something that informs my work. I'm also a very creative problem solver and inventive user of materials but that's not always a strictly English trait.
Where in Britain do you feel most inspired?
I feel most inspired here in Margate, particularly when I look up. We have a ridiculous number of heritage properties here, and so many of them are underused and forgotten about. Being constantly reminded of the potential of the world is really exhilarating.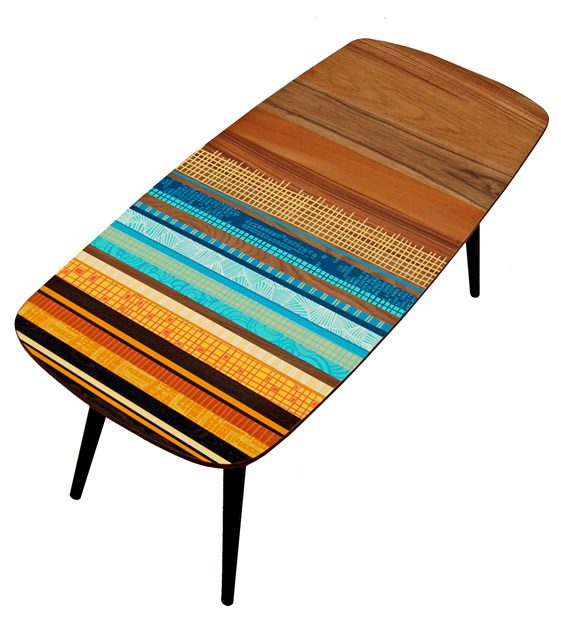 The top 3 British creatives who have inspired you?
Tracey Emin – For her unblinking and enduring self-reflection. I think every creative would do well to self- study, and FEEL more. She does this in bucketfuls.
Paul Arden – He was passionately creative and by all accounts a man of real conviction too. He has said some wonderful things about design and advertising that I have never forgotten.
William Morris – He is not at first someone who you might associate with my aesthetic, but was a very powerful champion for good design and placing people at the centre of it. I think politics and philosophy should always be a part of design and the beliefs of Morris and his contemporaries made a huge difference to creatives across all parts of the industry.
Will you be watching the Olympics?
I intend to throw a big party on the night of the opening ceremony and make a real fuss of the games. It has been such a wonderful year to be British, and although I didn't get any tickets for the events, I want to catch as many of them as possible on television to get fully involved with all of the national emotion.
If creativity was an Olympic sport, who's the one person you'd want to represent Britain on the global stage?
It would have to be my cousin Kate Moross. She is a graphic designer, illustrator, and art director for the music industry, and probably the most prolific person I know. Kate has achieved an incredible amount in the last few years and I'm very proud of her.
Which sport would you like to compete in at London 2012?
The synchronised swimming – I would LOVE to compete in that! The grace and precision of that sport completely hides the fact that the girls have to be powerful and determined, they've got real endurance. It is a beautiful sport that requires grit.
You couldn't live without…
Colour.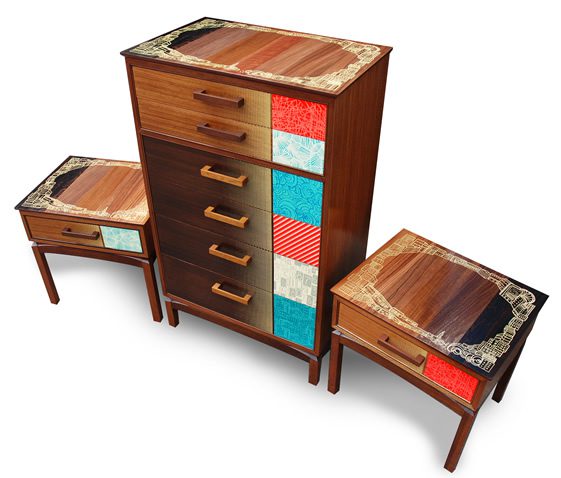 What makes you smile?
Again, colour! Good ideas, funny pictures on the internet, and my little brother.
The best piece of advice you've ever been given…
ʻDon't work harder, work smarter'. In any given profession or activity there are never enough hours to be or create all the things that you could. Prioritising is the biggest lesson I've ever had to learn, and not just with work, with everything in life. So I now try and live by it.
We're going to the pub and we're buying, what are you drinking?
A Cuban please! (spiced rum, cola, and a squeeze of real lime).
What's next for you?
I'm working very hard on a new range of printed furniture at the moment, something that is a little bit of a strikeout from my usual Margate Collection. Both this new launch and my more traditional furniture will be at Tent this September. I'm also developing some smaller homeware items that I hope to bring with me to Tent, which also make inventive use of second hand materials.
We've taken a year to develop and renovate a new studio in Margate and this will be opening at the end of July. Aside from being able to view my work during design week, there is a good chance that the furniture will be seen on both the big and small screens this September, it has been a busy year!