We had the immense fortune to be invited to see Anthony Minghella's award-winning production of Puccini's Madam Butterfly. Having absolutely no knowledge of opera, with the slight fear of 'not getting it', we eagerly sat ourselves down in the spectacular London Coliseum.
Within minutes, the orchestra – conducted by Oleg Caetani – began the score, and a colourful dancing geisha appeared from behind the reflective curved stage. For those not familiar with the tragic love and loss tale, here's the skinny; A Japanese child-bride Cio-Cio-San (AKA Butterfly) is arranged to marry an American Lieutenant – F.B. Pinkleton. Butterfly falls madly deeply crazy in love with him, and days after their vows are made he returns to America – promising to return "when the robins nest". Three years pass with no sign of Pinkleton's ship, Madam Butterfly painfully waits, deluded in love while her household faces financial ruin. One fine day he returns, not aware that Madam Butterfly gave birth to his son, and with his new American wife they attempt to adopt the little boy. Madam Butterfly obediently agrees and knowing her life now over, takes her own life in a samuri fashion using her late father's sword.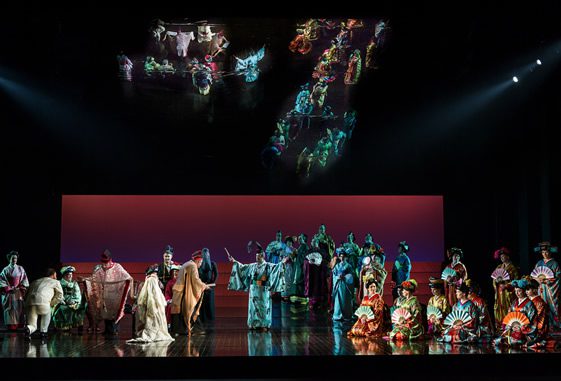 After a dubious first act (initial skepticism based purely on a modern view of relationships and equality) and a little glass of pre-ordered Veuve-Clicquot, we witness what I can only describe as one of the finest live visual spectacles I have ever seen. The geisha costumes, designed by Han Feng, were fabulously extravagant in fabric and choice of colour. Vibrant florals and motifs washed the paired down stage, exceptionally highlighted by the excellent lighting – designed by award-winning Peter Mumford.
The late Minghella and his wife won an Olivier Award for Madam Butterfly, which debuted in 2005, best known for his Oscar-winning film The English Patient and the Bafta winning Talented Mr Ripley – Madam Butterfly, as you can imagine, was hugely cinematic and emotive. From the 'flower designers' to the exquisite costumes, the entire production was wonderfully led by the delicate, and very English, soprano Mary Plazas.
ENO's production of Madam Butterfly was not only heart breaking in its narrative (I actually shed some tears) and emotive, but absolute visual porn for those of us aesthetically minded. As for the singing bit… well as I said, I was never one for the opera, never quite understood it, but having it performed in English encouraged me to engross myself, and truly understand the sheer beauty of the production.
I'm most definitely hooked, and with only a hand full of productions left I'd totally recommend – a great introduction to the opera!