Sometimes you see something so absolutely the opposite of your usual style that it stops you in your tracks and makes you smile. And perhaps even makes you question what you thought you liked.
I am a minimalist and a modernist, I like calm; I like grey. I like simplicity; I like the understated; I like quiet clean lines and white space.
But then along came Kristjana S Williams.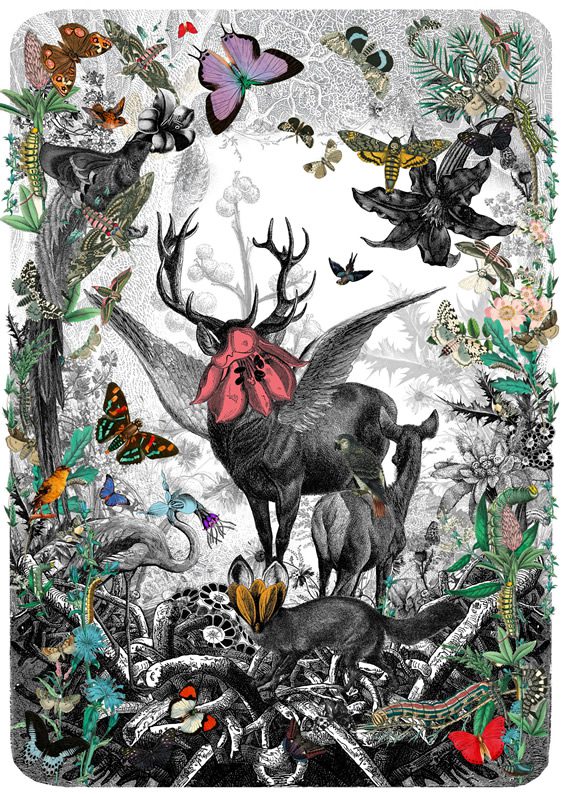 I was visiting graphic art gallery, Outline Editions, where Kristjana currently has her first solo show, featuring two large-scale murals of her "brilliant and daring Victorian engraving mash-ups," which is tipped to seal her reputation as "a British pioneer of what the New York Times has dubbed the 'New Antiquarian' movement".
Entitled 'Dyragardur' ('animal garden' in Icelandic) the show features her trademark style; interweaving fragments of Victorian prints with contemporary illustration and colour creating "delirious, magical landscapes, filled with impossible, exotic creatures."
Its sheer complexity intrigued me; drew me in for a closer look, and richly rewarded my curiosity. This puzzled me, so I backed away, but the intricacy of the images and constant contradiction of their meaning pulled me in again, and rewarded me again, with layer upon layer of colour and detail.
So I decided to find out more…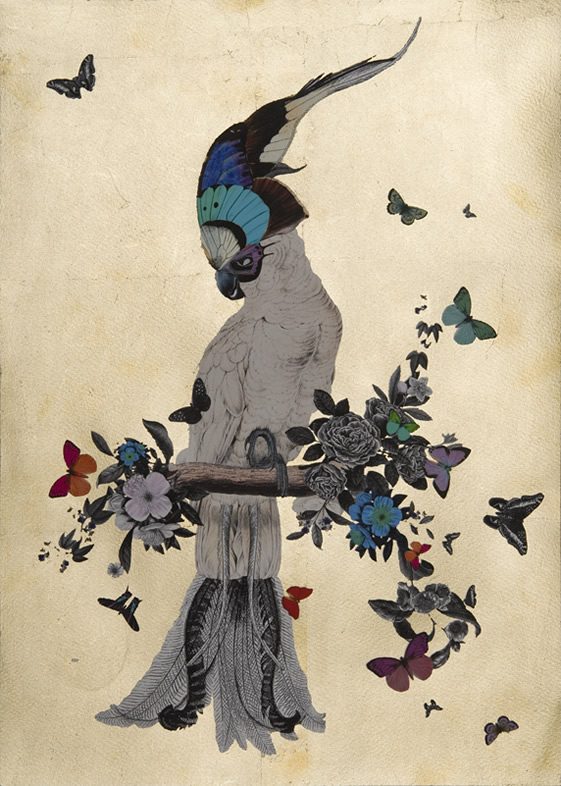 What's the most important thing to know about you?
Growing up in Iceland has been the real inspiration for my work. When I was growing up I found nature there stark and unforgiving; I never saw trees or colourful butterflies or wild flowers – everything seemed grey. Now I feel the complete opposite, the colours and the landscape are like nowhere else in the world.
For the past eight years I've been Creative Director of Beyond the Valley, a fashion and design store in London's West End, which has been an endless source of inspiration too – working closely with creatives in the fashion and design world.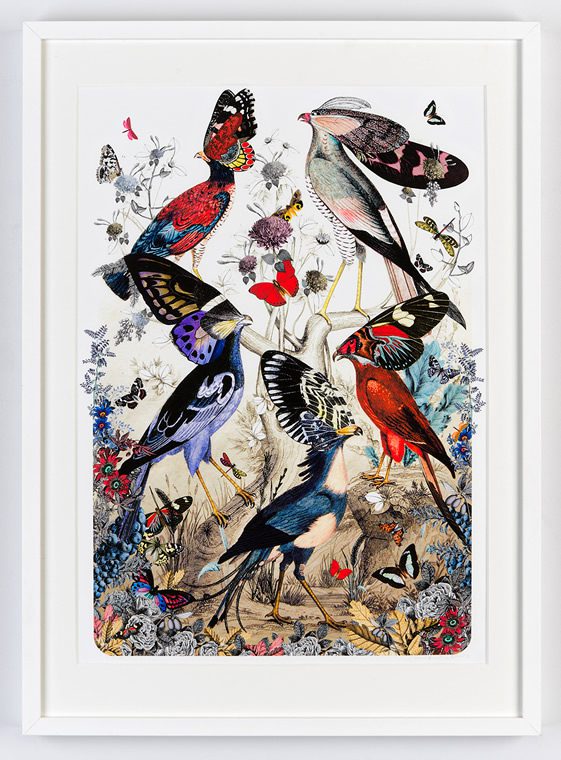 What inspires your ideas?
Nature on nature; the symmetry that lies in all things living.
Tales that my uncle told me as a child that germinated into landscapes, creatures and wishful forests.
The Natural History Museum, the Tapestry Room in the V&A, 17th century Dutch animal painters, in particular Hondecoeter (who's been described as the Raphael of bird painting in the 17th century) and Victorian engravings.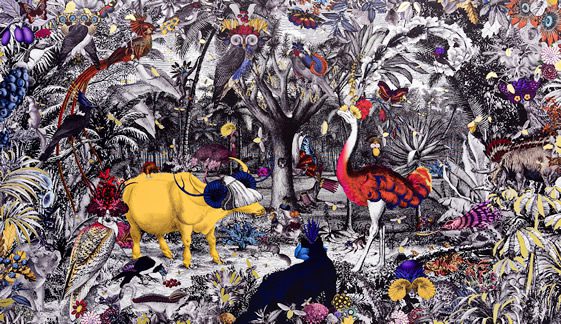 Describe the process you go through to turn your ideas into final illustrations? 
My work is essentially hundreds and often thousands of layers of collage. Each project starts with trips to museums, art reference libraries, collecting found items, picture taking and sketching – building up and constructing the image and individual elements.
Very often part way through this process, a whole new set of ideas is born; altering the direction completely.
 
For special commissions for private clients like the two large canvases currently on display at Outline Editions, I work closely with the client taking inspiration from their surroundings and incorporating their ideas and vision into my work.
How would you describe your style?
In my head it is very graphic. Again, I think that comes from my country; glaciers carving out volcanoes and volcanoes exploding in the middle of glaciers, the moss growing slowly over decades only inches at a time on the sharp cold lava forms. The glowing snow at midnight being lit up by the northern lights on a cold still night and of course; our black sand beaches in the middle of the winter when parts of the sea used to freeze.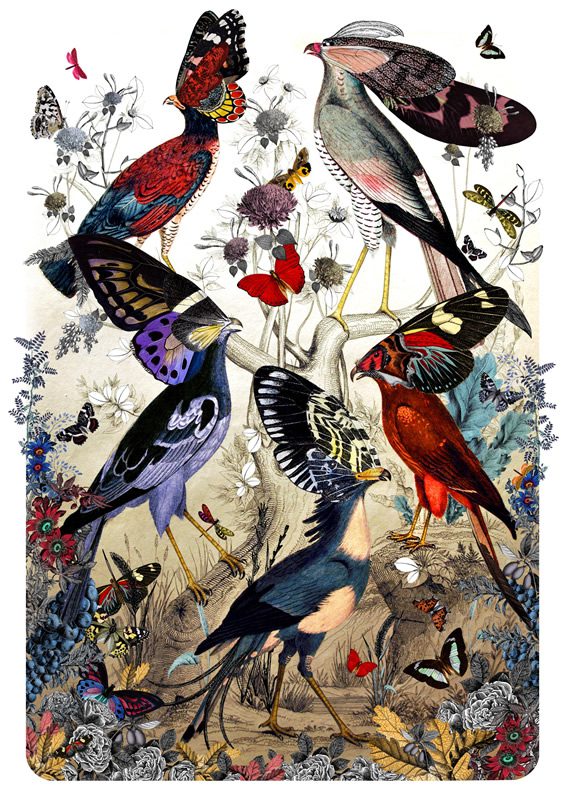 What's next for you?
Liberty's print collection with Outline Editions (launched 7th November and expanding in 2012)
The launch of Holland & Holland's Autumn/Winter 2012 collection (they commissioned me to create a wall mural at their shop on Bruton Street last year, the artwork will be printed on gorgeous chiffon scarves and a one-off dress for their collection launching end of February.)
The Outline Editions Spring Exhibition 2012
A special project for London Design Festival 2012… watch this space.