From panoramic vistas of the Montreal skyline to a stellar line-up of chefs, Place Ville Marie — floors 45 and 46 to be exact — is where locals and travellers with their fingers on the pulse will be headed this year.
A prominent urban hub and business campus where culture, cuisine and lifestyle collide, Place Ville Marie (or PVM) is now home to Hiatus, a café-bar cum speakeasy on the 45th floor, with a dining experience on the 46th. Designed by Sid Lee Architecture, the project was born from a collaboration with A5 Hospitality and local artisans, for Ivanhoé Cambridge, and will bring a more contemporary vibe to the city's business district; the renovation of the iconic skyscraper's 45th and 46th floors both honouring and building upon a design legacy that dates back to the early 1960s.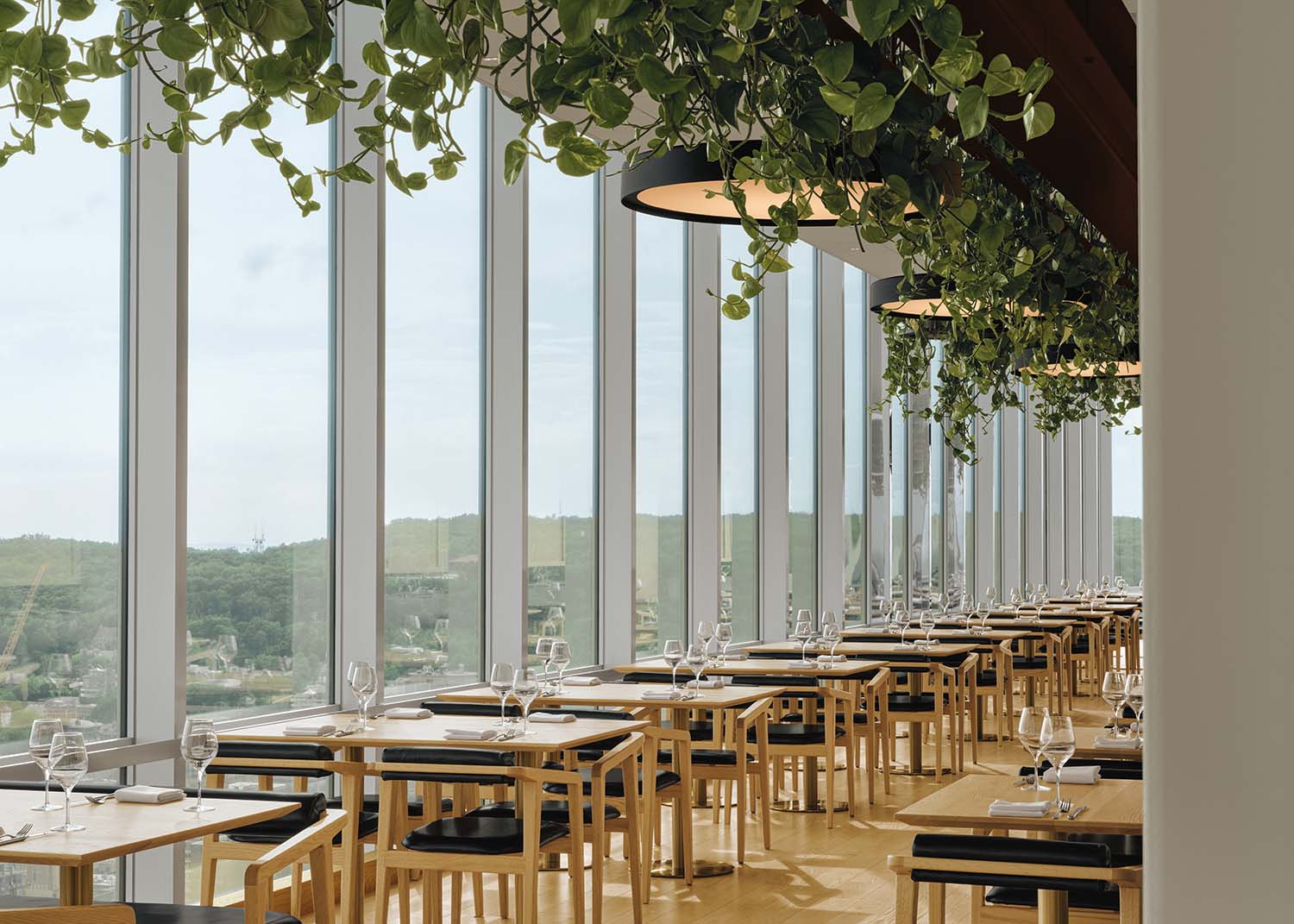 For the 45th floor, originally constructed as a mechanical room, Sid Lee Architecture transformed the space into a seductive speakeasy, an intimate spot with low ceilings and a fairly limited floor space. As well as taking in soaring views of Québec's largest city through a minimal ribbon of windows that stretch 360 degrees, guests will be seated in banquettes upholstered in celeste colour leather, and enjoy an eye-catching floral carpet and Lambert & Fils custom table lamps that nod to the building's modernist heritage.
Serving a fusion of French and Japanese fare complemented by craft cocktails, beers and wines, the 46th floor combines killer views with fine design that spans the dining room to the open kitchen. Reached via a blackened staircase that leads guests from the floor below, this space features vaulted ceilings, full windows filling the space with ample sunlight by day, and glittering city light by night, red oak tables and chairs upholstered in black leather, as well as a series of wall sconces designed to emulate the texture of PVM's façade.
(Don't forget, if you've made it this high, to head to the RoseOrange terrasse; Montreal's highest outdoor vantage point blessed with jaw-dropping views and outdoor summer vibes.)
Blending modern elegance with panoramic views, Hiatus Montréal is a momentous addition to the city's hospitality scene.
@sidlee_architecture
@hiatusmontreal