There is a growing trend with terracotta wedding colors that is not about to stop soon. And this is largely due to the fact that terracotta is a romantic and unique colour that pairs well with many other colours and hues. Whether you want a sunset wedding, crisp autumn wedding or even a warm summer wedding, there is a terracotta colour combo that can work to bring the vibrance and warm ambiance into your celebration.
If you will like to know what colours go with terracotta, then dive into our list of unique colour combinations for this neutral wedding color.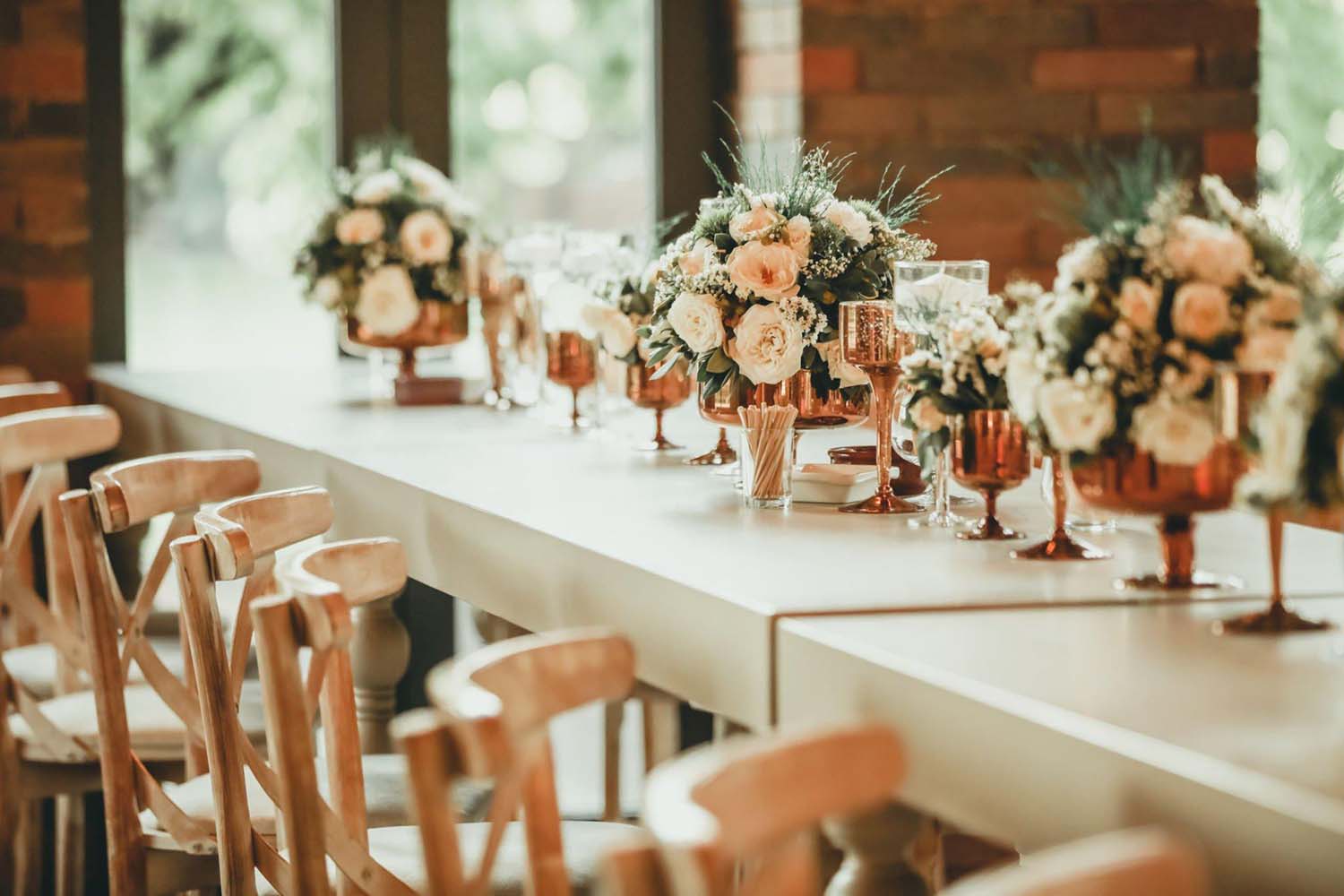 1 – Yellow and Terracotta
If you need terra cotta wedding colours for a dewy spring or breezy autumn wedding celebration, then consider the elegant combination of terracotta and yellow. This combo brings together warm and sunny shades of yellow together with the medium hue of terracotta, making it perfect for a host of wedding themes. You can also introduce white or cream accents to the mix to tie the colours together beautifully.
2 – Sage Green with Terracotta
Terracotta also looks great paired with green shades such as sage green. Terracotta put together with sage green gives off a cool vibe that can calm down the heat on a summer day or complement the natural shades of an outdoor autumn wedding. The cohesion of these colors results in a subtle romantic feeling that would make any venue more welcoming than ever.
3 – Dark Burgundy and Terracotta
Dark, rich colours provide an excellent base and outstanding contrast for terracotta, and that's why a terracotta and burgundy wedding will always be a good idea. Whether you're making floral arrangements or choosing colours for table placements, this passionate colour combo can help you create a picture that stands out. The perfect blend of colours for a winter or fall wedding.
4 – Burnt Orange with Terracotta
For an extra warm terracotta wedding colour palette, consider going with burnt orange and several shades of terracotta. The warm and neutral tones can play together to create a warm and welcoming ambiance that will be felt by all at your wedding celebration. This unique colour palette is neither too bright or too dull. It gives the perfect balance of hues that can be offset with touches of white or metallics to enhance any design or décor arrangement you might create with this combination.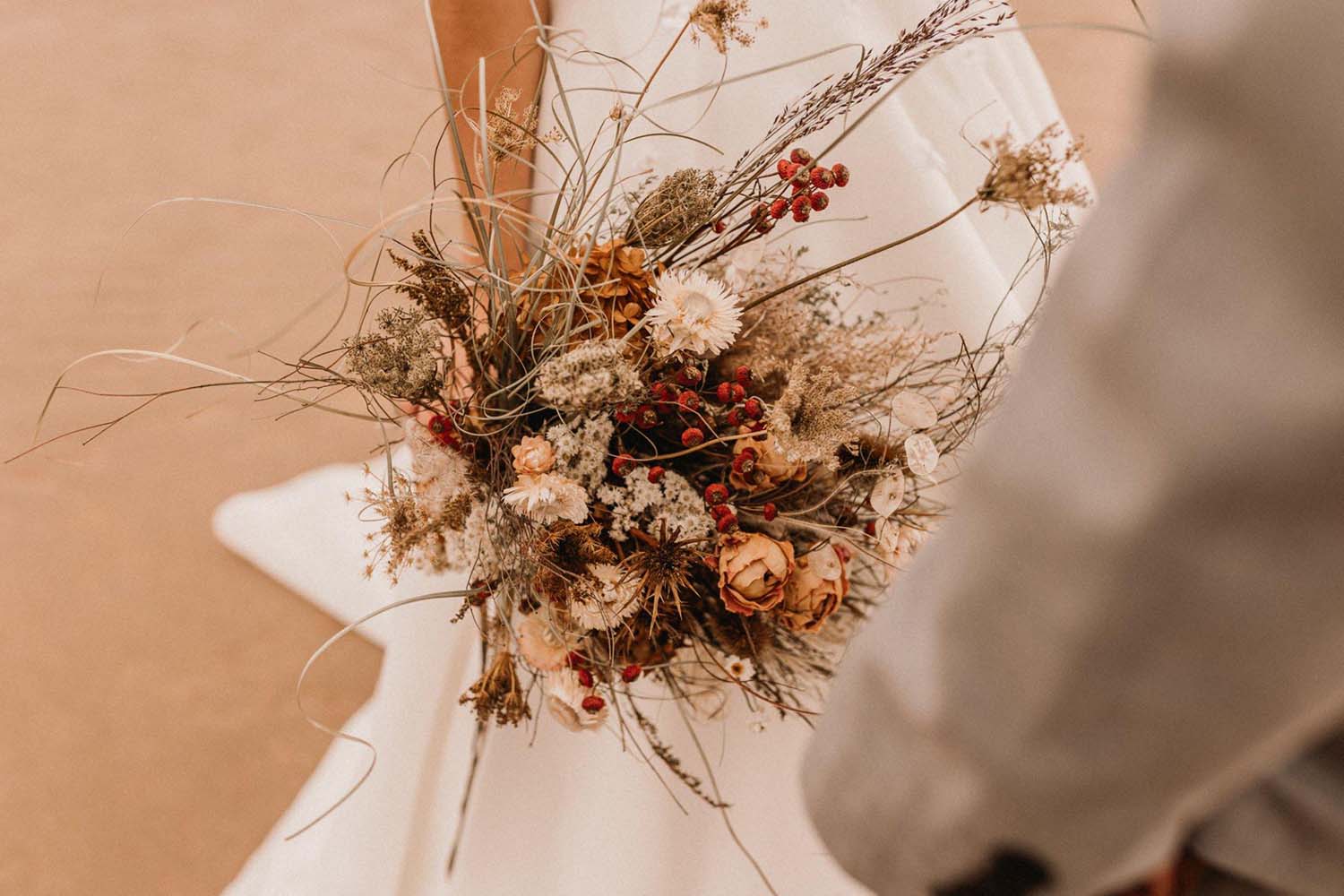 5 – Terracotta and Nude
Not many people think of nude when considering all the wedding colours that go with terracotta. However, this can be the perfect colour combination for a minimalist or simple wedding design theme. A nude and neutral colour palette of pastels would do well with accents of terracotta to add pops of colour to the neutral flow. In this situation it would not be the main colour, but it would be implemented in a way that enhances and uplifts each aspect of your wedding décor and even bouquets.
6 – Blue with Terracotta
Thankfully blue comes in a wide variety of hues, and teal in particular pairs well with terracotta. The richness of a terracotta and blue colour scheme makes it great for a classic winter wedding or even a boho themed celebration. The earthy and warm terracotta is calmed down by the watery coolness of the teal blue. This pairing will look great used on table runners, flower arrangements, wedding centrepieces and more.
7 – Black and Terracotta
If you want a dark and dramatic terracotta colour palette, then the mix of black and terracotta might be just for you. Black can serve as a backdrop for warm and romantic terracotta, or an accent colour for a mostly terracotta background. This can apply to table placements, floral décor or even wedding bouquets. This palette would be perfect for a warm rustic setting, or an outdoor sunset wedding. To offset the deep rich colours, you can include white or even metallics to this colour combo.
Exploring the use of terracotta wedding colours can inspire lots of wedding décor ideas, especially since this romantic colour blends well with a host of others. Whether you're putting together centrepieces, wedding signage or tablescapes, you won't run out of ways to use any of these colour pairings. If you're worried about finding organic terracotta flowers for bouquets or floral décor, remember that there are artificial blooms that look just as good.
Author: Svitlana Yefimets
Svitlana is the chief editor and in control of all Wedding Forward content since 2017. She started writing in 2012. She is an expert in details concerning venues, gifts, ceremonies, music, and everything about real weddings. If you want to collaborate with us, send her an email. She spends her leisure tasting dishes, discovering new restaurants, and staying fit through yoga!