If you're experiencing issues with your LG TV and need a repair, you may feel overwhelmed with the choices available. You want to make sure that you find an experienced technician who can properly assess and address the issue in a timely manner so that you can get back to enjoying your television again. Unfortunately, there are some "repair technicians" out there who are only interested in taking advantage of unsuspecting customers by providing shoddy repairs or charging excessive fees.
To help ensure that you find the right technician and avoid scams, here are some tips for choosing an LG TV repair service provider:
Depending on the make, model, and age of your LG TV, there are several potential reasons why repairs may be necessary. Common reasons include overheating, power surges or shorts caused by electrical storms, out-of-date software, a black screen on LG TV, or physical damage such as a broken part that requires replacement. Additionally, due to its electronic nature, it is important to ensure that any components that need to be replaced have the right connections and wattage.
In some cases, the repair may not require any parts at all — it might only need a firmware update or a realignment of settings. If you suspect that your television may need to be repaired after attempting troubleshooting on your own first but can't figure out where the issue is coming from, it's best to call in a professional technician who can properly diagnose and fix it.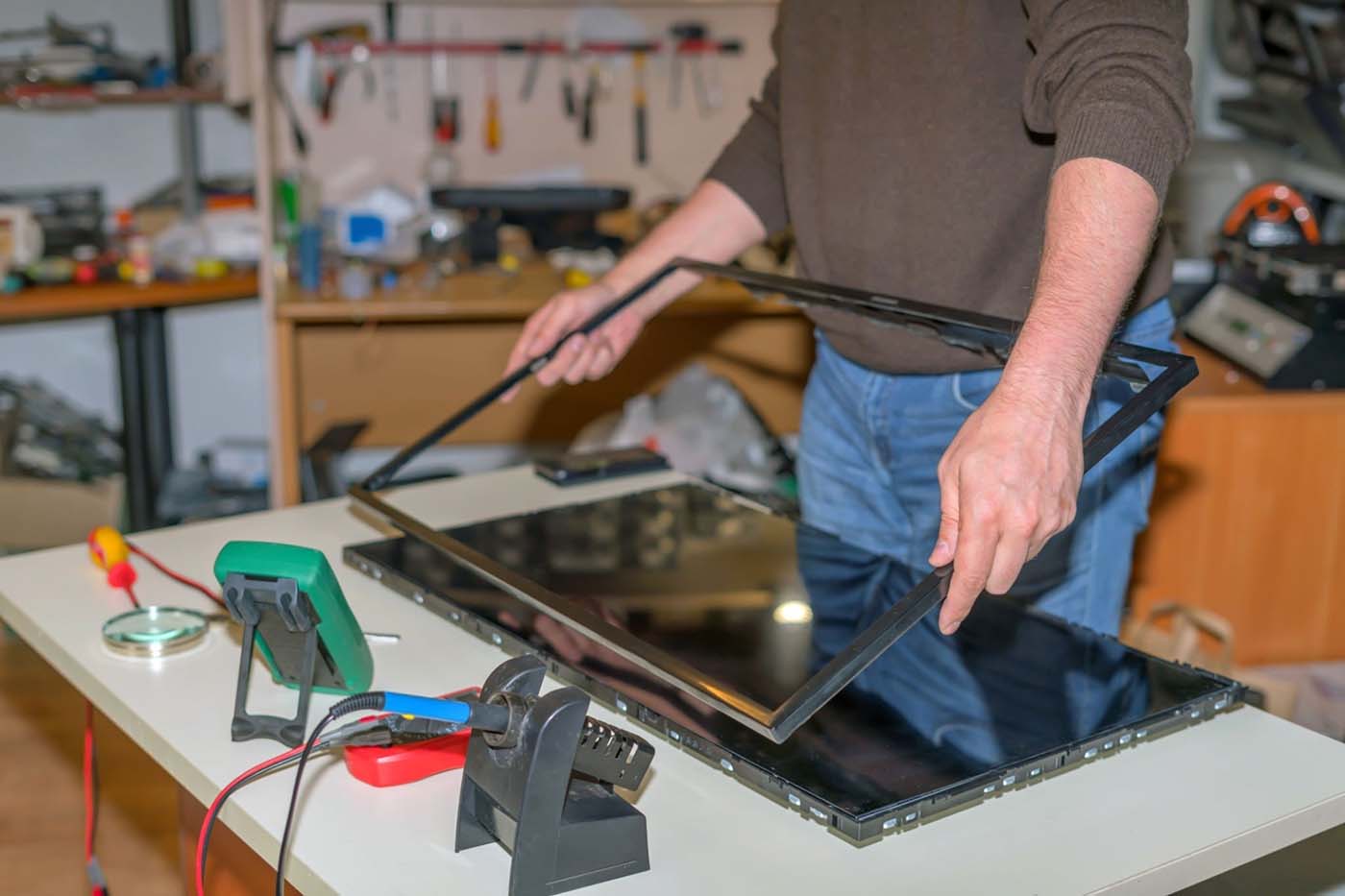 Locating a Qualified Technician
When searching for a qualified technician to repair your LG TV, the first thing to do is find out if the technician you are considering is certified by LG. According to the LG website, all certified technicians have access to special training, up-to-date service instructions, and advanced diagnosis systems. This will help ensure that your TV is fixed quickly and correctly.
Avoiding Scams
Unfortunately, individuals who are unfamiliar with the nuances of LG TVs are more likely to fall victim to scams from false repair technicians. To ensure that you can trust the person performing your repairs and protect yourself from potential fraud, there are a few steps that you can take.
Firstly, always determine the legitimacy of any service provider before doing business with them. Many online search directories feature customer reviews that you can use to get an idea of the quality of past services provided by a potential technician. You should also be wary of any professional or company that quotes a ridiculously low price for LG TV repair.
The next step is to confirm that the technician possesses the prerequisite credentials and certifications necessary for such tasks. Most countries require technicians to have formal qualifications in areas such as electronics engineering or television repair. If a technician is properly trained and certified in their craft, they will usually be happy to provide copies of their certification when asked upon request.
Finally, do not hand over any money until all evidence suggests that a technician is legitimate and trustworthy. It's normal for technicians to ask for an initial consultation fee – often equivalent to one hour's labor – but payment should not be given until after satisfactory completion of repairs or services rendered has been achieved.
Additionally, if possible it's wise to familiarise yourself with industry pricing standards before making any deals with a prospective technician; this will help you know if you are being quoted fairly, instead of being taken advantage of with inflated costs or unnecessary services.
Cost Considerations
The cost of an LG TV repair can vary greatly depending on several factors, including the age of your LG TV, the type of damage or malfunction, and the parts required. Many service professionals offer various packages or discounts based on their rates, so be sure to research different providers' pricing options before making a decision. Additionally, do some research into the hourly rates for in-home visits if you'll be having a technician come directly to your home for repairs.
It's best not to simply go with whatever technician offers you the lowest estimate, as you may end up getting subpar service that hasn't actually fixed your issue and could potentially even add new problems down the line. Make sure any potential service professionals are highly rated and have solid online reviews before scheduling an appointment or agreeing to any services.
Tips for a Smooth Repair Process
When choosing a technician for LG TV repairs, it's important to do your research in advance so that you can find someone qualified to perform the job. Here are some tips to help you have an easy and efficient repair process:
1. Use online reviews to check any technician's references and make sure they have a good track record. Make sure they are certified or an authorised service centre by LG.
2. Ask questions about what's included in their services and ensure they manage parts acquisition and installation.
3. Get an estimate upfront, including costs or prices of any parts replacements needed, and get it in writing before committing to the service provider.
4. Know your warranty coverage as you may be able to get the repair done for free if it's still under warranty!
5. Finally, keep copies of all documents related to the repairs from payment receipts, warranties, contracts, etc., so you can stay organised throughout the process if any issues arise after repairs are completed.
Conclusion
By doing a bit of research ahead of time, you can easily find the right technician to repair your LG TV and avoid having any unfortunate run-ins with scammers. You should always make sure that the technician is experienced and knowledgeable in repairing LG TVs, as well as legitimate and certified.
Knowing how to spot red flags when it comes to questionable technicians will also help save you money, time, and potential headaches down the road. With these helpful tips on finding the right technician for your needs, you'll be able to get back to enjoying your favourite shows in no time!