Miami is one of the great wonders of the modern world. As one of the most popular tourist destinations in the world, and a center of luxury living, it's no surprise that Miami's luxury real estate market is booming. Prices for high-end properties have been climbing steadily in recent years, with no sign of slowing down any time soon.
If you're considering investing in Miami's luxury real estate market, keep in mind that many people prefer to purchase a property that has already been built. By doing so, you can avoid the potential risks and delays that can come with new construction. And with prices expected to continue to rise, investing now could mean big profits down the road. Here are three projects that are turning heads in the exclusive SoFi neighborhood of Miami Beach.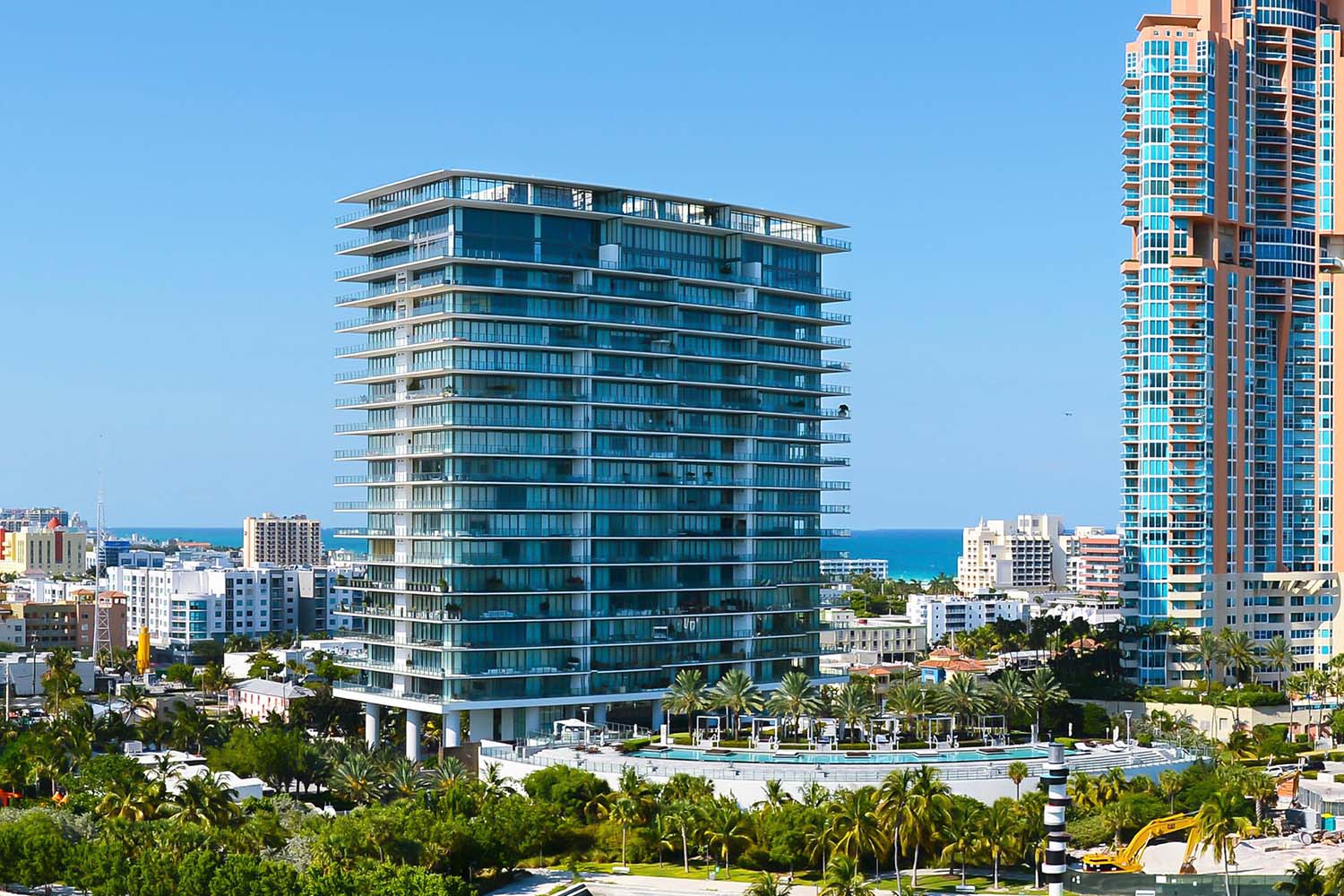 Apogee
Starting off with a bang is Apogee Condo Miami Beach, a 22-story, 67-unit, luxury apartment building in the sought-after neighborhood of South of Fifth (SOFI) in Miami Beach. This exclusive location boasts some of the finest restaurants, nightlife, beaches, and parks in South Florida. Brickell, the Miami Design District, and the Miami International Airport are just a few minutes away by car.
Apogee Condo Miami Beach was designed not only to impress but to inspire, just as art inspires the heart to soar and the mind to awaken to new and glorious possibilities. Apogee gives a whole new name to luxury. Delivered in 2008, this building has a flow-through design that gives each unit both a water view and a city view. Apogee's sophisticated, premium finishes include granite and French limestone. The residences sport 10-foot ceilings and 11-foot wide terraces, and 11-foot deep balconies with summer kitchens.
Speaking of kitchens, Miami Apogee Condos will make you feel like a Michelin star chef, with Salvatore cabinetry with full-height doors, Franke round bar sink and faucet, and 27″ SubZero refrigerator and freezer drawers. Also featuring enhanced lighting, exotic wood-finished cabinets, and two dishwashers in all kitchen models.
If you are looking for spectacular amenities, Apogee Condo Miami won't disappoint to provide an extensive array of options for you on any given day -or night!-. This majestic place provides a fitness center with state-of-the-art equipment and a spa where residents can take a break from their daily routine and enjoy hours of pleasant relaxation, massages, and beauty treatments. And topping it all off, residents can enjoy the building's infinity-edge pool, which has breathtaking views of the Atlantic.
Apogee Miami Beach only has a few apartments available, so you better move fast if you want to snag a spot!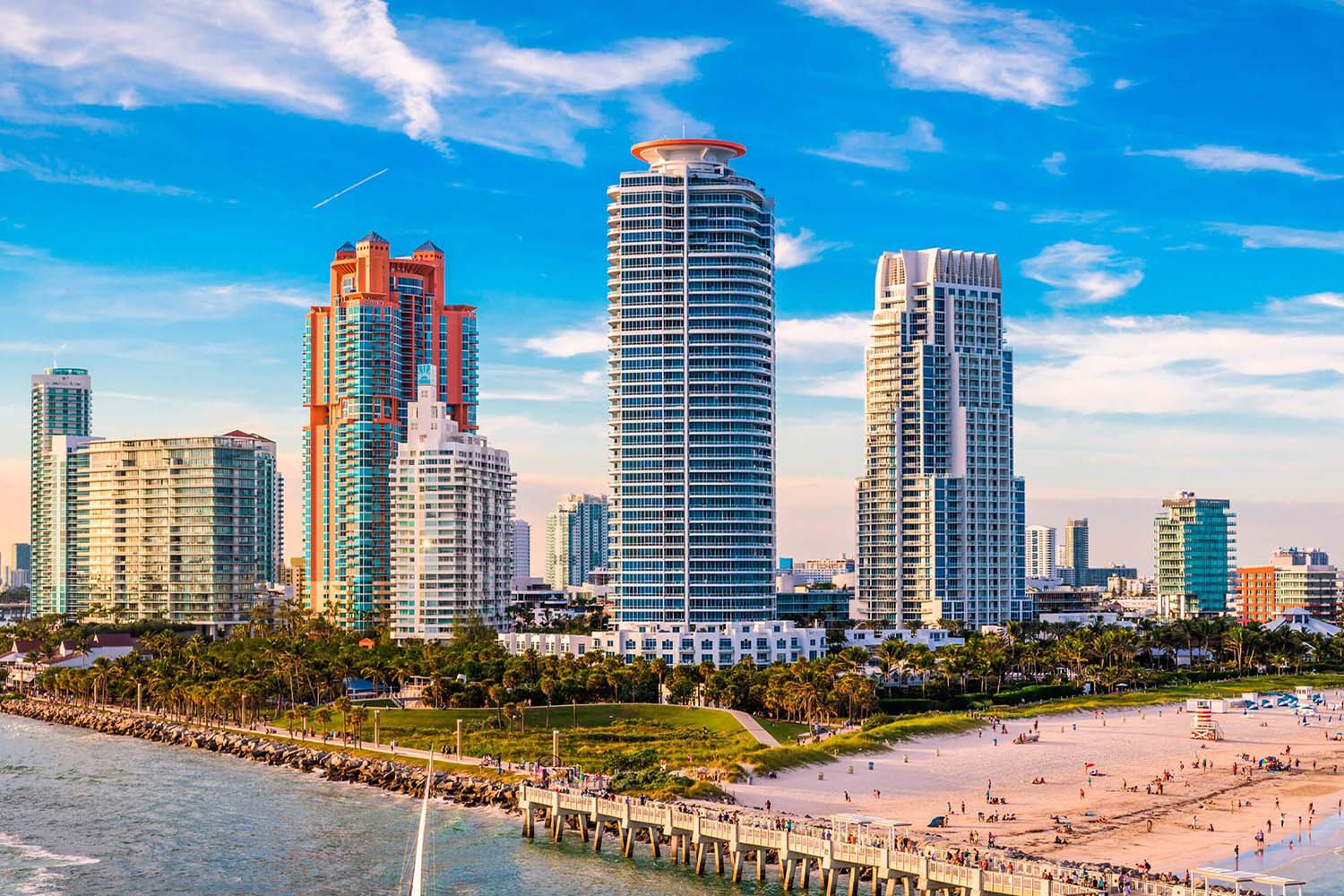 Continuum South Beach
The next development on our list is a popular landmark. Located on the southernmost tip of Miami, the Continuum Miami towers soar above the water, setting the bar for resort-style living. Designed by Sieger Suarez and surrounded by curated landscaping and site design by renowned architects Bradshaw, Gill & Associates, Continuum offers you the world's greatest retreat in the heart of South Beach.
The 37 and 40-story towers at Continuum Miami provide you with lavish residences embraced by walls of glass, 10-foot ceilings, and wrap-around balconies with endless, panoramic views. The kitchen set-up includes custom European cabinetry, granite countertops, and glass backsplash, under-counter lighting, and top-of-the-line range hoods.
Welcoming you into the residential building is a spectacular double-height lobby. You will walk right into an unmatched complex that features direct access to 1,000 feet of white sandy beach and a full-service Beach Club as well as a free-form lagoon swimming pool and spa. Enjoy a three-level world-class fitness center where you will find modern exercise machines, nutritional counseling, and experienced personal trainers. Play a game at the private tennis club with three Har-Tru Championship Courts. And when you need to relax, you can be sure to rely on world-class concierge and valet service.
This incredible complex has multiple offerings, from 1-bedroom houses to penthouses, all available to a discerning buyer today.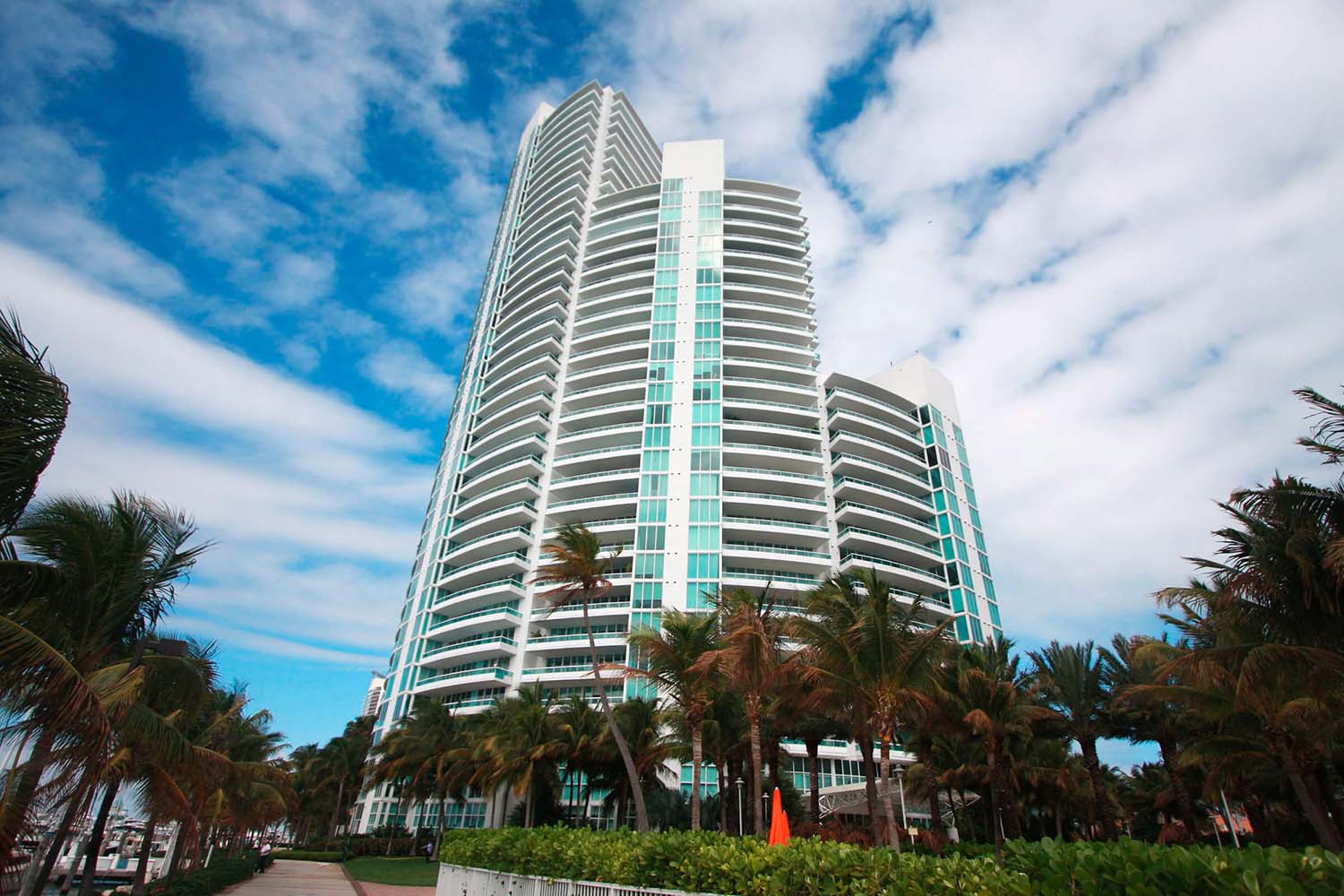 Murano at Portofino
Last, but certainly not least, no list of the hottest developments currently available in Miami would be complete without this renowned staple of Luxury in Miami. Murano at Portofino is South Florida living at its finest, this is where stylish condominiums meet the South Beach lifestyle.
The Murano at Portofino Miami is an ultra-luxury 37-story condo building built in 2001, designed by Sieger-Suarez, and developed by The Related Group and George Perez. This distinct, three-tiered staggered tower boasts over 600 feet of land in front of Biscayne Bay. One of the tallest skyscrapers in the area, Murano at Portofino is located in the very popular South of Fifth District (SoFi) of Miami Beach. Placed just a couple of minutes away from the very tip of the island, featuring the immaculate South Pointe Park and the crystal waters of South Pointe Beach.
The Murano at Portofino contains 189 units that have floor-to-ceiling magnificent views of Miami Harbour, Biscayne Bay, and the Atlantic Ocean. The building features the private Bay Side Beach Club with a heated pool and spa, a saltwater pool and poolside café, one-to-three-bedroom luxury residences, two tennis courts, concierge service, a high-end fitness center, and large outdoor terraces with stellar views.
With years of experience behind them, you will know what you are getting with the Murano name. World-class apartments, the finest service, and the perfect amenities to augment your high-end lifestyle. These apartments are staples of South Beach and are sure to appreciate in value for years to come. Best of all, this complex has residences available now, with multiple options to find the best fit for you.
Your Miami Dream Is Just Around the Corner
If you're looking for a luxurious and stable investment in Miami, look no further than Apogee, Continuum, or Murano at Portofino. Whether you want the refined elegance of Apogee, the tranquil oasis that Continuum offers, or the prime location at Murano at Portofino; these world-class developments offer everything you could want in a Miami lifestyle, and they're only increasing in value! With room for appreciation and a prime location in the heart of the city, choosing any of these incredible luxury condos will be a smart investment for anyone looking to live the high life in Miami.