Located in the city's affluent Back Bay neighbourhood, adjacent to its leafy Public Garden, The Newbury Boston has received a complete renovation. The hotel, originally opened in 1927 as one of the first Ritz-Carlton hotels in the US, is now home to events spaces, signature dining experiences, and a library lounge exclusive to hotel guests.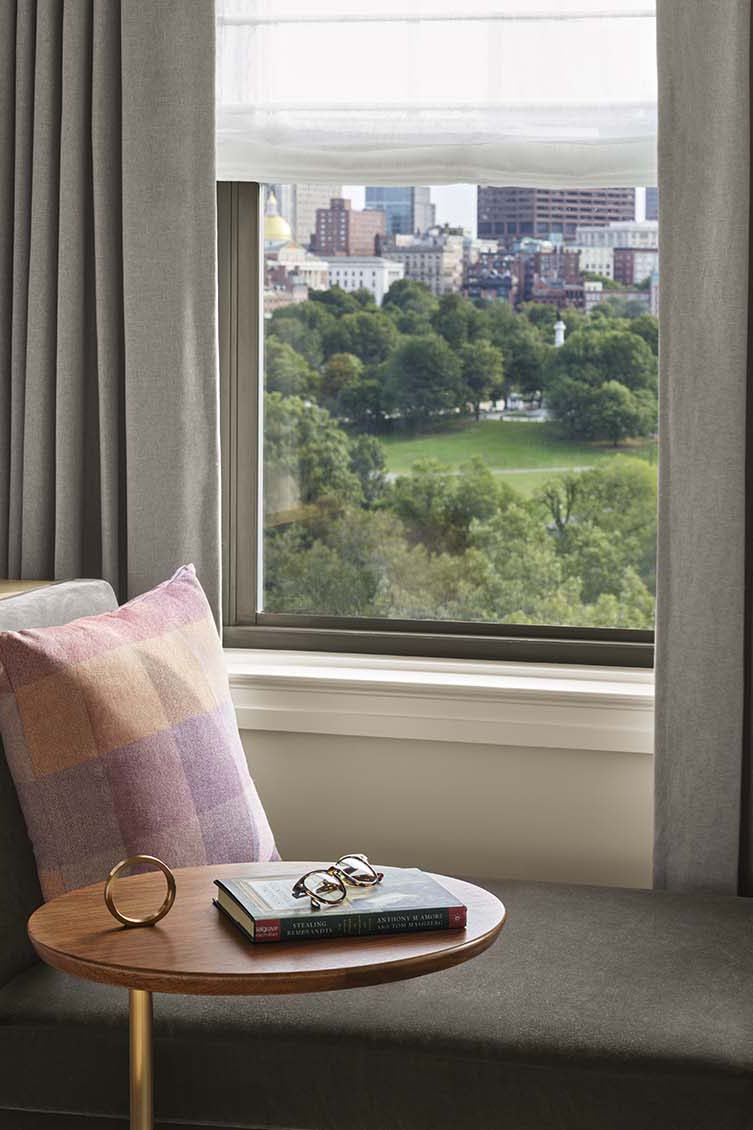 Set over 16,000 square feet, calming interiors give off a 'homely' vibe; multidisciplinary studio Champalimaud Design choosing tones of blues, greys, and creams alongside tactile materials for each of the 286 rooms and suites; many of which also boast views of the Public Garden. Handcrafted wood, herringbone accents, and marble touches further add a sense of lavish materiality and craftsmanship. Original artwork by illustrator, Veronica Lawlor, add a touch of the contemporary to the Newbury Street property.
A cherished destination for more than 90 years, guests enter via a reimagined front entrance (relocated from its original Arlington Street location to beloved Newbury Street) before stepping into a landscaped terrace plaza that serves to complement the building's stunning neoclassical façade with a nod to The Public Garden.
A rosewood check-in desk greets guests, the lobby also home to a distinctive selection of artwork, Nero Dorato marble flooring and a chandelier that casts a warm glow highlighting other rich elements that run throughout the space. Take the palatial grand staircase to the first floor and you arrive at the events area, boasting historical architectural elements that include the original banister and marble columns.
The Street Bar transports guests back to the 1920s, with classic leather barstools and an inviting fireplace. It's the perfect spot to sample classic cocktails and wines. The space, designed by Jeffrey Beers International, and revitalised by Major Food Group, a favourite amongst Bostonians and visitors alike.
Dining comes courtesy of Contessa, a glass-enclosed four-season rooftop restaurant serving Italian-inspired plates with sweeping views over the city. Designed by Ken Fulk, his effortlessly over-the-top approach and signature layered interiors match the 360 degree views of Boston, enjoyed through a series of sliding glass doors with retractable panels.
Combining classic luxury with a decadent modern touch, and boasting one of Boston's most sought after addresses, The Newbury Boston is a swank palace for generation Instagram; a gleeful jolt of eye candy combined with hyper comfort and impeccable service.
@thenewburyboston
@champalimauddesign