Modern living, city living and the sheer cost of living dictates that many of us will be working with a small living room space. But that doesn't mean it has to lack style. We spoke to Tash Bradley, Lick's Lead Colour Specialist, to get some of her tips on how to style a small living room. "From ambient lighting to choosing the right paint and wallpaper, you can find clever ways to maximise your space and still include your favourite pieces", says Tash.
So, whether you're a homeowner or renting, these six small living room ideas will transform your living space into the castle of your dreams.
1. Opt for light & bright paint colours
If you're looking to create the illusion of space, then lighter paint colours will do just this and appear to make the walls recede. Conversely, dark colours will have the opposite cocooning effect. If you're going for a neutral look, White 01, Beige 01, and Grey 01 all fit the bill and create the perfect blank canvas to display your artwork and furnishings, whilst Pink 01 appears white but has a gorgeous warming effect.
According to Tash, "Green works so well in small spaces. It's a perfect neutralising colour and is incredibly restful because our eyes don't have to adjust to it". This is why she recommends Green 09 or Green 01 for smaller spaces. Or, if blue's your hue, then opt for a gentle Blue 03, with green undertones.
Shop living room paint colours
2. Get wallpapering
Contrary to popular belief, wallpaper can actually make a room feel larger as the pattern hides corners and adds depth. It doesn't have to be bold and overpowering. Lick's range of modern contemporary wallpaper comes in all colours and designs, with some more muted styles perfect for smaller living spaces.
Shop modern & contemporary wallpapers for your living room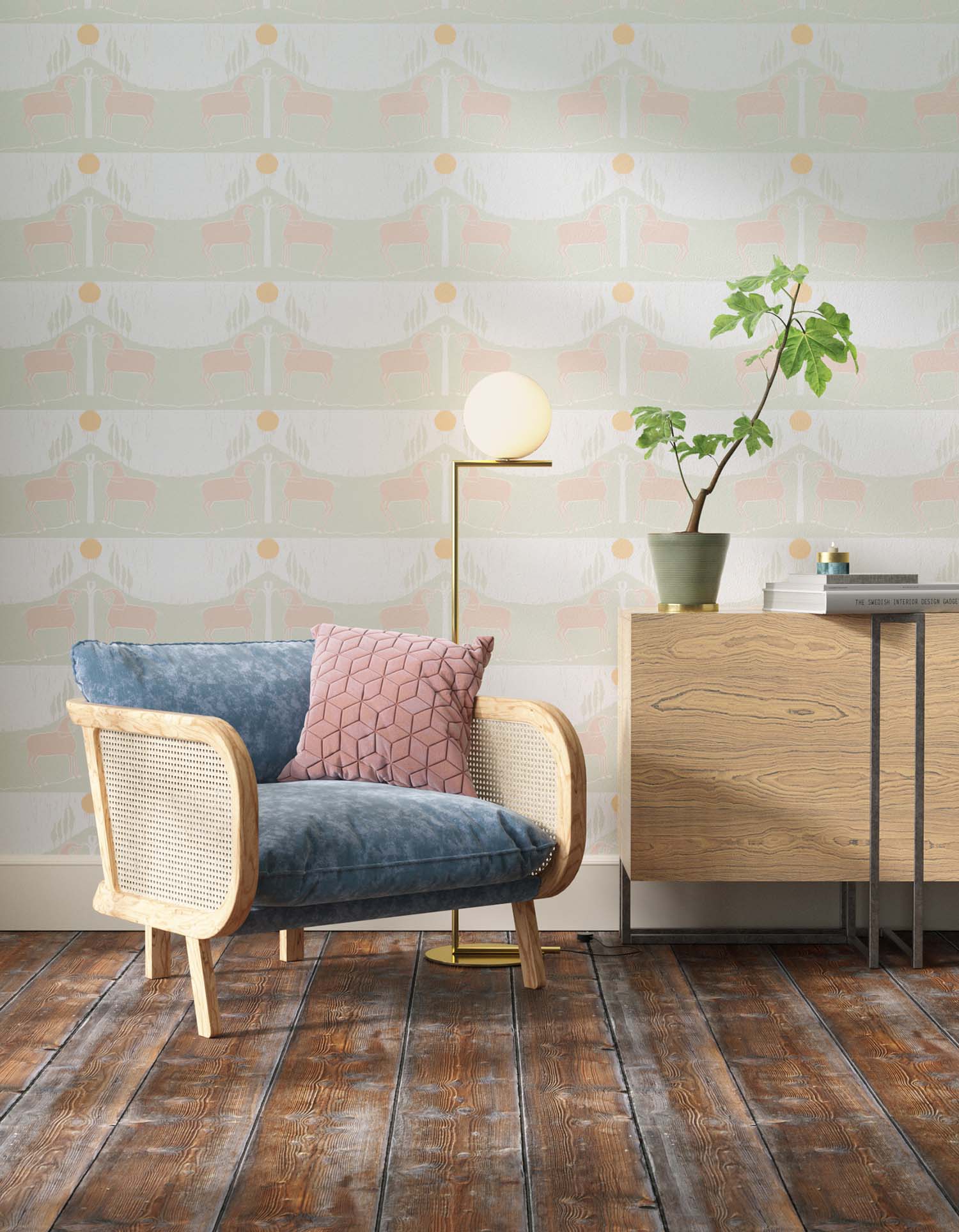 3. Layer your lighting
Light attracts the eye, so if you're clever with it, not only does layered lighting create an ambient feel, but it gives a room different zones. Think ceiling lights, a lamp on a side table, an oversized arc floor lamp. These work together to create height and depth and draw the eye in different directions, giving the illusion of space.
4. Choose a large rug
"This one is a true optical illusion", says Tash, "and I should know—it transformed my London studio apartment". Unlike smaller rugs, a large rug won't visually break up the floor. This can also help anchor the space and give you a good staple piece to design the rest of the room around. As with lighting, not only does a rug create a zone, but by choosing a larger rug—even in a bold pattern—the eye is drawn to the size of the rug, rather than the room, making the latter feel bigger.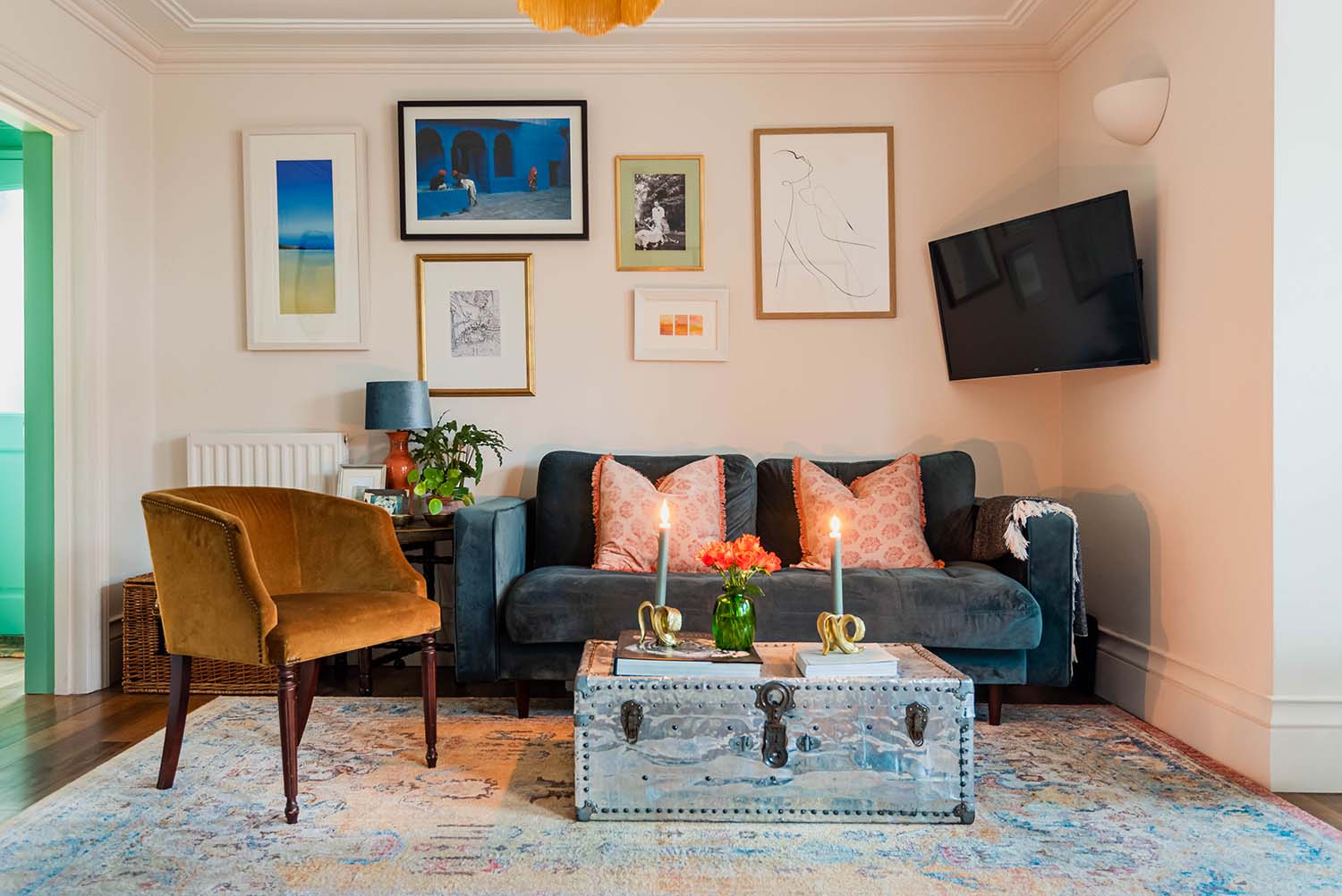 5. Opt for open shelving
Yes, built-in cupboards look beautiful, but by opting for open shelving in place of them, you prevent the room from appearing boxed up. Not only does it open the room up, but it also creates a decorative space for you to display anything from books to plants to ornaments.
6. Mirrors, mirrors on the wall
The worst kept secret of creating space in small living rooms? Mirrors. Big ones. Think carefully about where you place them. A large mirror above a mantelpiece creates a striking feature and positioning your mirror opposite a window will reflect the natural light, creating an even greater sensation of space.
We hope these six small living room ideas helped you long your decorating journey. If you're still unsure where to start, take a look at Lick's website for some more design inspiration. They're masters in modern decor, and we can't get enough of their colour palettes. Happy decorating.