Social media has seen a kind of global homogenisation of experience in which the new and exciting rapidly becomes the 'been there, done that'; it is harder than ever to discover travel experiences that beguile, experiences that stay with you forever.
So too have technological advancements and budget-luxe transformed what we consider luxury. Sure, the very best hotels can still wow with attention to detail and mega-money touches, but in an age where high street brands offer Instagram-ready looks for you to take home, the traditional concept of 'luxury' is shifting. Bold, unconventional experiences are the new luxury; encounters that unlock the imaginations of today's discerning travellers.
As experiential travel turns mainstream and even the most eccentric of hotels begin to pile on the IG hashtags, here are seven idiosyncratic hotel experiences capable of inducing tangible awe in the 'seen it all' era.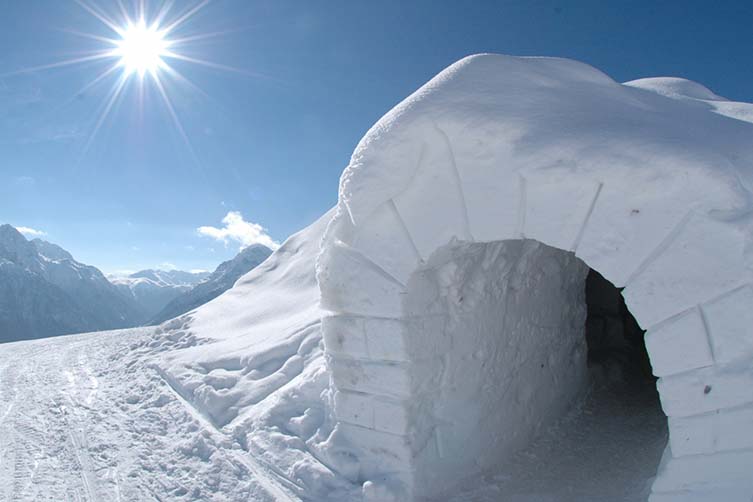 Hotel IGLÚ, Grandvalira
A one-of-a-kind hotel that can be found between France and Spain in the tiny independent principality of Andorra. With 90% of the tax-haven made up of natural spaces, travellers here will have the opportunity to truly disconnect, leave city life far behind, and uncover fanciful experiences like the unforgettable 'igloo hotel'. Made entirely of snow and with just five rooms, the Grandvalira hotel stands at an altitude of 2,350 metres and comes complete with bar-restaurant, terrace, jacuzzis, sauna and shower.
Luxuries aside, the room temperature is some zero degrees Celsius, but come equipped with arctic expedition bags for ultimate experiential factor—there's also a gourmet menu served up, whilst activities such as snowboarding, skiing and mushing are naturally on-hand. The igloo might lack luxury hotel beds and five-star amenities, but the experience here high up in Andorra is surely one to write home about.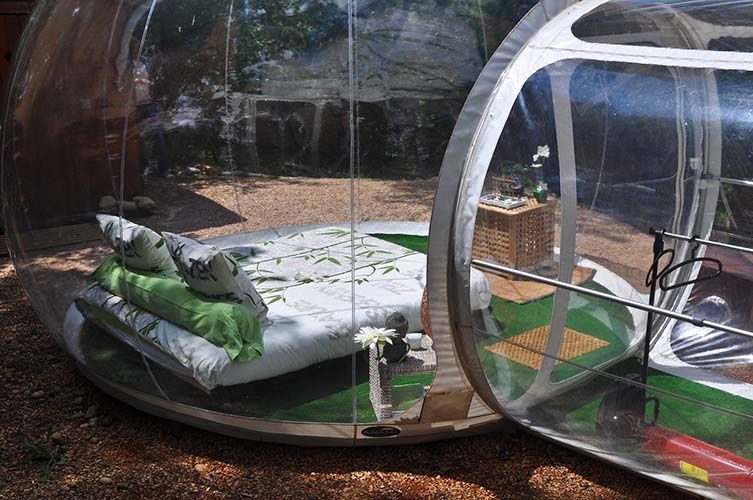 Attrap'Rêves, France
We've all been accused of 'living in a bubble' at one time or another, but what about actually doing so? For a night or two at least. Here in the commune of Allauch, east of Marseille, Attrap'Rêves is a truly inimitable hotel experience; its transparent plastic domes allowing guests to sleep under the stars without the weather or wildlife concerns that might deter such a romantic proposition.
Far from the city, the hotel's six bubbles—each built from recyclable materials—afford panoramic views of the countryside and combine the essence of luxury with a true at-one-with-nature experience. Each having its own private washroom just steps away from the sleeping dome, there is also a miniature telescope through which to better examine the cosmos, along with access to a jacuzzi and pool.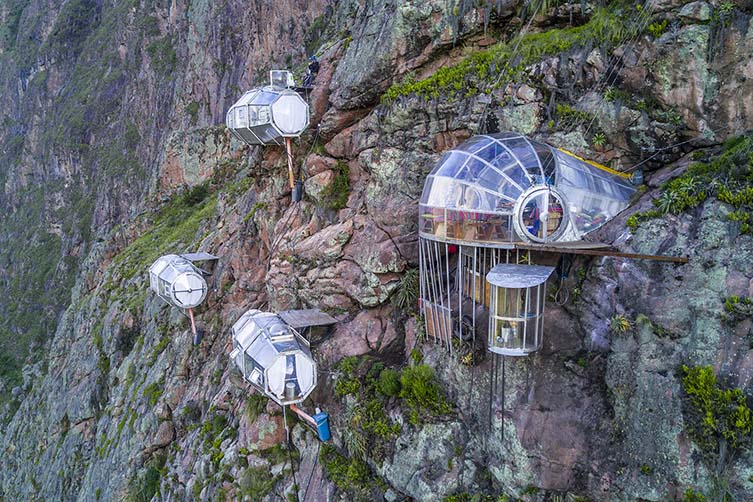 Skylodge Adventure Suites, Peru
Whilst Attrap'Rêves offers a unique experience to reconnect with nature and the universe, this project in Peru's Sacred Valley of Cuzco takes things to altogether more heart-racing heights. Literally. A hotel not for the fainthearted, Skylodge comprises a series of capsules suspended 1,200ft from the ground; a 300-degree view of the imposing landscape your reward for the fear-inducing hike one must make across a challenging trail to reach the pods.
Each with four beds and a capacity for eight people, together with a dining room and bathroom facilities, there are three identical 'adventure suites' clinging perilously to the cliffs above the valley. The extra fearless may want to take advantage of the hotel's breathtaking zip-line. In the search for heightened experiences, little could be more apt; although one might need a calming tea during a stay in such a hair-raising hotel.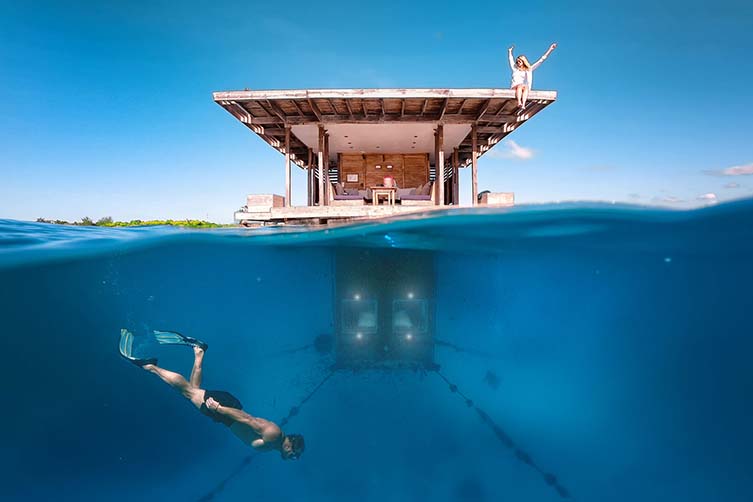 The Manta Resort, Tanzania
Beachside hotels are so passé. Here on Pemba Island, Tanzania, the underwater rooms at the mesmerising Manta Resort truly connect you to the deep blue. Consisting of three levels, a landing deck at sea level is your entry point, whilst a ladder will take you down to a lounging area then beyond to an underwater bedroom surrounded by glass panes.
At night, spotlights surrounding the cabin engage, attracting aquatic life from octopus or squid to shoals of fish in all shapes and sizes. Located 250 metres from the shore in the crystal clear waters of the Indian Ocean, the rooms—like all facilities at this hotel—are eco-friendly, meaning one can enjoy this monumental experience with a clear conscience.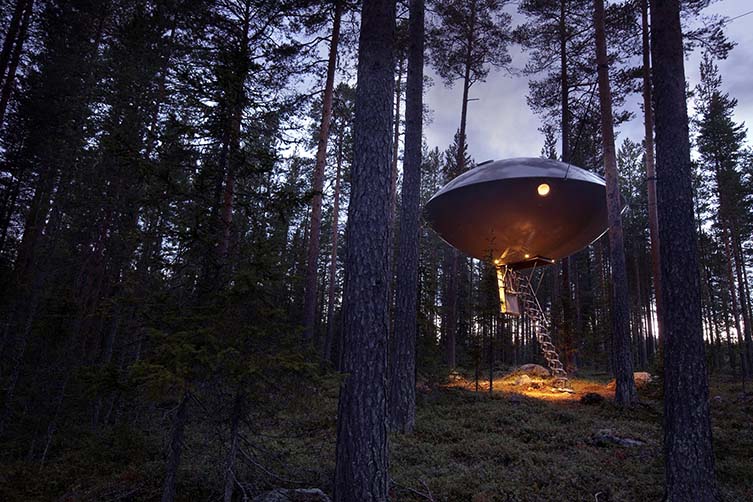 Treehotel, Sweden
Perhaps one of the most famous 'out there' hotel experiences, North Sweden's Treehotel is a series of treehouses that surpass even your wildest childhood fantasies. Suspended between four and six metres above ground level, each themed 'room' here—from The UFO to The Mirrorcube; The Bird's Nest to the stylish Blue Cone—has unrivalled views over the Lule River Valley and its surrounding forest.
Tasking some of Scandinavia's top architects to create sustainable and ecological cabins, the fanciful cabins have been designed to make as little impact on the environment as possible; each insulted by underfloor heating, and equipped with environmentally-friendly combustion toilets (expect for the much-photographed Mirrorcube, which features a 'freezing toilet'). The treehouses are accessible to all via ramp, bridge or electric stairs.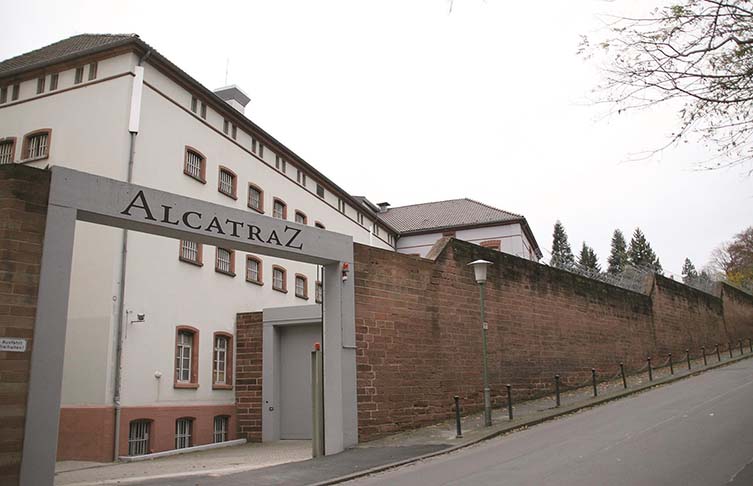 Alcatraz Hotel, Kaiserslautern, Germany
Want to do the time but not the crime? Kaiserslautern's Alcatraz Hotel is a unique hotel experience for a very special reason. The hotel has been built in what was formerly a prison. Naturally, the amenities today are much better than what its prisoners were once given, but the hotel has retained the theme with original cells and bars; its small and confined spaces opened out by some luxury touches and a decidedly more polished aesthetic than its former guests will have enjoyed.
"Your experience is our pleasure" runs the unnerving tagline for this 'event hotel', but your stay should be less frightening thanks to king size beds with a comfortable organic latex mattress, flat screen tellies, high speed WiFi, a buffet breakfast and a central location which can see you 'break out' into the old town of Kaiserslautern and a neighbouring Japanese Garden where one may ponder their sins.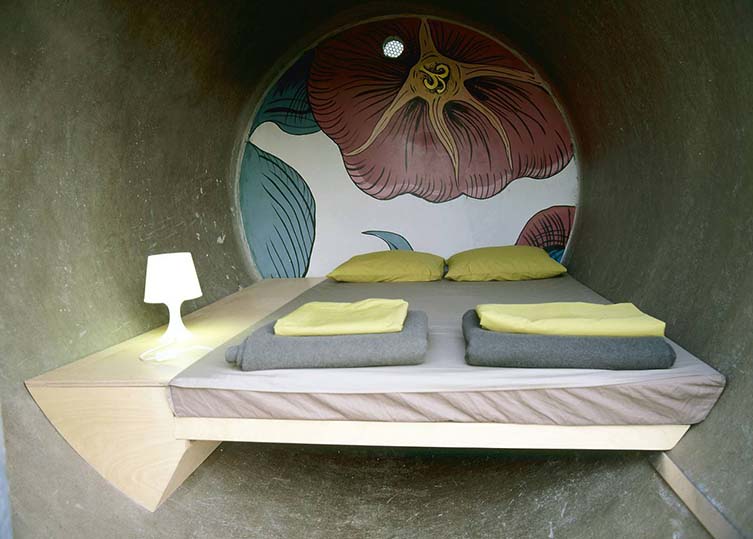 Das Parkhotel, Austria and Germany
With two locations—Ottensheim, Austria and Bottrop-Ebel, Germany—the Parkhotel offers the odd opportunity to live in a concrete pipe. Yet this is not something out of a Stephen King novel, rather a series of designer concrete crash pads; repurposed drain pipes that seek to change the face of hospitality, not least through their 'pay as you wish' system that democratises urban accommodation.
Offering a minimalist take on hospitality, amenities may be restricted but are considered in design and detail; the very essence of the structure giving a real sense of security when sleeping in a public place, their flexibility a vision of accommodation for the future. An interesting proposal for where hospitality may move, and a very real experience for the now. Just don't answer the door to a clown with a red balloon.
In modern times, one might be able to have a luxurious 11" mattress in your own home without paying exorbitant amounts, to get the glossy-magazine look on a shoestring. The traditional hotel experience is shifting. Shift with it. Today's experience is about the unconventional. Go out there and break some rules.